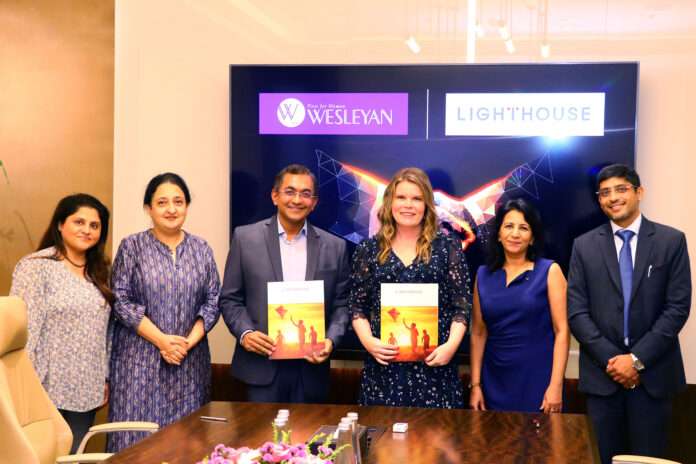 The institutions have joined hands for a 3-year partnership to deepen mutual learning, cooperation & exchange between administrators, faculty, staff & students, including providing the 'Lighthouse Learning Scholarship'
Lighthouse Learning's partnership with Wesleyan College, which was the first college in the world chartered to grant degrees to women, will enable the institutions to raise effectiveness of teaching, while developing women as leaders in both societies 
Mumbai, June 07, 2023: Lighthouse Learning (formerly known as EuroKids International), India's leading Early Childhood and K-12 Education Group, and Wesleyan College in Georgia, US, today announced signing a Memorandum of Understanding (MoU) for a three-year partnership to enable cross-border collaboration between the institutions. As part of this partnership, the two institutions, which have strongly aligned missions and visions in the field of education, will establish a framework for mutual learning as well as promote cooperation and exchange between administrators, faculty, staff and students, including constituting the 'Lighthouse Learning Scholarship' to nurture students.  
ALSO READ: Primus Partners and Institute of Rural Management Anand (IRMA) Announce Strategic Alliance to Establish PRIMA Excellence Lab
The MoU was signed by Mr. Prajodh Rajan, Co-Founder and Group CEO, Lighthouse Learning and, Meaghan Blight, President, Wesleyan College. Wesleyan College, founded in 1836, was the first college in the world chartered to grant baccalaureate degrees to women. Since 1836 Wesleyan College has provided a world-class liberal arts education to women from the United States and all over the world. To this day, Wesleyan College makes it their mission to educate women from around the globe to accelerate equality for women. Through the partnership, Lighthouse Learning and Wesleyan College will work together with a shared goal of creating more equitable opportunities for learning thus improving their commitment to developing women as leaders for two societies and countries.
As part of the MoU, Wesleyan College will award two annual Lighthouse Learning Scholarships to two students from the Lighthouse Learning network of schools to study at Wesleyan College. Through in-person recruitment sessions and presentations, Wesleyan College will also provide students with assistance and support to enrol at the college. Besides the scholarships, the institutions will collaborate throughout the academic year to provide educator workshops, student sessions and panel discussions on topics such as diversity, equity and inclusion, STEM education, mindfulness in the classroom, liberal arts education, leadership development, career development, finding the best fit college, studying in the USA, among others.
Announcing about the partnership, Mr. Prajodh Rajan, Co-Founder and Group CEO, Lighthouse Learning, said, "We are extremely delighted to embark on this transformative partnership with Wesleyan College, a pioneering institution in women's education. This collaboration represents our shared commitment to foster excellence in education and empower the next generation of women leaders. The Lighthouse Learning group has been playing an active role in shaping the educational landscape in India through our innovative pedagogy, use of technology, as well as the exemplary leadership displayed by the 1000+ women entrepreneurs we work with across the country. Through this partnership, we aim to nurture many such leaders by creating a dynamic exchange for mutual learning and fruitful cooperation among administrators, faculty, staff, and students of both institutions. Together, we are confident of forging a path of educational advancement, enabling every student to make an indelible impact on the future of our societies."

Meaghan Blight, President, Wesleyan College, added, "We are glad to partner with Lighthouse Learning group, which is at the forefront of innovations in the field of education. Through this collaboration, educators and students of both the institutions will be able to exchange ideas while collectively aiming for academic excellence. The partnership will also play a pivotal role in ensuring that deserving students have access to top-quality educational opportunities at Wesleyan College. We look forward to the positive impact that this partnership will have on student's academic success and their overall development as future leaders."
About Lighthouse Learning:
Lighthouse Learning (formerly known as EuroKids International) is India's leading early years & K-12 education group. The group, which global investment firm KKR invested in 2019, is committed to delivering the Joy of Learning to students in early childhood education and K-12 segments. With its portfolio of brands – EuroKids Preschool, Kangaroo Kids Preschool, EuroSchool, Billabong High International and Centre Point Schools, Nagpur, Lighthouse Learning nurtures over 150,000 students every day with its "Child First" ideology in a safe and engaging learning environment.
Over the last 20 years, Lighthouse Learning – a Great Place to Work™ certified organisation has played an active role in evolving the education landscape in India. The group is committed to delivering a robust foundation for future generations with innovation in pedagogy, the use of appropriate technology, and focus on child safety. With a network of over 1,400+ Preschools and 50 K-12 Schools, Lighthouse Learning empowers 1,000+ women entrepreneurs across the nation and employs a workforce of over 10,000.
This year educate yourself and develop your career with EasyShiksha