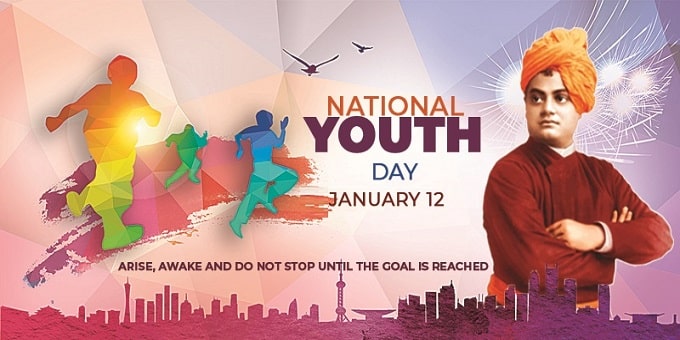 National Youth Day, also known as Vivekananda Jayanti, is celebrated on January 12, which is Swami Vivekananda's birthday. In 1984 the Government of India declared this day as National Youth Day and since 1985 the event is celebrated in India every year.

Important Announcement – EasyShiksha has now started Online Internship Program "Ab India Sikhega Ghar Se"

History
It was a decision by the Indian Government taken in 1984 to celebrate the birthday of the great Swami Vivekananda, which means January 12, as National Youth Day every year. The Indian government has quoted that 'Swamiji's philosophy and ambitions may have been a major source of inspiration for India's Youth Day.'
On January 12, 2013, the Prime Minister of India, Manmohan Singh, addressed his inaugural four-year anniversary celebrations of Swami Vivekananda:
What Gandhi said finds great value in spreading Swami Vivekananda's ideas and ideas among the youth in our country today. He implanted the eternal power of the youth and their relentless quest for truth. It is entirely appropriate that the Government of India has declared January 12, the birthday of Swami Vivekananda, as National Youth Day. We must work to renew the eternal message of this great man and son of India.               
Celebration
National Youth Day is celebrated throughout India in schools and colleges, with processions, lectures, music, youth conferences, conferences, Yogasana, presentations, essay writing competitions, repetitions and sports on January 12 each year. The speeches and writings of Swami Vivekananda, which derives its inspiration from the Indian spiritual traditions and the broad view of his Master Sri Ramakrishna Paramahansa. This has been a source of inspiration and has inspired many youth organizations, research groups and resource programs involving youth.
The birthday of Swami Vivekananda (12 January 1863), according to the Indian Almanac (Vishuddha Siddhanta Almanac) in Pausha Krishna Saptami states, falls on different dates in the English calendar every year (especially in January). This is evident in the various institutions of Ramakrishna Math and Mission in the form of Hindu tradition including mangal arati (a form of worship practiced in India, especially by Hindu people), special worship, homa (fire tradition), meditation, devotional songs, religious discourses and handwriting.
Top Software Engineering Courses
Why is this day celebrated?
National Youth Day is celebrated to commemorate Swami Vivekananda's birthday. He was a social activist, a philosopher and a thinker. The main purpose of this celebration is to spread the philosophy and ideas of Swami Vivekananda in which he lived and worked. It has no doubt been a great inspiration to all the Indigenous Peoples of India. Across the country, several jobs are organized in schools, colleges, etc.
About Swami Vivekanand
E was born on January 12, 1863 in Kolkata (formerly Calcutta) and died on July 4, 1902. His father's name was Vishwanath Dutta and his mother's name was Bhuvaneshwari Devi. He belonged to a well-to-do family. His father died suddenly at a young age and this broke his family's financial back and he was thrown into poverty. Although he was a good student, he did not have time to find a job. He used to ask for work from house to house but could not find work so he became an atheist. One of his English scholars introduced him as 'Shri Ramakrishna Paramahamsa' and in 1881, he met Shri Ramakrishna Paramhamsa at the Kali temple in Dakshineswar and became a disciple of Santa Ramakrishna Paramahamsa. He introduced the Indian philosophies of Vedanta and Yoga in the Western Hemisphere. 
For more related content visit Easyshiksha and Hawkscode
ALSO READ: Death anniversary of Lal Bahadur Shastri
Get Course: Digital-Marketing-Fundamentals-SEO