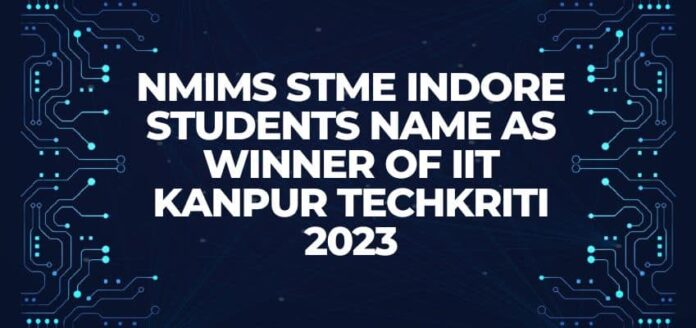 Indore, 8th May 2023: NMIMS STME Indore students have once again demonstrated their excellence by winning at the prestigious IIT Kanpur Techkriti Fest 2023. Multiple teams from NMIMS STME Indore made it to the final round and showcased their innovative ideas and exceptional skills in various competitions.
ALSO READ: Dettol Banega Swasth India launches one of its kind health and hygiene podcast on World Hand Hygiene Day
Team Technophiles secured the 6th position with their innovative idea about Sea Exploration. They estimated that 90% of the ocean remains undiscovered, and the exploration of these areas often requires expensive equipment. However, the team managed to significantly reduce the cost of traditional exploration machines by 87% through the use of buoyancy control via the chemical reaction of Sodium Azide and Potassium Nitrate.
Team TechGuys secured the 4th position in the IACR Competition with their robot designed for Line Following. The robot can detect dead ends and reverse course without turning, ensuring that it stays on course and makes few errors.
In addition, Team Robotech impressed the judges with their innovative fighting robot that had a 12-inch cutter made from a high-strength steel alloy and was powered by an ESP8266 module for wireless communication.
These victories reflect the institute's commitment to nurturing talent and providing students with opportunities to participate in such events. NMIMS STME Indore offers a wide range of programs in robotics, automation, artificial intelligence, and other emerging fields, ensuring that students have access to the latest technologies and tools. The institute also encourages students to participate in national and international competitions, enabling them to hone their skills and gain practical experience.

Dr. Aaquil Bunglowala, Associate Dean, STME NMIMS, Indore expressed his pride in the students' outstanding performance at the IIT Kanpur Techkriti Fest 2023. He stated that "NMIMS STME Indore has a state-of-the-art Lab equipped with cutting-edge equipment, providing students with hands-on experience and practical knowledge. The institute will continue to encourage and support students to participate in such events, enabling them to showcase their innovative ideas and skills on a national and international platform."
About STME-Indore
School of Technology, Management and Engineering, Indore is a constituent school of SVKM's NMIMS which is a Tier-1 University under Autonomous Universities category according to University Grants Permission (UGC), India. NMIMS Indore is a complete package of learning, fun, culture, literature and many such life preaching activities. Here, the lively environment is filled with countless learning opportunities. The guidance of professional faculties and aid of modern equipment of learning are the foundation steps of our growth in this campus. The consistent academic quality, research focus, faculty from top national and global institutes and strong industry linkages at STME has placed it amongst the nation's prime centers of educational excellence and research today.
This year educate yourself and develop your career with EasyShiksha