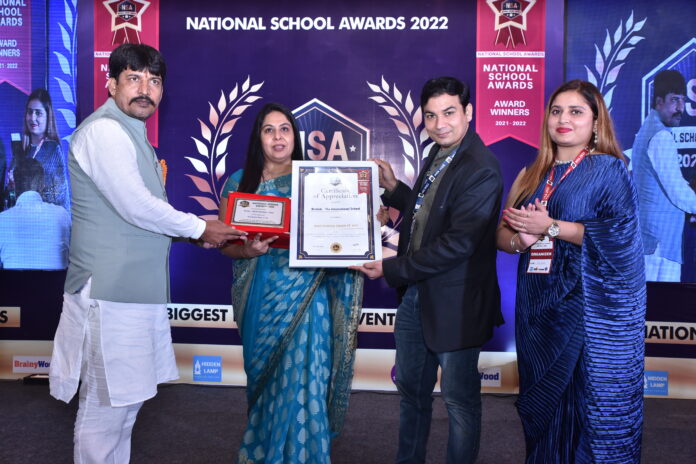 02.08.2022: Orchids – The International School (OIS), the leading chain of CBSE schools in India has added one more feather in the cap. The school has been honored as the "Best School Chain" at the National School Awards 2022 organized by Global Esteem Events.
While receiving the award, Dr. Nidhi Duggal, Principal, Orchids – The International School, Gurgaon South City said, "We are extremely delighted to receive this award Teachers are working hard to implement best educational practices by adopting new teaching methodologies. This award comes in recognition to our constant effort in bringing innovative learning solutions and going forward our student-centric approach will help us keep going in the right direction".
ALSO READ: Sunstone launches India's first-career counselling centre on wheels-career-counselling-centre-on-wheels/
Speaking about this milestone, the Chief Academic Officer of Orchids – The International School, said, "It is a proud moment for Orchids – The International School to be recognized as the Best School Chain of 2022." Developing our future generations as critical thinkers, capable of initiative, new perspectives, and collaborative work requires that they are groomed differently from their early years. Our emphasis on holistic education, and on building in children a diverse set of skills from their earliest years helps them adapt to the changing world around them, and be the agents of the change that we would like to see in our world. "

OIS received the award for its continuous growth across the country as one of the leading school chains. The school chain has further received recognition for its recently launched innovative initiative 'Financial Literacy Program'. The school has implemented STEM education at an early stage through its Robotics Curriculum. The school chain has a special wing called 'Soch' to address mental health education amongst students.
Global Esteem Events is one of the event companies work works towards rewarding and recognizing people across the Globe. They organized The National School Awards, which is an annual gathering that honors the leaders and innovators of the education industry in India with Unique Awards, recognizing their accomplishments, and celebrating their wins amongst the education fraternity. They encourage and support the very foundation of child development and growth in Schools so that schools can work aggressively to elevate educational standards and help future generations develop better mindsets and moral values.
About Orchids – The International School
Orchids-The International School is one of the leading international K12 school chains in India and started its journey in 2002 with its first branch in Hyderabad. In less than two decades it has grown into 60 branches spread over 11 major cities- Mumbai, Bengaluru, Pune, Hyderabad, Gurgaon, Chennai, Kolkata Nagpur, Nasik, Indore, and Aurangabad. Modern physical infrastructure, ensuring personalized attention by following a 1:12 teacher-student ratio, and a carefully curated curriculum provide uniformity in all Orchids schools. Orchids follow CBSE and ICSE curricula and are infused with international teaching methodologies to provide a strong emphasis on personality development along with academic excellence. Currently, it has over 50,000+ students and 3,000+ teaching and non-teaching staff.
Visit EasyShiksha for skill development