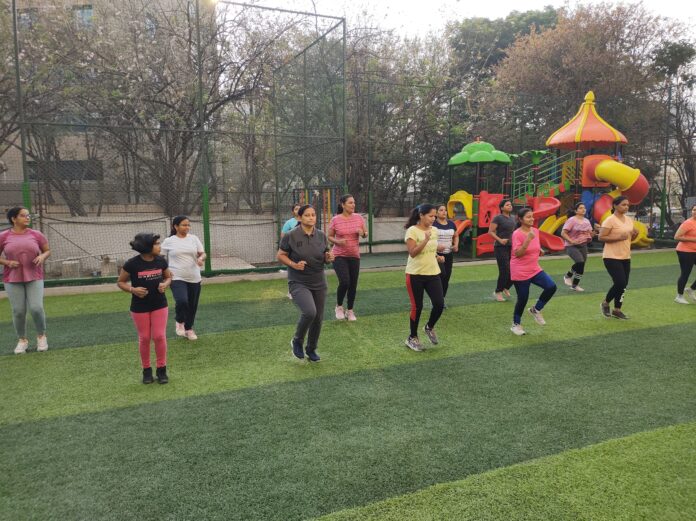 Orchids The International School Organizes Super Mothers Fitness Camp
29.03.2023 Pune: Orchids The International School, Kharadi, organized 'Orchids Super Mothers Fitness Camp', an exclusively designed fitness camp for mothers who wanted to take control of their overall well-being. The mothers were delighted to have something special planned for them, especially at the right time as their children finish their exams and they don't have to worry about their studies.
It was a free 10-day camp that included various types of Zumba, specific yoga for different bodily discomforts, swimming and mindfulness activities. The camp aimed to promote physical fitness, mental health and well-being among the most important members of any family- mothers. Around 50 mothers of various age groups grabbed this opportunity to take some time out of their busy schedules and focus on their fitness.
ALSO READ: News18 India's Lucknow Adhiveshan Celebrates the Achievements of Uttar Pradesh Govt 2.0 on Its First Anniversary
The Zumba sessions were led by a school instructor who ensured that the mothers had a fun-filled and energetic workout. The specific yoga sessions were tailored to the needs of different mothers experiencing age-specific changes in their physiques. The swimming sessions were refreshing, and the participants could also overcome aqua phobia by learning to swim. The mindfulness sessions helped the mothers gain insight into their own being and how they can steer their lives towards a better tomorrow.
The highlight of the camp was the guest talk by Fitness coach Dr. Poonam Vichare and IFBB Pro Champion Ms. Sarina Pani, who made the concepts of Nutrition and Fitness easy for all mothers. The talk was followed by a mindful potluck for which healthy and quantified recipes were shared with the participants.

The Principal of Orchids The International School, Garima Salwani, expressed her happiness over the success of the Super Mothers Fitness Camp. She said, "We strongly believe that a healthy mother will ensure that the entire family remains healthy as well. Thus, at Orchids The International School, we always aim to promote a healthy and fit lifestyle among its students and their families. Orchids Super Mothers Fitness Camp was a small step towards achieving that goal, and the school hopes to organize more such events in the future. It was heart-warming to see the mothers keeping their kids engaged with other family members and prioritising their health and well-being by enthusiastically participating in the camp. We hope they will continue to reap the benefits by prioritising their well-being even after the camp ends."
About Orchids The International School
Orchids The International School is one of India's leading international K12 school chains. It started its journey in 2002 with its first branch in Hyderabad. In less than two decades, it has grown into 90 branches spread over 25 major cities- Mumbai, Bengaluru, Pune, Hyderabad, Gurgaon, Chennai, Kolkata, Nagpur, Nasik, Indore, and Aurangabad. Modern physical infrastructure, personalized attention, and a carefully curated curriculum provide uniformity in all OIS schools. OIS follows the CBSE and ICSE curriculum infused with international teaching methodologies to provide a strong emphasis on personality development along with academic excellence. Currently, it has over 750000+ students and 7000+ teaching and non-teaching staff.
This year Educate yourself and develop your career with EasyShiksha