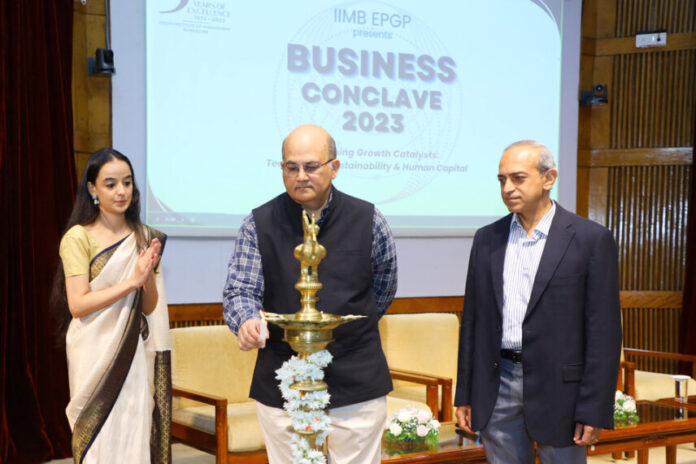 The conclave including panel discussions, a fireside chat, case competitions and quiz featured industry leaders, entrepreneurs, policy makers and more
27 September, 2023, Bengaluru: "India is slowly emerging from being a follower in technology to turning into a frontrunner. Adherence to ESG and sustainability regulations has become a must for all organizations. Moreover, just as people are looking for jobs, the reverse is also true, since it is a huge challenge to meet the skill gap that organizations face. So, there is a lot of learning for you from the theme of this conclave. You should also consider it a motivation to take on some of the big challenges that the country faces today and resolve them meaningfully", said Prof. Rishikesha T Krishnan, Director, IIM Bangalore, during his welcome address at the 'Business Conclave 2023', hosted by the students of IIM Bangalore's one-year fulltime MBA for experienced professionals, the Executive Post Graduate Programme in Management (EPGP).
The theme for this year's conclave was, 'Unleashing Growth Catalysts: Technology, Sustainability & Human Capital'. The IIMB Business Conclave, the annual flagship event of EPGP, serves as a distinguished platform for profound discussions on contemporary topics and emerging trends.
Prof. R T Krishnan also pointed out to the students that the challenges for growth as well as competitiveness that India faces currently in terms of technology, sustainability and human capital made it even more exciting for them to be prospective managers and business leaders.
The inaugural session also included an address by Prof. Ashok Thampy, Chairperson, Executive Post Graduate Programme in Management and faculty of the Finance & Accounting area of IIMB. "While it is the 50th year of the institute, it is the 15th for EPGP. The programme has come a long way and is today rated highly in both global and national rankings. It has been ranked Number 1 in India and Number 4 in the APAC region in the Bloomberg Best Business Schools Survey 2023. As per the FT MBA Rankings 2023, it is at the 52nd position. This is due to the quality of students and alumni of IIMB."
"Today, we are going to discuss two critical issues that the country is facing currently – the need for digitalization and growth, coupled with the need for sustainable solutions."
India's middle class is undergoing transformation while grappling with the impact of new business methodologies and technological advancements in both organized and unorganized economies. The manner in which organizations and consumers operate and interact is undergoing global evolution, thereby shaping the future of prosperity through interconnected catalysts. This year's EPGP Business Conclave delved into the drivers of growth and the art of harnessing human capital to embrace change. There was dynamic exchange of ideas with industry leaders exploring strategies for adapting and thriving in the evolving landscape. 

Panel Discussion 1 – Unveiling UPI 2.0: Embracing Interoperability and Global Outreach
This discussion featured Nalin Bansal, Chief of Fintechs, Corporates and New Initiatives, National Payments Corporation Of India (NPCI), and Rahul Chari, Founder & CTO, PhonePe. It was moderated by Prof. R Srinivasan, Chairperson of the two-year fulltime MBA programmes of IIMB – the Post Graduate Programme in Management (PGP) and Post Graduate Programme in Business Analytics (PGP-BA), and faculty of the Strategy area of IIMB.
Nalin Bansal predicted that the next two or three years will be focussed on capacity building and growth in terms of UPI. "Consumer behavior needs to change significantly and shift towards digital. Our model is based on scaling up and interoperability. For the last four or five years we have building our own technology. Moreover, we are focussed on human capital – we hire, train and grow." In terms of penetrating the international market, he said that availability of low cost services would help, as would political will and bureaucratic support from regulatory bodies and the Government.
Rahul Chari said that UPI 2.0 is more about leveraging what 1.0 had built. He added that strategic, long term thinking has shaped their journey. "There should be ways to design businesses so that democratization continues to offer opportunities to innovate, so that commoditization does not kill business. For us, speed and reliability will be the winning factors."
Fireside Chat
During this session, keynote speaker Dr. V Anantha Nageswaran, Chief Economic Advisor, Government of India, was in conversation with Dr. Chetan Subramanian, RBI Chair Professor in Economics, IIMB, about macroeconomic factors and growth in India. He listed some of the bottlenecks to firms' scaling up growth as gaps in terms of finance, rules, regulations, compliance, skills training and attitude. "India is doing well on the per capita front. Indian tax system is progressive in nature. The Government needs to ensure opportunities for better health and education outcomes. There should be preventive, primary and tertiary healthcare as well as health insurance. Health and education expenditure outlay needs to be increased. We should also take a lead in addressing climate issues. States need to step in and people need to make better choices, if India has to become more resilient. Change should come from the private sector and academic institutions as well. Public policy has to take steps to tackle social and economic consequences of technology."
ALSO READ: Zell Education Achieves Milestone with 100+ Placement Partnerships
Panel Discussion 2 – Sustainable Strategies: Accelerating Green Transformation
The session included panelists Kanishk Negi, Sustainable Procurement Director, Schneider Electric; Priya B, Director, EY, and Narayan P S, Global Head – Sustainability and Social Initiatives, Wipro Ltd, along with the moderator Prof. P D Jose of the Strategy area of IIMB.
Narayan P S said that the first 10 to 15 years of ESG was marked by slower adoption by companies. "It is only in the last five years that we have seen a rapid increase in adoption of these principles across geographies. Investors, customers and even employees have engaged themselves and this is reflected in Government measures. But the template will continue to evolve and there will be conflicting challenges. Those who are really progressive and mean what they talk about, will make a difference." He added that this discussion may motivate all the people who want to make a career in ESG. "The canvas is very large, and will surely match your core strengths. However, the functions and complex, so you must have an appetite for the same."
Kanishk Negi pointed out that conventional methods of business may not take us forward. "Organizations needs to evolve and find new ways of harnessing energy. Today, firms need to take end-to-end ownership of their entire value chain. Resource conservation and safeguarding human rights are also crucial. Formalizing all these within the organization, then working jointly with other stakeholders and helping them, should be the mantra. For example, Schneider helped its supplier partners reduce carbon emissions. Moreover, every time our customers are using our products, they are actually using less energy as sustainability is embedded into the design of our business."
Priya B shared that while earlier she would face a 'why' from corporates in the context of the requirement for adopting ESG, today it is a more welcome 'how'. "It has not only become mandatory for corporates to offer a disclosure regarding their compliance, the same needs to be validated by an external party as well, supported by data. Going forward, data will play a stronger role because regulatory demand for disclosure is very stringent for the larger agenda of sustainability. We need to integrate sustainable designs into our products and services. ESG governance needs to be aligned to business requirements as well."
Important Announcement – EasyShiksha has now started Online Internship Program "Ab India Sikhega Ghar Se"
Panel Discussion 3 – Navigating Digital Transformation: Strategies and Challenges for Modern Business Incumbents
The panel discussion saw sharing of experiences and perspectives by Vineet Shukla, Group Vice President (Head of Data), Mahindra Group, and Reema Jain, Chief Information & Digital Officer, Hero MotoCorp. It was moderated by Prof. Rajendra K Bandi, Dean, Administration as well as Chairperson and faculty, Information Systems area, IIMB.
Vineet Shukla observed that there has been a significant shift in the last four or five years in the way consumers want to use products and services. "Digital transformation and technology have become the key players."
Reema Jain spoke about companies in the pre- and post-digital eras. "Along with huge expertise, established companies have a legacy to carry, hence their risk taking appetite is less. Fast experimentation (and failure due to that, as the case may be) are favored by such companies. Start-ups' ability to make decisions on the other hand, is more and faster, as there is less hierarchy. They are in a position to take more risks and experiment more. To strike a balance, established companies should make empowered teams, cut down functional silos, and speed up decision making. A change of mindset and challenging the status quo are needed. The right business model has to be established, we need to protect the core business model, but find ways of disruption as well."
Both the panelists acknowledged that use of AI is rising. "But when ML does not work, we need to be ready with failure contingencies", said Vineet. Responding to a query from Prof. Bandi about digital education via MOOCs cannibalizing the established model of classroom education, he said that when it comes to application of theory, brainstorming, research, etc., online classes may not make the cut.
Answering a query during the Q&A session, Vineet said that Mahindra Group and others in the sector are very much committed to fulfilling requirements of customers with special needs. "We are closely connected with the human aspect, and we know that there is a need and a market. If we are able to digitally transform ourselves and create products for people with specific needs, it would be a great success story!"
Contests
These sessions was followed by case competitions and the quiz final round – CaseCrest: The Sustainability Challenge (Final Presentation Round); Prodi-B: The Product Management Challenge (Final Presentation Round), and Find: The Finance Quiz (Final Quiz Round).
This year educate yourself and develop your career with EasyShiksha