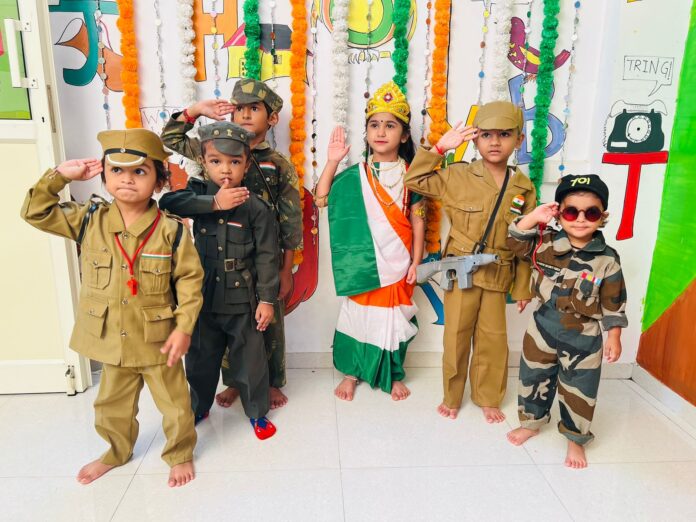 Mumbai, August 16, 2023 – EuroKids, India's most trusted preschool network, ignited the spark of patriotism and values in the hearts of young minds nationwide as they celebrated the 76th Independence Day. A spectacular display of fervor and learning unfolded across its centres, where over 3350+ jubilant toddlers from various regions commemorated this significant occasion at their respective centres.
To instil unwavering values and a deep-rooted pride in the upcoming generation, EuroKids orchestrated a grand celebration that resonated with the spirit of freedom. The centres buzzed with energy and excitement as the children participated in various engaging activities. From the majestic unfurling of the national flag to an endearing parade showcasing their unity, the young learners were immersed in India's rich history. The day's highlight was a captivating fancy dress competition, where these tiny tots transformed into gallant freedom fighters who paved the path to India's liberation from colonial rule. The celebrations were a joyous occasion and a heartfelt effort to cultivate a profound understanding of the nation's journey towards independence. Dressed in the attire of valiant freedom fighters, these young champions passionately recited historical lines, bringing alive the sacrifices and struggles that shaped the destiny of our great nation.

EuroKids has long been a pioneer in delivering high-quality early childhood education, boasting over two decades of expertise. The essence of this institution lies in nurturing holistic development among India's future leaders. With a commitment to laying a strong foundation of values and respect for the country's heritage, EuroKids ensures that every occasion is celebrated with utmost pride and enthusiasm. This celebration of Independence Day served as a poignant reminder of the brand's dedication to shaping confident, curious, and compassionate individuals.
Commenting on the preschool network's nationwide celebration of Independence Day, KVS Seshasai, CEO of Pre-K Division, Lighthouse Learning (EuroKids), said, "Witnessing our young prodigies immerse themselves in the spirit of Independence Day was truly heartening. Early education forms the bedrock of a child's growth, making it imperative to instil values that resonate throughout their lives. The children's fervor to learn about the sacrifices of our freedom fighters was truly inspiring. By commemorating this significant day with our little stars, we are not just educating them about history but instilling in them a deep love for our nation."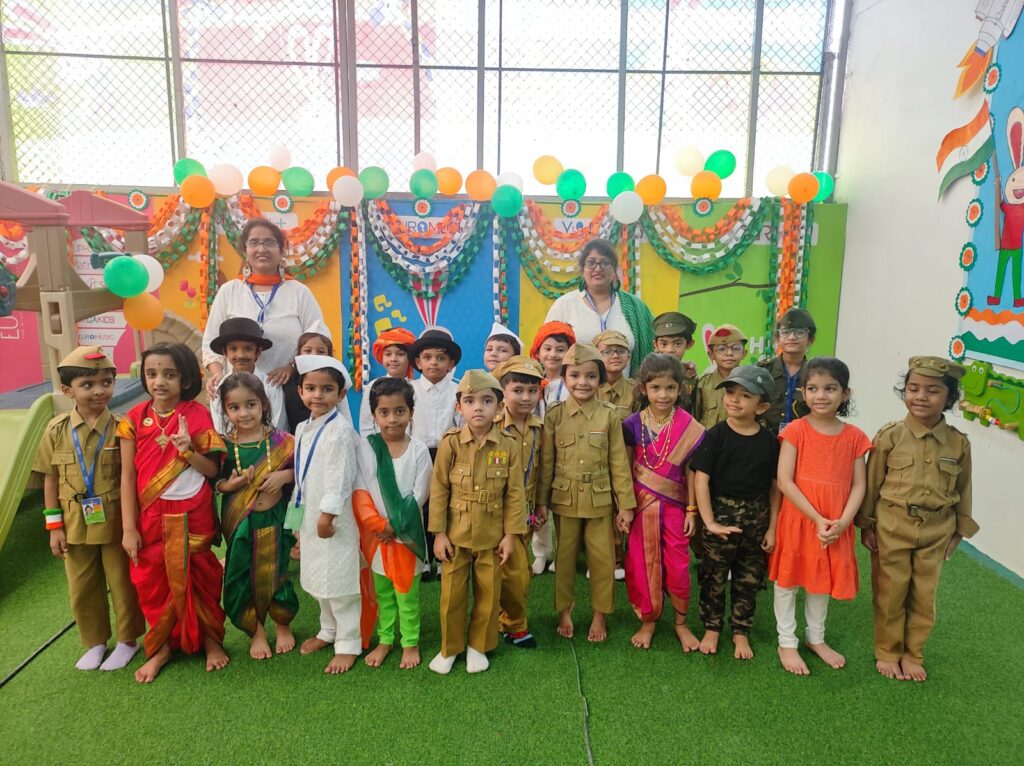 Speaking on the success of the Independence Day celebration, Samidha Tandel, Centre Head, EuroKids Dombivli, Mumbai, said, "We are delighted to share that our Independence Day celebration was an immense success. The day brimmed with pride and patriotism as our young ones adorned costumes representing their favorite national heroes, marching with pride and enthusiasm. From Shivaji Maharaj to Subhash Chandra Bose, Veer Savarkar to Gandhiji, the spirit of our nation's heroes came alive through these little ones. Witnessing the children showcase their understanding and appreciation of our country's history was truly heartwarming. We extend our heartfelt gratitude to all the parents for their extraordinary efforts in dressing up their children and making this celebration truly unforgettable."
In addition to nurturing young minds for a promising future, EuroKids ardently believes in fostering unbreakable bonds between parents and children. The preschool's emphasis on parent-child engagement creates a shared learning journey, allowing families to weave precious memories that last a lifetime.
Also Read: Manipal's American University of Antigua (AUA) Holds Grand Graduation Ceremony in New Jersey
About EuroKids Preschool:
EuroKids is recognised as India's Most Trusted Preschool Brand, with over 21 years of experience, and has a presence in 350+ cities & 3 countries. The journey began in 2001 with two preschools. Since then, the group has consistently raised the bar for preschool education through its innovative and mindful curriculum – EUNOIA, which helps children grow holistically in a home-like environment. The foundational belief provides every child with a Flying Start, enabling excellent future success. Also, the EuroKids franchise model supports new entrepreneurs in the education sector to thrive and helps them set up their preschools. 
The Group –
EuroKids is part of Lighthouse Learning, one of India's Leading Early Childhood & K-12 Education groups. The group is committed to building a robust foundation & new-age skills in future generations with student-centred goals that align its network of over 1,200 Pre-Schools and 45 Schools. Lighthouse Learning Group delivers the joy of learning to over 150,000 children daily, empowers more than 1000 women entrepreneurs, and employs a talented workforce of over 10,000 across its offices and campuses.
This year educate yourself and develop your career with EasyShiksha