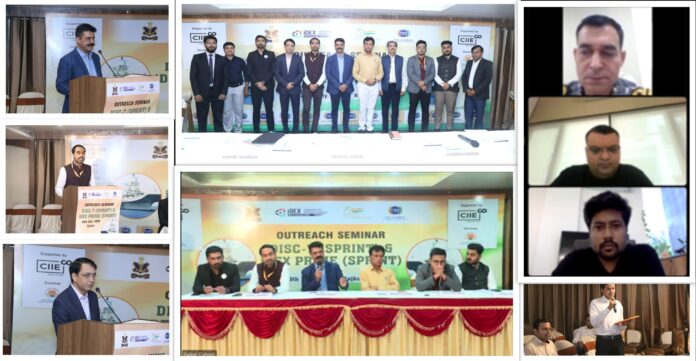 The key objective of organizing this meaningful seminar is to deliberate on the opportunities for Start-ups and MSMEs in the Scheme and discuss on the Indian Navy 75 new indigenous technologies/products. It was participated by the key speakers CdrSandeepDhankar , Indian Navy, Cmd A P Goyala, Indian Navy, Mr. Vishal Sharma, Programme Executive, iDEX, Mr. Eric Batliwala, Senior Manager, CIIE.CO (IIM A), Mr. DhavalRaval, Chairman, Aerospace & Defense Committee.
PHDCCI Gujarat State, Dr. Nasir Jamal , Secretary (Defence) PHDCCI, Dr. Hansraj Gajera, President, Saurashtra Laghu Udyog Bharti, Mr. Kenil, Analyst, CIIE.CO, Mr. Sandeep Dave, CEO, Abhyuday Bharat Mega Defence Cluster, Mr. MaulikMota, Chief System Engineer, Om Space Rocket Exploration, Mr. NagendraKumble , Director RandomeTechnolgies.
The Welcome Address was given by Mr. DhavalRaval, Chairman, Aerospace & Defense Committee, PHDCCI Gujarat State. In his address he shared the opportunities for the startups and MSMEs under the indigenisation plan by the Govt. of India and there is a great need of defence ecosystem in MSMEs in order to make Gujarat an A&D Hub. There is a huge scope for the Indian Defence Industry to contribute to Global Defence Business, given the kind of expertise capability we have in the engineering and strategic sector. Mr. Vishal Sharma Programme Executive, iDEX gave a detailed presentation about the DISC- 7 (SPRINT) &iDEX Prime (SPRINT) and how a startup can benefit from these schemes and invited more and more participation under the scheme. iDEX is to handhold and guide startups to seek various solutions from the problem statements of the Armed Forces. Cmd A P Golaya and Cdr Sandeep Dhankar shared 75 problem statements to the Indian Navy with the startups and also clarified the doubts of the startups during this outreach seminar.
ALSO READ : Aster RV Hospital conducts Drops of Hope- a blood donation drive
Mr. Eric Batliwala, Senior Manager and Mr Kenil Shah, Analyst, CIIE.CO (IIM A) shared details about their incubation center in IIM Ahmedabad and how they have been promoting and incubating startups in Defence space. Some of the Startups such as Randome Technologies and Om Space Rocket Exploration from Rajkot Gujarat shared their experience and journey to success. The program was moderated by Dr. Nasir Jamal , Secretary, Defence, PHD CCI. Around 100 SMEs and Startups from Rajkot participated in the event physically & virtually.
The Seminar was sponsored by PHDCCI's Annual Sponsors – Multani Pharmaceuticals Ltd; Star Wire; PG Industry; Uflex Ltd; DLF Ltd; Continental Carriers Pvt Ltd; Belair Travel & Cargo Pvt Ltd; Radico Khaitan Ltd; Jindal Steel & Power; MMG Group; Paramount Communications; Superior Industries Limited; JK Tyre & Industries Ltd; SMC Investments and Advisors Ltd; Crystal Crop Protection Ltd; Sagar Group of Industries; Samsung India Electronics; Comtech Interio; R E Rogers; AYUSH Herbs Private Ltd; Apeejay Stya Group; DCM Shriram; EaseMyTrip; Blossom Kochhar Beauty Products Pvt Ltd; Oswal Greentech; Trident Group; MV Cotspin Ltd; Synergy Environics Ltd; Ajit Industries Pvt Ltd; P S BEDI & Co.; Indian Farmer &Fertilizers Corporation Ltd; Jindal Steel; Hindware Sanitary; Modern Automobiles; Livit Ltd; Central Coalfields Ltd ; Axa Parenterals; Bhagwati Plastic and Pipes Industries; J K Insurance Brokers Ltd; DD Pharmaceutical Ltd.
visit EasyShiksha for skill development.