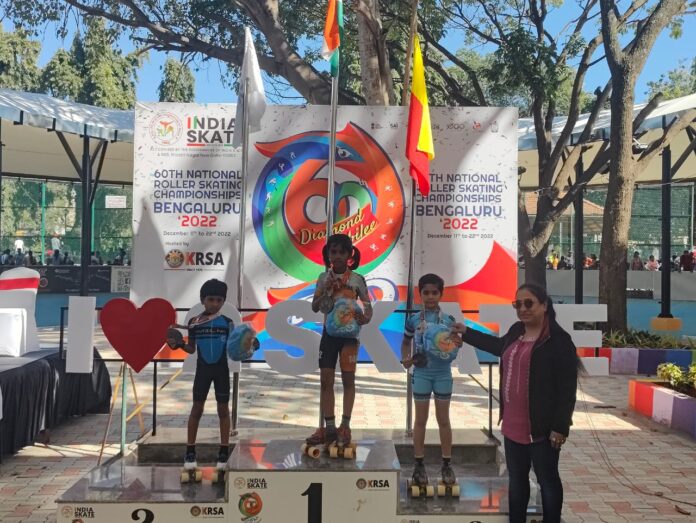 Laksita Sriram, a Grade 1st student from Orchids The International School, Undri, recently won both gold and bronze medals for the '1 lap' and '3 lap' categories, respectively, at the 60th National Roller Skating Championship held in Bangalore from December 11th to 22nd.
While there were over 2000 competitors, she competed with 102 challengers in her category. Before the final round, Laksita finished all her races in 1st position.
Speaking on her achievement, Ms. Anitha Nair, Principal, Orchids The International School – Undri said, "We have always encouraged our students to pursue their field of interest, especially in sports. Laksita's achievement in this competition is the fruit of her hard work and dedication over the years. We are very proud of her and wish her more success!"
Laksita started practicing roller skating at the age of 2. She trains herself 3 hours a day and for 4 days a week. Her love for the sport is such that she even spends 2 hours travelling in her roller skates to the track for training. She balances her passion for skating and her studies with the support of her school teachers and parents.
About Orchids The International School
Orchids The International School is one of the leading international K12 school chains in India and started its journey in 2002 with its first branch in Hyderabad. In less than two decades, it has grown into 90 branches spread over 25 major cities- Mumbai, Bengaluru, Pune, Hyderabad, Gurgaon, Chennai, Kolkata Nagpur, Nasik, Indore, Aurangabad. Modern physical infrastructure, personalized attention, and a carefully curated curriculum provide uniformity in all OIS schools. OIS follows the CBSE and ICSE curriculum infused with international teaching methodologies to provide a strong emphasis on personality development along with academic excellence. Currently, it has over 75000+ students and 7000+ teaching and non-teaching staff.
Orchids' core anthem is "Shaping minds, Touching lives."
Also Read: Women's Healthy Weight Day: A unique you within yourself
This year Educate yourself and develop your skills with EasyShiksha