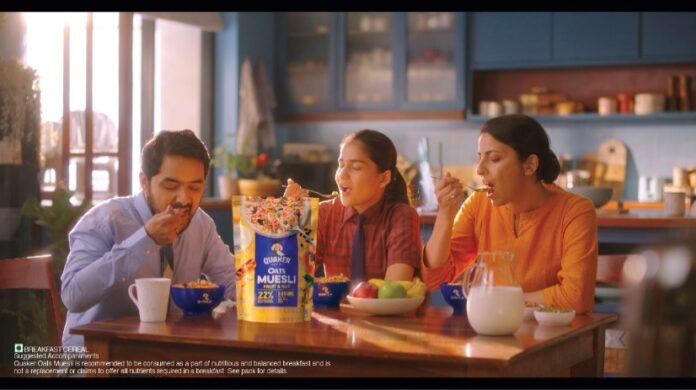 Launches three films under 'Ab Breakfast Ko Banao Unskippable Breakfast' campaign showcasing Quaker Oats Muesli to brighten up mornings
Available in two variants – Fruit & Nut and Berries & Seeds – to provide a wholesome start to the day
Bangalore, 13th December 2022: From morning time pressures to imminent traffic delays to early office meetings – cross out all the excuses and beat the real villains that make you miss breakfast. Quaker, one of India's leading brands in breakfast cereal category and world leader in Oatmeal segment, has unveiled a special campaign 'Ab Breakfast Ko Banao Unskippable Breakfast' for its recently introduced ready-to-eat cereals, Quaker Oats Muesli. As part of the campaign, three films have been launched underlining how breakfast can be made an unvarying part of people's daily lives by adding the nutritious, scrumptious and easy-to-make Quaker Oats Muesli.
Based on the insight that breakfast is being missed by as many as 44% of millennials (as per a Euromonitor International and Quaker report*), the campaign brings its message to life through three relatable and fun films about the apparent excuses that people make for missing the most important meal of the day. The films quirkily reveal the actual villains – morning hustle to prepare meals, boring breakfast, and lack of nutrition in the first meal of the day – that prevents people from enjoying a regular breakfast. The campaign aims to inspire consumers to start their day on the right note and make breakfast unskippable with Quaker Oats Muesli.
The first film opens with a family in a race against time and trying to hustle through breakfast and the morning rush as they try to do it all at one go. While the second film features a young man who begins the day uninterested in his breakfast, which eventually triggers him to be irate later when he takes on city traffic. The third film demonstrates the professional struggles of a woman who is feeling low-on-energy due to her not so nutritious breakfast and trying to stay awake during a work meeting.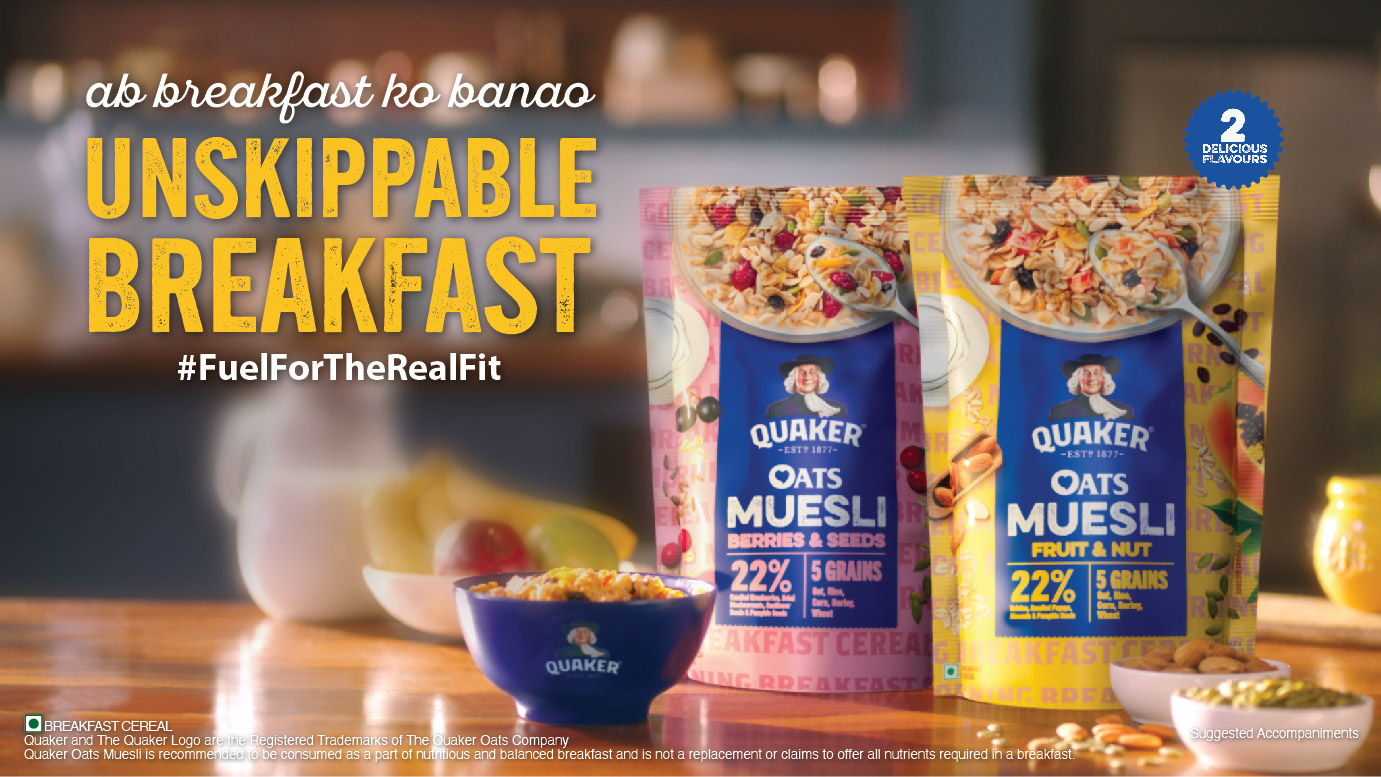 The films conclude with a cinematic reveal of the goodness of five grains – oats, wheat, corn, barley, and rice, as well as fruit, nuts and seeds, which makes Quaker Oats Muesli an ideal option as part of breakfast for those chasing hectic morning schedules. This oat-a-licious offering is a good source of protein and fibre that blends a delicious taste with convenience. Developed to provide 'Fuel For The Real Fit', it gives a nutritious start to the day, with a crunchy, multi-textural, and wholesome experience in two flavourful variants – Fruit & Nut and Berries & Seeds.
Commenting on the campaign launch, Sonam Bikram Vij, Associate Director and Category Head – Quaker, PepsiCo India, said, "With consumers now working both from home and office, it's tough managing an active and nutritious morning routine while gearing up for the day ahead. The Quaker Oats Muesli campaign 'Ab Breakfast ko Banao Unskippable Breakfast' builds on this powerful insight in a relatable and fun way to inspire consumers to make their breakfast an unskippable part of their mornings with Quaker Oats Muesli. It's a modern offering that gives consumers a tasty, nutritious, no-cook and ready-to-eat option for busy morning schedules."
"Breakfast is the most important meal of the day and to reiterate this, our 3-film campaign essays relatable situations on the repercussions of skipping breakfast. Each film, with quirk, depicts everyday struggles we often face and how they can be better dealt with if you have had a good breakfast. Thus, presenting the exciting option of Quaker Oats Muesli to help consumers with the perfect start to their day." said Vikram Pandey (Spiky), National Creative Director, Leo Burnett.
Talking about their experience, Sana Ahmad and Beeswaranjan Pradhan, Film Directors, Dharma 2.0, said "With interesting scripts like these, and complete trust from the agency and client, we were able to make these 20-seconders 'unskippable' films catchy, fun and very relatable for our millennial audience."
Quaker Oats Muesli – Fruit & Nut is available in 700g for INR 440 and Quaker Oats Muesli – Berries & Seeds in 700g for INR 460 in leading retail and e-commerce platforms across key markets in India. The main communication will be followed by a robust surround plan.
AGENCY CREDITS
Creative Agency: Leo Burnett
Chief Creative Officer: Rajdeepak Das
Executive Vice President: Jaikrit Singh
Executive Creative Director: Shahnawaz Qadeer & Pramod Chavan
Strategy Leads: Noor Samra & Ashish Mathew
Creative Director: Ankit Pathak
Film Department: Jignesh Maru & Sagar Bhanushali
Account Management: Binay Mehra & Rishika Mishra
Production House: Dharma 2.0
Director: Sana Ahmad & Beeswaranjan Pradhan
Producer: Punit Malhotra, Hetuk Mehta & Cynara Rebello
About Quaker:
Quaker Oats was launched in India in 2006. The brand Quaker is more than 140 years old and is a world leader in the oatmeal segment. Quaker Oats is a 100% wholegrain and natural source of carbohydrates and dietary fibre. It has unique soluble fibre called βeta Glucan, which is scientifically proven to help reduce cholesterol (cholesterol is a risk factor for heart diseases). In India, Quaker Oats is also available in variants such as Quaker Plain Oats, Quaker Oats Multigrain, Quaker Oats with Flavour Mix and Quaker Oats Muesli
Also Read: Orchids The International School bagged two awards at India's School Merit Awards 2022
About PepsiCo India:
PepsiCo entered India in 1989 and has grown to become one of the largest food and beverage businesses in India. PepsiCo India's diverse portfolio includes iconic brands like Pepsi, Lay's, Kurkure, Tropicana 100%, Gatorade and Quaker. Guiding PepsiCo is our vision to Be the Global Leader in Convenient Foods and Beverages by Winning with Pep+ "Winning with Pep+" reflects our ambition to win sustainably in the marketplace and embed purpose into all aspects of the business. We believe that continuously improving the products we sell, operating responsibly to protect our planet and empowering people around the world is what enables PepsiCo to run a successful global company that creates long-term value for society and our shareholders. In 2009, PepsiCo India achieved a significant milestone, by becoming the first business to achieve 'Positive Water Balance' in the beverage world, a fact verified by Deloitte Touché Tohmatsu India Pvt. Ltd. The company has been Water Positive since then.
Visit EasyShiksha for skill development courses