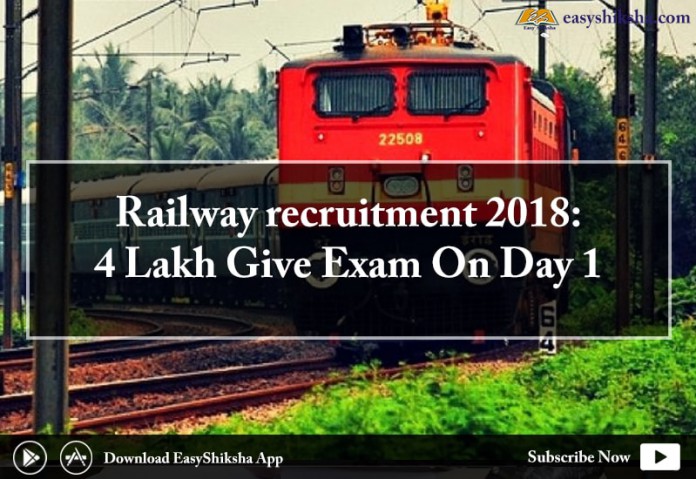 A record four lakh candidates appeared in the Railways' largest recruitment drive for around 60,000 posts of assistant loco pilots and technicians that started yesterday, a statement from the national transporter said.
"On Thursday, 4.83 lakh candidates – approximately 1.60 lakh per shift (exams were conducted in three shifts) – were scheduled. Out of this, around 3.59 candidates appeared for the exam. This attendance is a record for all RRB examinations conducted so far," the statement read.
Chairman of the Railway Board, Ashwani Lohani, paid a surprise visit to one of the centres in the national capital to take stock of the arrangements made for the exam and candidates. He also visited a command centre, from where the status of all 439 exam centres in 166 cities is being monitored for "every step of the process i.e. pre-exam, during exam and post exam".
Question papers are being provided to the candidates in 15 languages. This is a big step in the interest of candidates belonging to different vernacular backgrounds.
The exams will be conducted in a phased manner till August 31. The next set of exams will be conducted today, August 13, 14, 17, 20, 21, 29, 30 and 31.
Around 83 percent of the candidates have been allotted centres within 500 kilometers. Special care has been taken to ensure that almost all women candidates and persons with disability are provided centres within 200 kilometers.
Even for those candidates who could not be accommodated within 500 kilometers, the Railways has made extra efforts and arranged exam special trains from places like Deoria, Chhapra, Patna, Darbhanga, Muzaffurpur, Ara to destinations such as Secunderabad, Bhopal, Indore, NCR etc. So far, 10 pairs of such special trains have been mobilized and more trains will be planned in the future.
——————————————————————————————————————————————
Get free online test series for exams like Bank PO cleark and SSC, Railway with EasyShiksha. Sign up and get a free account for every mock test. With EasyShiksha free account you can access free online courses and career helper. Like Our Facebook page for more Jobs, Education, Sports & Technology updates.