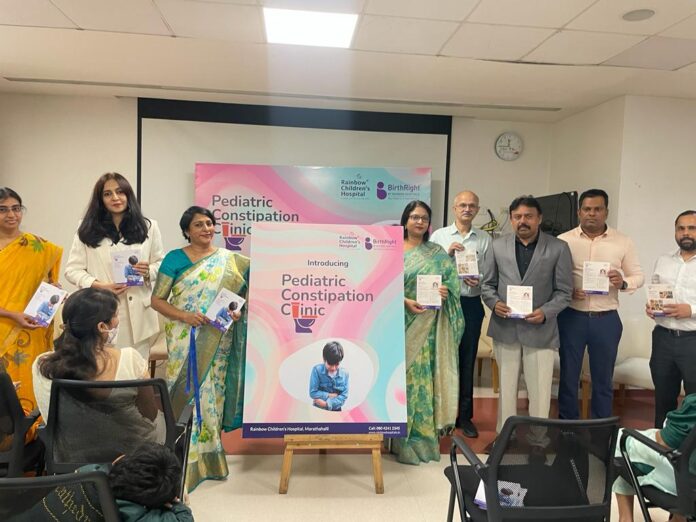 21st August 2023, Bangalore: Rainbow Children's Hospital, Marathahalli is excited to announce the opening of its new Paediatric Constipation Clinic. This much-needed clinic aims to address the common yet concerning issue of pediatric constipation that affects children of all age groups, including infants and young children.
Pediatric constipation is a prevalent medical condition characterized by pain or difficulty while passing stools. It is often observed during the introduction of complementary feeds in infants or when early aggressive toilet training is attempted in young children. Symptoms of pediatric constipation include irregular bowel movements, hard and lumpy stools, abdominal pain, difficulty with toilet training, leakage of stool in undergarments, and more.
Dr. Lavenya R Padmanaban, Consultant – Paediatric Gastroenterology and Hepatology said "More than 95% of pediatric constipation cases are due to simple lifestyle factors, making it a highly treatable condition. However, the clinic emphasizes the importance of proper attention and treatment. Ignoring constipation can lead to persistent issues such as difficulty with toilet training, toilet refusal, recurrent urinary tract infections, abdominal pain, and even school absences. It can negatively impact a child's physical and mental well-being, causing anxiety and affecting their overall quality of life."
ALSO READ: COP28 President-Designate urges G20 nations to lead the way and demonstrate solidarity on climate action
Mr. Nithyananda P, Regional Business Head at Rainbow Children's Hospital says "The clinic's approach to managing pediatric constipation sets it apart from other clinics. The team takes a multidisciplinary approach, including consultations with a Paediatric Gastroenterologist, Senior Paediatric Dietitian, and Nurse Specialist (Counsellor) during every visit. This comprehensive team evaluates each child thoroughly, offering personalized treatment plans that encompass lifestyle modifications, dietary changes, and appropriate medications as needed."
Leading the expert team is Consultant Paediatric Gastroenterologist, Dr. Lavenya R Padmanaban, who has extensive experience in managing pediatric gastrointestinal conditions. The team also includes Dr. Malathi Voora, a skilled Paediatric Dietitian, and Sister Dhivya, the dedicated Nurse Specialist and Counsellor.
Ms. Usha Iyer, an experienced educator with 39+ years of experience, including a decade of leadership at India International School, Bangalore is invited as the Chief Guest for the launch of the Pediatric Constipation Clinic. Ms. Iyer stated, "The launch of the Pediatric Constipation Clinic underscores the vital connection between children's health and their overall well-being just as education shapes their minds, addressing their health is paramount in shaping their futures."
Important Announcement – EasyShiksha has now started Online Internship Program "Ab India Sikhega Ghar Se"
The long-term goals and vision of the clinic are focused on providing effective management for each patient's condition and addressing their specific needs. By reducing treatment failure rates and the risk of recurrence, the clinic aims to prevent long-term complications and distress for families. Furthermore, the clinic educates the general public about pediatric constipation and promotes simple, healthy measures to avoid and manage this common issue effectively.
In addition to the core team, the clinic collaborates with other specialists at Rainbow Children's Hospital, including Clinical Psychologists, Pediatric Surgeons, Allergy Specialists, and Pediatric Urologists, as required, to ensure comprehensive and holistic care for young patients.
About Rainbow Children's Medicare Limited
Rainbow Children's Hospital, the leading chain of multi-specialty pediatric hospitals has been at the forefront to offer advanced pediatric care to children in need. With the advanced technology and state-of-the-infrastructure, team of experts and hospitals spread across the country offer tertiary and quaternary care including complex cardiac surgeries, neurosurgeries, pediatric liver transplants, and pediatric bone marrow transplants along with pediatric renal transplants.
This year educate yourself and develop your career with EasyShiksha