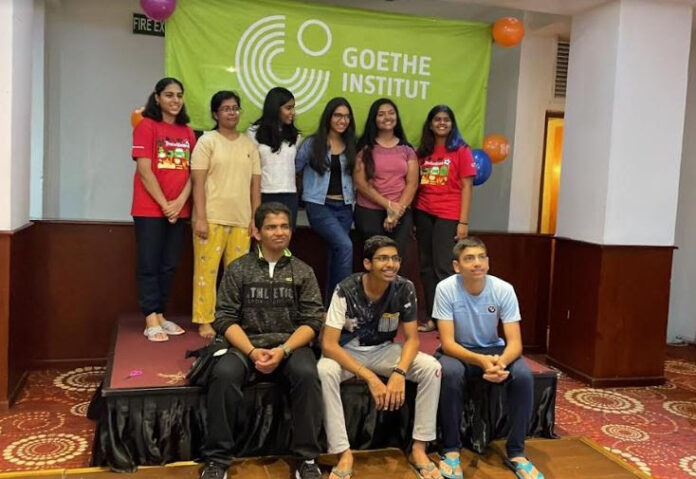 Pune, Maharashtra, India Vidyanchal High School located in Aundh, Pune believes in strengthening students at a very young age as they stand by the thought that students, inculcated with knowledge and values at a young age, achieve success in a better way.
The School focuses on building an environment in which students are able to grow in a holistic manner. This includes an extremely dynamic educational framework covering a number of facets apart from academics, such as sports, personality development, skill development, community interaction, learning foreign languages, values and ethics, leadership and creativity.
Recently there were Youth camps organized by the Goethe Institute at Panchgani and Sri Lanka. Rudra Vanarase a Class Xth student was selected from the South Asian Zone for the Sri Lanka Tour, of which the theme was 'One World for all'. The idea was to work on this topic together and find out what sort of world we would like to live in and how we can create such a world.
Additionally, four of our students of Class VIII and IX participated actively in this camp and enjoyed the 'Learn German with Fun' program. There were different workshops on topics like sustainability, diversity and team building. Our students also visited the Goethe Institute to attend the Fit 1 examination!
Learning a foreign language works as an important asset in today's extremely connected world. It's an entry to another parallel culture co-existing with us on the same planet but different from us in lifestyle, rituals, history and understanding of life in certain ways. Practically, and more specifically, acquiring knowledge of a language from another country provides us with a plethora of work and educational opportunities and is probably the best way to grow beyond your cultural as well as economical identity.
Speaking at the occasion Mrs. Manisha Kulkarni, Principal Vidyanchal High School said, "A school is an institution designed to provide learning spaces and learning environment for students under the able guidance of trained, dedicated and compassionate teachers. We are extremely proud of our students getting selected and participating in International events and makes us proud to be there with the finest organizations across the globe."
Integrating this language studies with the school curriculum is highly beneficial for students as they start acquiring information in the age when they can grasp the most. Plus, they get the time to go through all examination levels present in this learning process from an early stage and explore without much hassle. Vidyanchal School acknowledges this fact and has inculcated German language in the school curriculum as well.
With some of the best German tutors onboard, regular visits to Goethe Institute, discourses on art and culture of the country through multiple art forms, We ensure that our students are prepared for their examinations, excel in learning and have fun while getting exposed to this new language above all!
Vidyanchal School Aundh, Pune, instills in its students a deep love for learning, through activity based teaching methods. Our excellent faculty focuses on all-round development of each and every student by utilizing a holistic approach, tackling academics, sports, values, principles, ethics, skill development and other important areas. Adhering to the curriculum set by the Maharashtra State Board of Secondary and Higher Education (SSC), the school is categorized by time-tested traditional methods with modern innovative techniques that ensure the highest teaching standards. VHS is sectioned into Pre-primary, Primary and Secondary wings, each with exceptional faculty and teaching methods, aiming for students' positive growth.
Also Read: Swiggy announces free and fast, on-demand ambulance service for delivery executives and their dependents
This year Educate yourself and develop your skills with EasyShiksha