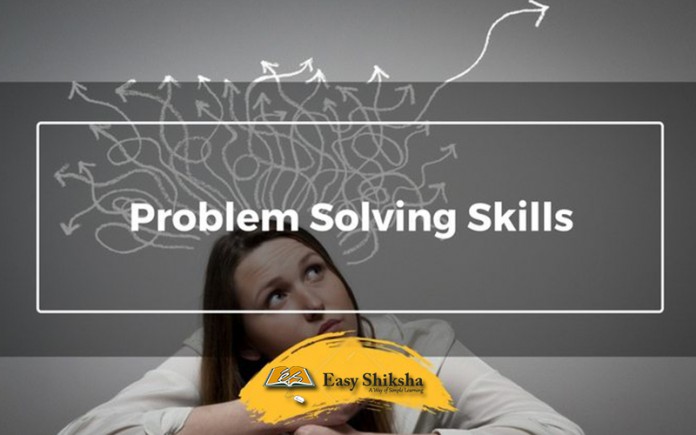 The Four Stages of Problem Solving
You do not need to be highly intelligent to be a good problem solver. Developing these capabilities requires practice and discipline. A starting point would be to understand the four main stages of solving a problem.
The first stage is to accurately define the issue you are facing. Use logic rather than emotion to analyse each aspect to form a detailed image of what is wrong. Do not define the problem in terms of general statements. Be as specific as possible. For example, do not say that "my team mate is too lazy", say that "my team mate has not submitted his research on time for our group project". This will help you come up with a very specific problem statement.

Important Announcement – EasyShiksha has now started Online Internship Program "Ab India Sikhega Ghar Se"

The second stage involves brainstorming alternatives. You need to be persistent to discover all possible solutions to the problem using your creativity and logical analysis. Analyse the time & other resources needed to implement each possible strategy along with its potential return. As you explore potential solutions to the issue, you must demonstrate persistence. Finding the right approach to the issue won't come easily. Innovative thinking will serve you well.
The third stage is where you choose the best strategy to solve your problem. Each of the alternatives will have its own pros and cons. It is important not to get stuck by constantly evaluating these choices. It may be difficult to identify a choice which has absolutely no disadvantages. You need to pick the one which has the strongest pros and weakest cons among the list for you. It is essential to make a strong decision to select this choice and not keep going back to second guess yourself.
The final stage is where you implement the solution. This may require strong leadership from you to get your colleagues to agree to your solution and to get their help in implementing this, if needed. Both communication and negotiation are important at this point to minimize push back from them. Once you've implemented your solution, you'll need to utilize critical thinking and attention to detail as you assess the results and tweak your strategy as needed to make sure the problem is successfully resolved.
How to develop your problem solving skills
There are a range of activities you can do to hone this skill. Some are listed below:
Learn brainstorming techniques like mind mapping, six thinking hats, SWOT analysis etc.
Look at everyday issues with a "what if" mentality, where you question the existing solution and speculate on what would happen if a different solution was implemented
Keep a diary where you write down all your ideas, no matter how small or out-of-the-box
Play games like chess, Sodoku or other logic puzzles
Keep reading non-fiction books to discover new ideas
Spend time with people you can learn from and understand their perspectives on how they see the world.
Top Software Engineering Courses
Why Employers Look For Problem Solving Skills
When interviewing potential candidates for a job, employers prefer to hire those with good problem solving skills as these indicate the candidate has a range of other desirable competencies like logic, creativity, resilience, imagination, lateral thinking and determination. Those with good problem-solving skills are a valuable and trusted asset in any team. These are the people who think of new ideas, better ways of doing things, make it easier for people to understand things or help save customers time and money.
Hence, if you want to get a good job it is important to show that you have the required problem solving skills. One way to do this, is by putting PAR (Problem-Action-Result) statements in the experience section of your resume. These statements outline a specific issue you faced in a previous role, the action you took and the result you achieved in a single sentence. An example could be – "Raised Rs. 10 lakh for college festival by showing sponsors the exposure that previous years sponsors had received through real data". The more of these PAR statements you can put in your resume, the better you'll be able to show your capabilities as a consummate problem solver.
Developing strong problem solving skills will be critical to your long term career success. The best way to start is by honing these skills every day through the points mentioned above and by documenting your success in solving regular issues in your diary, so that you have strong evidence to show potential employers.
About The Author
Mr. Akhil Shahani, Managing Director, The Shahani Group
Akhil Shahani is the Managing Director of The Shahani Group, which runs a range of colleges in areas like business, media, real estate, finance and others. His colleges incorporate global industry oriented education systems that make their graduates truly employable. He is also a Venture Partner in Kaizen Private Equity, which is India's first private equity fund focused solely on the education sector. In addition, Akhil serves as the Chairman of Global Discovery Schools, which are a franchised chain of 14 innovative schools.
Akhil's work in the non-profit space is also extensive, he is on the advisory board of Unltd India & IDOBRO, which are two incubators supporting social entrepreneurs. He is the Director of the SAGE Foundation & Trustee of The Shahani Trust, which both have a range of charitable initiatives in education. Akhil sits on the board of 28 iconic colleges in Mumbai.
He has completed his MBA from the Kellogg Graduate School of Management in Chicago & is currently pursuing his PhD from the University of Liverpool, where his thesis is in the area of Student Employability.
Akhil is the recipient of many awards for his work in education like the Jamnalal Bajaj Award, Bharat Shiromani Award, PIMR Outstanding Educationist Award, Rex Karamveer Chakra Gold Award, the Bharat Gaurav Award and the Indira Gandhi Priyadarshini Award among others. He is a regular speaker at conferences and has been extensively profiled in the media.
Empower your team. Lead the industry
Get a subscription to a library of online courses and digital learning tools for your organization with EasyShiksha
Request Now
ALSO READ: AISECT-provide-free-of-cost-training-to-950-minority-community-youth
Get Course: Mobile-Apps-Development-using-React-Native