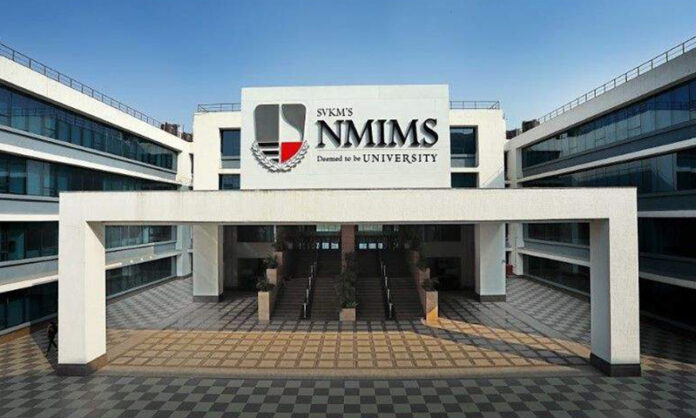 Mumbai, 8th February 2023: SVKM's NMIMS, Sarla Anil Modi School of Economics, is proud to announce a new dual degree program in collaboration with Virginia Polytechnic Institute and State University (Virginia Tech). The dual degree program agreement which was signed on December 10, 2022, offers a Master of Science (Economics) that spans two years, with one year at NMIMS and the next year at Virginia Tech in Blacksburg, VA, USA.
The objective of this program is to provide students with a comprehensive understanding of various fields of economics and the ability to build and test economic models using sophisticated tools and advanced data techniques. The curriculum focus is on experiential and skill-based learning that is designed to meet the demands of the modern corporation, the government, and academia. It will prepare students for the world of finance, consulting, and the gig economy as well as more research-focused jobs involving strong analytical and quantitative skills. Students will also have the opportunity to pursue a Ph.D. at Virginia Tech or other institutions in the US and elsewhere.
The program builds on the comparative advantage of the two institutions and trains students for the global workforce by providing cost-effective education in two locations. During their time at NMIMS, students will cover foundational courses in Economics, and at Virginia Tech they will be exposed to courses like Big Data Economics, Financial Institutions, Behavioural Economics, and Managerial Economics. Additionally, qualified students will have access to the full slew of Ph.D. courses in Economics being offered at Virginia Tech. Upon completion of the dual degree program, students will receive an M.Sc. Economics degree from NMIMS, and an MA in Economics degree, from Virginia Tech. Additionally, Virginia Tech is in the process of obtaining a STEM certificate for its Master's in Economics, which will allow international students to receive Optional Practical Training for three years after the completion of their degree.
This exciting new program provides students with a unique opportunity to gain a comprehensive understanding of economics and to develop their analytical and communication skills. It is a great chance for students to immerse themselves in another culture and gain valuable international experience that will prepare them for the international job market and help them succeed in their careers.
Prof. Amita Vaidya, Director of Sarla Anil Modi School of Economics said, "This partnership between NMIMS and Virginia Tech represents a collaboration between two leaders in the field of economics and opens up new possibilities for students to develop a global perspective and cutting-edge skills. The combination of NMIMS's expertise in the field, and Virginia Tech's reputation for innovative research will provide students with a truly unparalleled learning experience. We are glad to join forces with Virginia Tech to offer this great opportunity to our students."
Prof. Sudipta Sarangi. Head of the Department of Economics at Virginia Tech added, "The recently launched NEP will benefit Indian students immensely by opening the door for such cost-effective co-branded degrees. Not only is the partnership between Virginia Tech and NMIMS unique and one of the very first programs to take advantage of these policies, but it is also a natural one. This dual degree program will provide a handful of carefully chosen students from the rigorous MSc. Program in Economics offered by NMIMS with skills in the sought-after areas of economics. The curriculum will not only train students in fields like big data economics, causal inference, and behavioural but will also ensure that the students are equipped with the skills necessary to succeed in the global marketplace."
Selection process:
The students would be selected on the basis of an admission test and personal interview jointly conducted by NMIMS & VT.
The students at NMIMS, have to successfully complete all the first-year courses of both Semesters, with a minimum CGPA of 3 on a scale of 4.
The students who do not get the minimum CGPA, will not qualify for the dual degree program.
These students will have an option of continuing in the second year at NMIMS and getting the M.Sc. Economics degree from NMIMS.
Those students who qualify to go to VT, will have to ensure that they do the necessary paperwork and procure the student VISA. The student will be wholly responsible for the procurement of the VISA.
About Sarla Anil Modi School of Economics
The Sarla Anil Modi School of Economics was started in 2010. In this short period, the School has managed to make its mark amongst the colleges offering Economics, with its strong and rigorous academic content, innovative curriculum, excellent teaching, and quality research. The M.Sc. Economics program is a full-time 2-year degree course that was introduced in 2016. It is an academically challenging course with a curriculum that is focused on developing skills that response to the demands of the work place giving students a competitive edge. 
Also Read: Quarterly Earnings of Avadh Sugar & Energy Limited | Q3 & 9MFY23
About Virginia Tech
With the motto, Ut Prosim (That I May Serve), Virginia Tech believes in a transdisciplinary approach to education, creating leaders for the future. A leading research institution, it offers around 280 undergraduate and graduate degree programs and has a strength of more than 37,000 undergraduate, graduate and professional students across the Commonwealth of Virginia. The Department of Economics at Virginia Tech resides in the College of Science and has a global faculty excelling in areas like Game Theory, Behavioural and Experimental Economics and Big Data Economics. It has an excellent record of placing its undergraduate and graduate students in industry, government and academia. A land-grant institution, it ensures a collaborative environment which combines technology into all disciplines.
This year Educate yourself and develop your skills with EasyShiksha