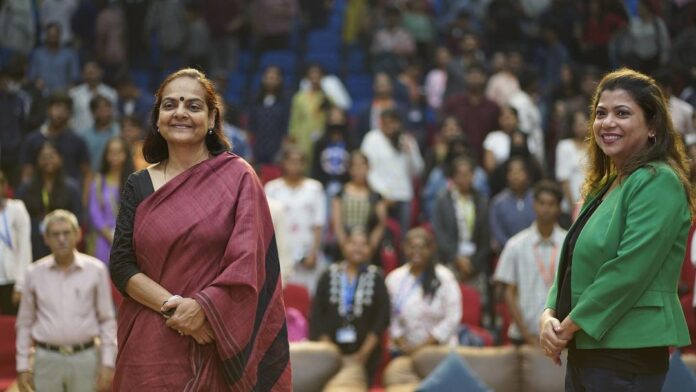 The Indian Police Service 1990-batch officer from Andhra Pradesh-cadre and security reform practitioner addressed students at Changemakers session in GITAM Hyderabad
Hyderabad, December 2022: Discussing her inspiring journey as a security reform practitioner, Anjana Sinha IPS — a highly respected Indian Police Service 1990-batch officer from Andhra Pradesh cadre — stressed that "there is a lot which needs to be done towards accomplishing a gender sensitive police force", and that we have to be more sensitive towards any victim of crime, including men, people who are economically weak and those who are emotionally battered.
She said this while interacting with the students of GITAM (Deemed to be University) Hyderabad campus, as part of a Changemakers session moderated by Smita Sharma, visiting faculty, Kautilya School of Public Policy. Sinha is currently on central deputation to the Central Industrial Security Force at the rank of Inspector General.
Explaining that 'sensitivity is something which needs to be inculcated' she said that we have to be trained in becoming more sensitive. "We need to have a ruthless and brutal side to it, but at the same time, we need to be dual and balance sensitivity and ruthlessness equally. It is a smart way to get information from a criminal if you are sensitive to them rather than being ruthless."
She further spoke about the situation today. "We have a lot to cover in our way towards gender sensitization both for women and for men. That is a sociological issue because misogyny or being insensitive to women is something people face across the board."
IPS Sinha also recounted her childhood, interest in extra-curricular activities and motivation towards becoming independent. Recalling how she "never wanted to be a part of the police force and never aspired to be a civil servant" she said destiny made her crack UPSC in the very first attempt.

Challenges and pressure as a new cop
Asked about the pressure she had to face in the early stages of her training, this is what the veteran police officer had to say: "No pressure really, there was a sizable number of women in the force during the 90s. But when we went to the district, there were fewer women on the field so people accepted it with positive awe instead of negative pressure. But during the training, initially, when I had joined, I was non-athletic, so my trainers who were senior officers and the academy, doubted if this girl would be able to take the rigours of the training because the training was pretty physically demanding, but it wasn't impossible. We had such good trainers that we were able to do our training well and it was not a problem."
For Sinha, the two skills young police officer need are: "Knowing the people you are handling and needing to be calm." She recounted a time when she was the Superintendent of Police in a district, and decided to utilise women constables in civilian clothes to gather intelligence. "It really worked. Because nobody could at that point in time, could have imagined that there were women who were gathering intelligence from these far and remote areas. I thought that was a very smart and bold move."
Also Read: Vision Empower celebrates Inclusion on the International Day of Persons with Disabilities
About GITAM (Gandhi Institute of Technology and Management)
GITAM was founded in 1980 by an inspired group of eminent intellectuals and industrialists of Andhra Pradesh led by Dr M. V. V. S. Murthi, former Member of Parliament and popular philanthropist. Located in Visakhapatnam, Andhra Pradesh, it also has campuses in Hyderabad and Bengaluru. Collectively, the three campuses have 19 institutions under their wing. Over the years, GITAM has taken part in many social activities and has also produced many renowned personalities.
Visit EasyShiksha for skill development