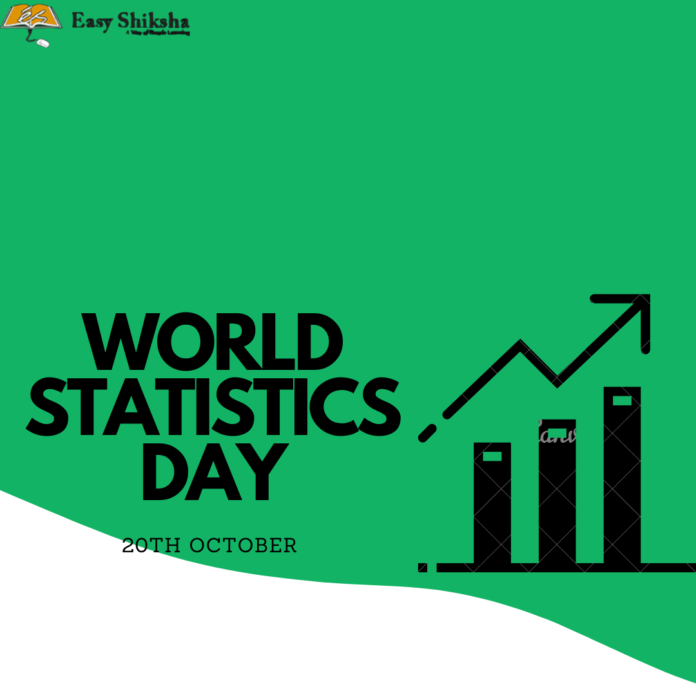 One important event, to be held in October this year on the 20th, is the celebration of World Statistics Day. Statistics are important in the lives of all people. In my case, I wish to say that sixty years ago, I was born into a family where my grandfather and father were medical doctors, my weight was taken and thus time and weights and height were maintained and I was able to see the mathematical significance of my real life in everyone's lives.

Important Announcement – EasyShiksha has now started Online Internship Program "Ab India Sikhega Ghar Se"

History
Worldwide its value has been recognized. Once again, World Statistics Day was celebrated on 20 October 2010 with the theme "Service, technology, integrity: celebrating the many contributions and achievements of official statistics".
On 3 June 2015, the National Assembly of the United Nations adopted the resolution and declared 20 October 2015 as the Second World Statistics Day and decided to celebrate it every FIVE years on 20 October. The theme for World Day Two Statistics was "Better data, better lives". And this year, the Third World Statistics Day will be celebrated around the world on 20 October 2020 with the theme "Connecting the world with reliable data".
Top Software Engineering Courses
Top Programming Languages Courses
More Courses With Certification
Celebration in India
It is worth mentioning that India celebrates its statistical day on June 29 everywhere, the birthday of Setisticist Prof Prasanta Chandra Mahalanobis, also known as P.C. Mahalanobis, born June 29, 1893 in Calcutta / Kolkata and died on June 28, 1972, in Calcutta. His major contribution was the development of the Second Five Year Plan which was strongly emphasized in the industry (1956-61).
In the context of World Statistics Day, the Statement was made by Paul Cheung, Director of the United Nations Statistics Division presented here, "Statistics are critical to economic and social development. They create social ills and contribute to the development of our nations. They are important for educational research and for the development of business and society. Statistics ultimately work for everyone in the community. We have worked hard over many decades to define and apply global statistical standards that have led to high, comparable statistics. For example, the Consumer Price Index was agreed upon in 1925 at the second international conference of mathematicians ". The UN recognizes that reliable and timely statistics and indicators are even more important and in this regard, Ban Ki-Moon, the UN Secretary-General prior to the 2015 UN event, said, "On this World Statistics Day, I urge all our partners and Stakeholders work together to ensure that the required funding is made, building sufficient technical capacity, exploring new data sources and implementing new processes to provide all countries with the complete information systems they need to achieve sustainable development ".
Aim
World Statistics Day on October 20 aims to show that good data and statistics are important in informed decision making by all actors in society. The United Nations is celebrated every five years.

As mentioned, In 2020 World Statistics day was celebrated on 20 October 2020 and the upcoming World Statistics Day will be celebrated on 20 October 2025, on Monday.
If you are interested in Artificial Intelligence then visit EasyShiksha
ALSO READ: wonderla-offers-free-park-entry-to-all-daughters-this-daughters
Get Course: diplom-in-labour-laws-statutory-compliances-in-india