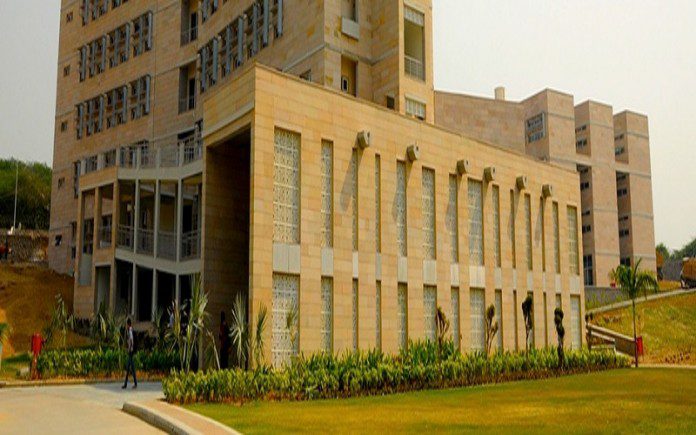 • The world's 'Skill Olympic' is to be held in Abu Dhabi from 14th to 19th October this year
New Delhi, February 15: The Indraprastha Institute of Information Technology Delhi (IIITD)and Electronic Sector Skill Council of India (ESSCI)supported by MSDE and NSDC inaugurated the pre-final selection competition of Electronics Skills to be held in Abu Dhabi from 17th to 19th October this year. WorldSkills 2017 is the largest Global Vocational Skills competition which takes place in a different member country every two years – bringing together over thousands of young people from across the globe to compete in a variety of skills. The pre-final selection process which started from 6th February continued till 9th February at Shannon Lab, IIIT-Delhi, Okhla Industrial Phase III in New Delhi.
The inauguration was organized by Sh. Ravi Kharbanda (Technical Consultant-WorldSkills-NSDC), Sh. N.K. Mohapatra (CEO,Electronics Sector Skills Council Of India), Sh. Rakesh Mathur (Sr. V.P., Electronics Sector Skills Council Of India) and Mr. Naveen Kumar (Technical Consultant-Electronics Sector Skills Council Of India)
Eminent personalities from the Ministry of Skill Development and Entrepreneurship, DTTE, NSDC, ESSCI and invited representatives from Industries and academia is participating in the event. Senior professors and academics from universities and academic institutions deliberated to develop the skill specific educational framework for WorldSkills 2017. The main aim is to understand the electronic skill standards for the upcoming competition in Abu Dhabi. The competition is known as the World's Skill Olympics.
There are separate sessions on "Inaugural Function", "Competition Performance""Industry Meet", "Academic Meet" and "Valedictory Function". Competition Performance has several modules on PCB Design, Embedded Systems, Fault Finding and Repair, and Assembly of the hardware.
Sh. Rakesh Mathur, Senior VP, Electronics Sector Skills Council of India said "We are delighted to organize the Pre-final selection competition here at the IIIT Delhi campus. ESSCI has always been at the forefront of bridging the much widened gap between the demand and supply of skills in India. In addition to this, we are happy to see the involvement take up this initiative and skilling India's youths and enabling and mobilizing a large number of Indian youth to become job ready.
About IIIT – D
Established in 2008, Indraprastha Institute of Information Technology, Delhi (aka. IIIT-Delhi or IIIT-D) was created as a state university by an Act of Delhi Government (The IIIT Delhi Act, 2007) empowering it to do research and development and grant degrees. Since then, the institute has grown from strength to strength to be recognized as one of the most promising young institutions for IT education and research in India.
IIIT-Delhi has been instrumental in shaping well trained Information Technology professionals through its research-focused and industry-oriented programs. Governed by the able leadership of a distinguished Board of Governors and equipped with highly qualified and accomplished faculty members, the institute has, in a short span of time, established a strong research culture, focused research groups, and innovative education programs.
The institute is accredited 'A' grade by NAAC (National Assessment and Accreditation Council) and has been accorded 12-B status by the University Grants Commission (UGC).