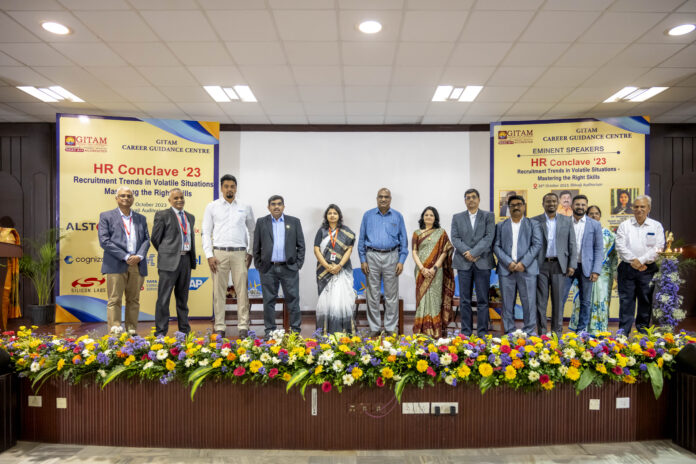 National, November 2023: As the job market experiences dynamic changes and becomes more volatile, students are required to be fully equipped with the latest skills to face these challenges, said top industry recruiters and human resource (HR) heads at the recent 'HR Conclave on recruitment trends in volatile situations – Mastering the Right Skills' organised by the Career Guidance Centre of GITAM (Deemed to be University).
Stephen Kamal, Director, Early Career Talent Attraction, SAP Labs, said "58% of freshers hired do not meet industry expectations. Why is that? Because they only come with theory knowledge alone. It's better to do your homework while applying for companies, so you know the profile you'd have and technologies you'd work with. If you do not constantly engineer yourself, you'd be left behind. Companies don't hire skilled people and motivate them; they prefer to hire already motivated people. As a fresh hire, you must be motivated to do the tasks assigned. The industry expects hires to be multidimensional engineers. Now, what matters is knowledge, multidimensionality and domain expertise."
In the session moderated by Prof Shanti C, Prof in CSE and BoS-CoChair (CSE), GITAM, the speakers discussed growth opportunities and employability challenges, and highlighted that constantly educating oneself is the way to go.
Addressing the students, Srinivas Atla, Director-HR, Alstom said, "Decide whether your career is going to take a generalist/managerial path, or technical/domain expert path. Often technical experts in a company draw a higher salary than VPs or business strategy heads in the same company. That's because finding rare skillsets in an open market is more difficult than general management skillsets." 

He added, "It is being observed that colleges are cutting down on core engineering branches, and focussing on IT alone. We observe lacunae while recruiting in colleges, for even the most basic questions. Whichever branch you're studying, you have to excel at it. Moreover, for students, practical exposure for at least 12 weeks is very important. At the same time, e-learning and certification courses is very important."
Anuradha Amudalapalli, Partner and Location Head, IBM highlighted, "I tell students it is not just about learning and graduating. It's a question of building depth in whatever you want to do. Identify a technical area, and go for certifications. Soft skills are called soft, but they're quite hard to get. Aim for those too."
Subrahmanyam Chinta, Global Delivery Partner and Senior Director, Cognizant, stated, "People talk about losing jobs. But I can assure you that if you are brilliant at your basics, you have a job. Industry is being disrupted fast. The challenges the industry is facing are changing within just two years. Economic, political, and geopolitical conditions are different now, so organizations are thinking about the outcomes of their decisions. We have to question our relevance. We have to learn faster, fail more regularly and learn from it." 
ALSO READ: Hindustan Coca-Cola Beverages (HCCB) to train 25,000 women in financial and digital literacy
"No technology is permanent. We think a certain technology is the one we need to have expertise in. Tomorrow, it is bound to become obsolete. Hence, constant updation is required. That information comes from industry, since it experiences change in real-time. It further translates into action through recruitment of candidates. We must keep in sync with recruitment trends and know what is industry demand so we can design curriculums accordingly," GITAM Vice-Chancellor Dr Dayananda Siddavattam said.
About GITAM (Deemed to be University)
GITAM was founded in 1980 by an inspired group of eminent intellectuals and industrialists of Andhra Pradesh led by Dr M. V. V. S. Murthi, former Member of Parliament and popular philanthropist. Located in Visakhapatnam, Andhra Pradesh, it also has campuses in Hyderabad and Bengaluru. Collectively, the four  campuses have 12 Schools offering 112  UG and PG Programmes ,  under their wing, in addition to Ph.D. Programme. Over the years, GITAM (Deemed to be University) has taken part in many social activities and has also produced many renowned personalities.
This year educate yourself and develop your career with EasyShiksha