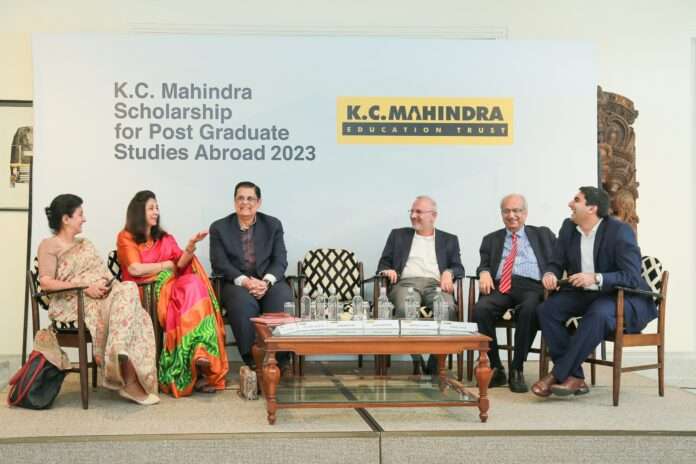 3 students awarded INR 10 lakh each; 61 awarded INR 5 lakh each
National, July 19, 2023: K. C. Mahindra Education Trust (KCMET) today awarded a total of INR 335 lakh in scholarships to 64 meritorious students as part of the prestigious K. C. Mahindra Scholarship for Post Graduate Studies Abroad. The late K. C. Mahindra established the K.C. Mahindra Education Trust (KCMET) in 1953. The K. C. Mahindra Scholarship for Post Graduate Studies Abroad was the first scholarship to be set up by the Trust. It is an interest-free loan scholarship awarded to high-calibre students with outstanding academic and other achievements.
The top 3 K. C. Mahindra Fellows will be awarded interest-free loan scholarships at INR 10 lakhs each. The recipients are Ankit Namdev who will be pursuing his MBA at the University of Michigan, Siddharth UR who will be pursuing Design & Technology at Harvard University and Niharika Ohri who will be pursuing Development Studies also from Harvard University. The balance 61 students will be receiving INR 5 Lakh each to support their education abroad.
The Trust received a total of 2,285 applications this year. Of these, 90 candidates were shortlisted to attend the in-person interviews and 85 of them attended the interviews with an esteemed panel over two days. Due to the pandemic, the in-person interviews were held after a gap of three years, the previous one being held in 2019.
The selection panel included respected names – Bharat Doshi – Chairman, Mahindra Accelo Ltd., Dr. Indu Shahani – Founding President and Chancellor, ATLAS SkillTech University, Ranjan Pant – Management Consultant; Ulhas Yargop – Chairman, Bristlecone; Anuja Sharma – Board Member, Mahindra University; and Ashay Shah – Executive Assistant to the Chairman of the Mahindra Group, Anand Mahindra.
ALSO READ: 1900+ Schools Partner with Ed-Tech Brand "AASOKA" of MBD Group to Aid 21st Century Learning for Students
Speaking about the scholarship, Anand Mahindra, Chairman, Mahindra Group said, "Studying abroad enriches one's outlook in life. We have always supported diligent and deserving students who have desired to go abroad for studies. Our intention through this scholarship is to ensure students in India believe that international education is accessible. We are proud of all the scholarship awardees who are committed to realizing their study abroad goals and breaking down barriers in education in India and overseas."
The shortlisted candidates included 27 students who had graduated from the IITs, and the remaining were from other premier educational institutes including BITS Pilani, the National Law Schools, SRCC and St. Stephens. The candidates have secured admission to the highest-ranking universities and colleges overseas with 15 candidates having secured admission at Carnegie Mellon University, 12 at Harvard University, 12 at Stanford University, 4 at Columbia University, 6 at Georgia Tech, and 7 at Oxford University. The selected candidates from this year will be pursuing post-graduation studies in subjects ranging from Computer Science, Mechanical and Electrical Engineering, Robotics, MBA, Architecture, Arts and Design, Law, Public Policy, and Economics.

About K C Mahindra Education Trust (KCMET)
The K. C. Mahindra Education Trust (KCMET) was founded by the late K. C. Mahindra in the year 1953. With its vision to transform the lives of people in India through education, by providing financial assistance and recognition to them, across age groups and income strata, KCMET has undertaken many education initiatives. Since inception, these initiatives have made a difference in the lives of over 900,000 deserving and needy students through the provision of more than USD 135 million in the form of scholarships, livelihood training programmes, after school tuition support, and financial aid.
About Mahindra
Founded in 1945, the Mahindra Group is one of the largest and most admired multinational federation of companies with 260,000 employees in over 100 countries. It enjoys a leadership position in farm equipment, utility vehicles, information technology and financial services in India and is the world's largest tractor company by volume. It has a strong presence in renewable energy, agriculture, logistics, hospitality and real estate.
The Mahindra Group has a clear focus on leading ESG globally, enabling rural prosperity and enhancing urban living, with a goal to drive positive change in the lives of communities and stakeholders to enable them to Rise.
This year educate yourself and develop your career with EasyShiksha