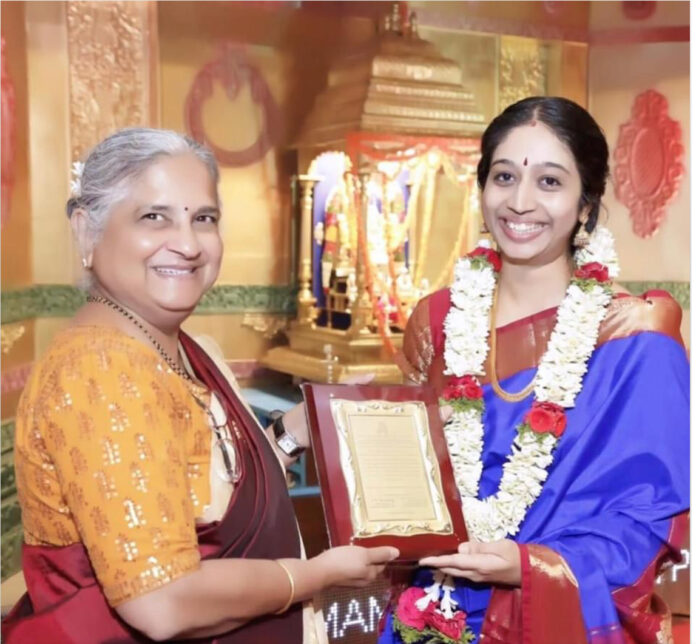 28 March 23 Mumbai: Aishwarya Srinivas, the gifted Carnatic musician from India, is gaining worldwide recognition not only for her ability to blend Indian classical music with Western styles, but also for her social media success. Aishwarya has been performing music in the Carnatic tradition since the age of 12, and has since become a force to be reckoned with in the music industry and on social media.
With over half million followers on her Facebook and Instagram accounts combined, Aishwarya's unique style has resonated with audiences around the world. Her captivating voice and innovative performances have earned her a dedicated fan base that eagerly awaits the latest release of her music.
In her music, Aishwarya seamlessly fuses traditional Carnatic swaras (Solfage in the Indian classical system of music) with Western elements such as electronic beats and synthesizers. Her compositions are a reflection of her deep appreciation and respect for Carnatic music, while also embracing the modern and innovative.

In 2020, Aishwarya's collaboration with Nagaswara Vidwan Mylai Karthikeyan, "Radha Sametha Krishna", featured among the top 10 singles from India in the BBC Sounds Radio Show. She also has a veritable collection of her music on streaming services such as Spotify.
Aishwarya is a disciple of the legendary musician D.K. Pattammal who was a Padma Vibhushan awardee, along with being guided by two other Padma Bhushan recipients, R. K. Srikantan and P. S. Narayanaswamyand Chevalier Dr. M Balamuralikrishna. She continues to train with veteran R.K.Sriramkumar. Aishwarya is totally at ease rendering Adi Shankaracharya's stotras, traditional Carnatic Pallavis, Marathi abhangs, or a fusion of Carnatic and world music. She also performed more than 1000 concerts, at various venues in Mumbai, Chennai, Bengaluru, London, San Diego, Tokyo, and South Africa and received several awards including the Yuva Purandara Award awarded by Indiranagar Sangeetha Sabha from the hands of Padma Bhushan V.A.K.Atre, Advisor to Raksha Mantri, Founder's award for artistic excellence awarded by Sree Rama Seva Mandali from Smt. Sudha Murthy, Chairman, Infosys Foundation and Rotary Club award for vocational excellence from Rotary Club, Guindy.
ALSO READ: ACCA and PSBB School collaborate to implement Financial Literacy programme in Chennai
Hugely popular, both on stage and the social media, Aishwarya began actively engaging with her listeners during the pandemic. Her renditions of "Thirupugazh Muthai Tharu", "Vande Mataram", and more recently, her IG reel, "My Social Media Mantra" have all gone viral. She is among the very few young Carnatic musicians with over half a million followers on Facebook and 20.3K followers on Instagram. She also has a veritable collection of her music on streaming services such as Spotify. She has tapped this support for charity concerts, raising Rs 25 lakh in donations.
With her undeniable talent and dedication to her craft, Aishwarya Srinivas is truly a Carnatic musician to watch out for both on and off social media. Aishwarya aims to make Indian classical music "cool" and worthy of adulation with youngsters across the world. Her recent Instagram post, in which she croons in Anandabhairavi, "I don't want to show off all that I can do, I just want to let my love shine through" underlines this in the best musical way.
This year Educate yourself and develop your skills with EasyShiksha