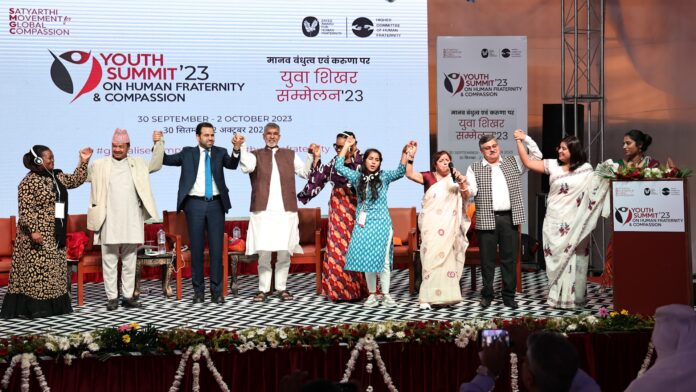 The Innovation Week, organized by Amity University Mumbai, ended with a grand celebration. Throughout the week, students witnessed remarkable ideas, projects, and solutions with the potential to shape the future in 24 different events. Dr. Ramaswami N (I.A.S), Commissioner of the Skill, Employment, Entrepreneurship, and Innovation Department, Maharashtra State, was the chief guest at the Valedictory and Prize Distribution Ceremony. The innovation week commemorated the birthday of President and Chancellor Dr. Aseem Chauhan.
While congratulating the E-Cell Committee for successfully organizing the week-long events, Vice Chancellor Prof. Dr. A. W. Santhosh Kumar said, "As we began with 13 student entrepreneurs and two different faculty start-ups, we are looking forward to many more. Soon, we will collaborate with the Maharashtra State Innovation Council through Dr. Ramaswami. Innovation is nothing other than creating meaning in our lives, and we have seen this meaning creation in all 24 E-Cell events that have culminated."
ALSO READ: Mobius Foundation Announces the 5th International Conference on Sustainability Education (ICSE) with the Theme "Educating for Climate Action and Sustainability" to take place on September 19-20, 2023
While addressing the students, Dr. Ramaswami N said, "It is said that when you pursue innovative ideas, the failure rate is high, nearly about 98%. But when you fail, come up with new solutions, and improve, you will definitely succeed. Amity University and Maharashtra Skill Development Council have many common points. I believe your incubation centers can collaborate with our innovation society. Similarly, our skill university can collaborate with the various activities undertaken by Amity University, Mumbai."
More than 100 students were felicitated for their various achievements during Innovation Week by Dr. Ramaswami N and Vice Chancellor Prof. Dr. A. W. Santhosh Kumar.
On this occasion, the new Student Council for the year 2023-24 was  announced. Also on this occasion, Best student of the year award was given to students of each School/ Institute of Amity University, Mumbai.
This year educate yourself and develop your career with EasyShiksha