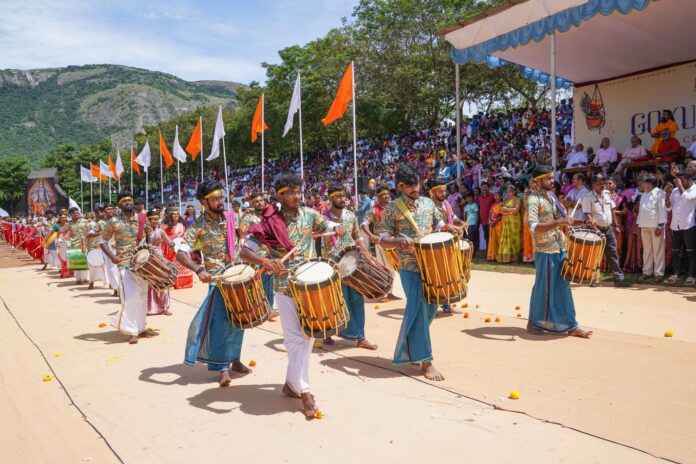 19th October 2022: Reminding of the goal of making oneself and others happy, Gokulashtami was celebrated at Amrita Vishwa Vidyapeetham, Coimbatore campus with great fervor, enthusiasm, fanfare, and spirit by the university students.
Though it signifies the Janmashtami theme, Gokulashtami was initiated by Swami Abhayamritananda Puri, Pro-Chancellor, Amrita Vishwa Vidyapeetham as the Youth Festival of the campus, with the aim to promote cultural integration and unity among students alongside advanced learning.
During the festival, the organising committee head at Amrita Vishwa Vidyapeetham said: "The event is conceptualized and accomplished by our faculties and students, showing diverse skill sets like creativity, engineering, brainstorming and full implementation.   Such experiences will give them life knowledge insights to our rich heritage and culture. Helps introspect and imbibe our learnings and skill sets enabling us to implement it to practical life alongside advanced learning for future. The philosophy of education is not just equipping students for a living, but also a formation for life with an emphasis on compassion-driven research to make impacts globally."
ALSO READ :Yamini Jaipuria awarded with the prestigious Sewa Bhushan Award
The highlight of Amrita's colorful celebrations was a procession in which all students, staff and residents of the Coimbatore campus participated. Richly decorated floats, grandly marched past, depicting various stages from the life of Sri Krishna. Accompanied by little girls and boys dressed as Krishnas and Gopikas, the floats made their way through the campus, stopping at various points, where students sang and danced. A total of 14 plots took part in the procession out of which 13 belonged to students of the campus and one to Amritapuri Ashram.With the support and guidance from the university, the students put in the great effort by continuously preparing for two months, to perform at the festival , conceptualized and accomplish the entire function, showing diverse skill sets like creativity, engineering, and brainstorming.
Students from various departments participated in the storytelling and presentation of the program. The main attraction of Gokulashtami was the display of various traditional art forms and martial arts Students participated in various competitions like dance, music, skit, quiz, elocution, painting and Rangoli, all on the theme of Sri Krishna.
A few major themes of the celebration were the story of Krishna as Partha's Sarathi (Arjun's charioteer), the birth of Krishna, Dasavatharam (a tale of the modern era), Krishna Bhakti, Kamsa Vadha (the killing of Kamsa), Krishna and Sudhama (a tale of true friendship), and life incidents of Shri Krishna.
About Amrita Vishwa Vidyapeetham
Amrita Vishwa Vidyapeetham is a multi-campus, multidisciplinary Institution of Eminence accredited by NAAC. It is also ranked the 5th Best Overall University in India in the 2020 National Institution Ranking Framework (NIRF). Amrita continues to be the No. 1 Private University in India as per THE 2020 world rankings as well. The university has been awarded two UNESCO Chairs namely the UNESCO Chair for Experiential Learning for Sustainable Innovation & Development and the UNESCO Chair on Gender Equality & Women Empowerment. The university headquartered at Coimbatore is spread across six campuses in three states — Kerala, Tamil Nadu, and Karnataka. Amrita partners with academic, industry, and governmental institutions across the world to accomplish human-centered, translational, and groundbreaking research. To date, Amrita has more than 500 collaborations from more than 200 signed Memorandums of Understanding (MoUs). Some of Amrita's partners include Harvard University, Columbia University, King's College London, KTH – Royal Institute of Technology, VU Amsterdam, the British Geological Society, University of Oxford, Italian National Research Council, Deakin University, and the University of Tokyo. Sri Mata Amritanandamayi Devi (Amma), a world-renowned humanitarian leader is the founder, Chancellor, and guiding light of Amrita Vishwa Vidyapeetham. Amma's words, thoughts, and vision for education and research have shaped the university's mission and vision.
Visit EasyShiksha for skill development courses.