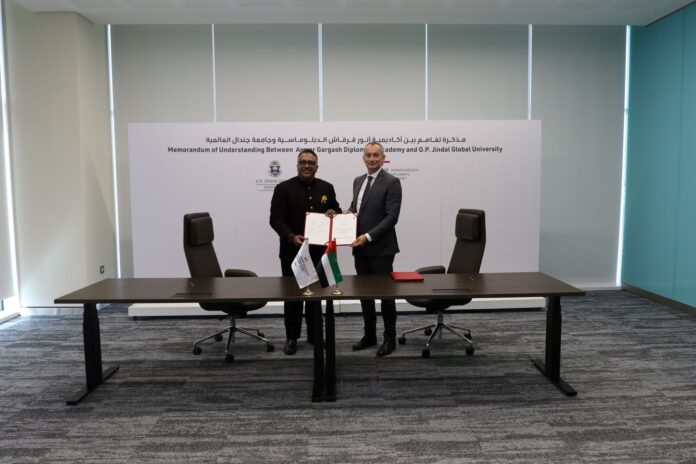 Bangalore, India, February 7, 2023: Anwar Gargash Diplomatic Academy (AGDA), a federal entity, and O.P. Jindal Global (Institution of Eminence Deemed to be University) JGU, signed a Memorandum of Understanding (MoU) in Abu Dhabi. This MoU aims to promote and enhance mutual academic excellence between AGDA and JGU.
This partnership will enable AGDA and JGU to share information, research papers, studies, and knowledge, within their area of expertise and interest. It will also facilitate in coordinating and cooperating on training programs, communications, initiatives, and events in addition to sharing organisational expertise on various projects within their areas of responsibility. This partnership will also allow for the exchange of faculty and students for study and research.
His Excellency Dr. Abdulnasser Alshaali, Ambassador of the UAE to India, said, "I am delighted that the two esteemed institutions from the UAE and India have joined hands to make progress in academics and research. This MoU is a step forward in bolstering the ongoing partnership between India and the UAE to expand knowledge and promote educational collaboration between the two nations. We are hopeful that this will pave the way for other universities to build alliances for educational cooperation and increase academic mobility between India and the UAE."
His Excellency Nickolay Mladenov, Director General, Anwar Gargash Diplomatic Academy, said, "I am pleased with the partnership between AGDA and JGU. I believe that our collaboration will enhance our capabilities by sharing knowledge and expertise on a variety of topics. Additionally, this will promote academic excellence and steer our knowledge-driven economies to greater heights."
Professor (Dr.) C. Raj Kumar, Vice Chancellor, O.P. Jindal Global University, said, "I am happy that O.P. Jindal Global University and the Anwar Gargash Diplomatic Academy are partnering to expand and grow their academic knowledge driven by the spirit of collaboration. The coming together of our two institutions will be transformative and will provide the opportunity to learn from and engage with some of the world's most outstanding academics and thought leaders."
The deep ties between the UAE and India make for a stable environment in which to invest, conduct business, innovate, and expand knowledge footprints across both countries. Close cooperation between India and the UAE in education lays the foundation for deeper academic exchange between both countries.
About Anwar Gargash Diplomatic Academy (AGDA)
The Anwar Gargash Diplomatic Academy (AGDA) in Abu Dhabi, UAE, is a globally renowned hub of diplomatic excellence. It provides accredited academic programmes and high-impact executive training to cultivate future diplomats, government officials, and business executives. Together, the members of AGDA represent the diplomatic, academic, and scientific communities as a whole, facilitating to network with one another. AGDA is a leading and constantly developing regional think tank that contributes to UAE foreign policy goals through the advancement of knowledge and capacities.
Also Read: Aakash BYJU'S Dhruv Sanjay Jain from Bilaspur Tops Chattisgarh; Secures 100 Percentile in the first session of JEE Mains 2023
About O.P. Jindal Global University:
O.P. Jindal Global University (JGU) is a multi-disciplinary and research oriented university founded in 2009. JGU is a non-profit global and research focused university. JGU maintains a 1:9 faculty-student ratio and appoints faculty members from India and different parts of the world with outstanding academic qualifications and experience. With over 10,000 students and 1000+ full time faculty members, studying and living on a fully residential campus, JGU's twelve schools focus on Law, Business & Management, International Affairs, Public Policy, Liberal Arts & Humanities, Journalism, Art & Architecture, Banking & Finance, Environment & Sustainability, Psychology & Counselling, Languages & Literature and Public Health & Human Development. Over the last decade, JGU has grown into an institution that brings full-time faculty from over 45 countries in the world, students from 35 countries and has collaborated with over 375+ leading institutions in 65+ countries to bring international learning experiences to the Indian higher education system.
JGU has been ranked as India's Number 1 Private University for three years in a row by the prestigious QS World University Rankings 2023, and is ranked among top 700 universities of the world in QS World University Rankings 2023. JGU has been recognised among the Top 150 universities globally under the age of 50 years by the QS Young University Rankings. JGU has also been recognised in the
Top 500 Universities as per the QS Graduate Employability Rankings 2022. The Jindal Global Law School has been ranked as India's Number 1 Law School for three years in a row and also ranked as the world's 70th best Law School by the QS World University Rankings by Subject 2022. In 2020, JGU was recognised as an 'Institution of Eminence' by the Ministry of Education, Government of India.
This year Educate yourself and develop your skills with EasyShiksha