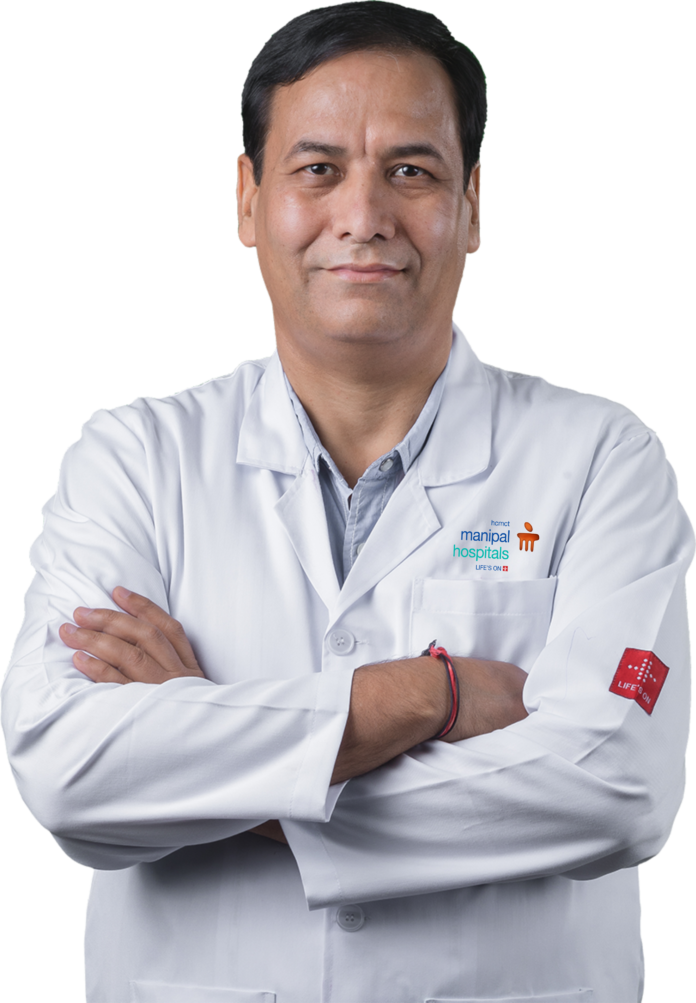 New Delhi, April 26, 2023: As a pioneer in healthcare and India's second-largest multi-specialty healthcare service provider, HCMCT Manipal Hospital Delhi has announced the appointment of Dr. Satyendra Katewa as the Consultant of Pediatric Hemato-oncology & Bone Marrow Transplant department. Dr. Katewa has over 18 years of extensive experience as a paediatric hematologist-oncologist and BMT physician. He and his team will strengthen the Pediatric Hematology Oncology and the BMT department in HCMCT Manipal Hospital, Dwarka, and provide the best possible care to the patients.
ALSO READ: VIBGYOR Launches Asia's First Climate Academy At VIBGYOR High, Goregaon In Collaboration With The Climate Academy – A Non-profit Organisation Based In Brussels, Belgium
He has done his Fellowship in Pediatric Hemato-oncology and Bone Marrow Transplant (Indian Academy of Pediatrics) from Sir Ganga Ram Hospital in 2009 and from the University of Toronto, in July 2011. He also holds an Observership at Cincinnati Children Hospital, Ohio, USA in Primary Immunodeficiency and Bone Marrow Transplants in 2013. He is also trained in genetic editing from prestigious HARVARD University, USA.
Dr. Katewa's expertise lies in the areas of Children with Blood-related Disorders (Thalassemia, Sickle Cell anemia, Bone Marrow failure syndrome, Aplastic anemia, etc.), Blood Cancers (ALL, AML, JMML & CML), Lymphoma (Hodgkin & Non-Hodgkin Lymphoma), Myelodysplastic Syndrome (MDS), Brain Tumors, Neuroblastoma and Bone Marrow Transplant. He is one of the pioneer transplant physician of India, who have introduced 50% matched bone marrow transplants (Haploidentical BMT) in children of India Dr. Katewa has memberships and fellowships from some of the most prestigious institutions in the world and has over 50 publications to his name.

Commenting on his appointment, Dr. Satyendra Katewa said, "I'm delighted to join the team at HCMT Manipal Hospitals. We at HCMCT Manipal Hospitals are on a mission to provide affordable and high-quality healthcare. With new diagnostic techniques in Pediatric Hematology Oncology and advanced technology in Bone Marrow Transplant, we will continue to strive to save and enrich lives. With 4000+ teams of dedicated doctors and world-class facilities, we shall, together, put our best foot forward to provide the best experience to our patients.".
About Manipal Hospitals
As a pioneer in healthcare, Manipal Hospitals is among the top healthcare providers in India serving over 4.5 million patients annually. Its focus is to develop an affordable, high quality healthcare framework through its multispecialty and tertiary care delivery spectrum and further extend it to out of hospital care. With the completion of acquisition of 100% shareholding in Columbia Asia Hospitals Private Limited and Vikram Hospital (Bengaluru) Private Limited, the integrated network today has a pan-India footprint of 29 hospitals across 16 cities with 8,000+ beds, and a talented pool of 4,000 doctors and an employee strength of over 12,000.
Manipal Hospitals provides comprehensive curative and preventive care for a multitude of patients from around the globe. Manipal Hospitals is NABH, AAHRPP accredited and most of the hospitals in its network are NABL, ER, Blood Bank accredited and recognized for Nursing Excellence. Manipal Hospitals has also been recognised the most respected and patient recommended hospital in India through various consumer surveys.
This year Educate yourself and develop your career with EasyShiksha