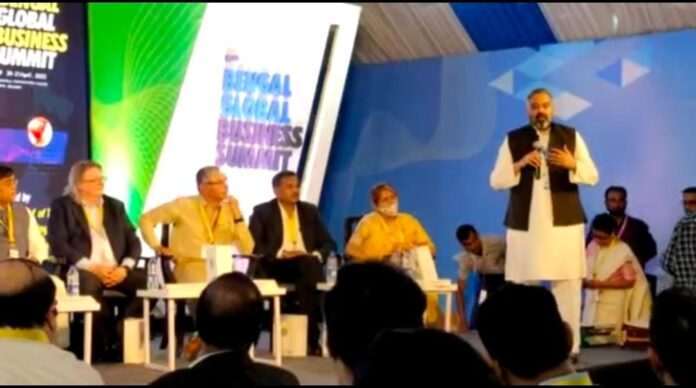 The Partnership will prepare unemployed graduates, recent graduates, and about-to-graduate Learners of West Bengal for skills and jobs in the Digital Age.
Called the Kolkata Model, it aims to improve employability through skilling and job creation digitally and become the springboard for economic development across the Bangla region and the nation.
April 2022: Ed4All, a new-age EdTech startup and The Bengal Chamber of Commerce announce intent to partner with the Department of Technical Education, Training and Skill Development (TET&SD), Govt of West Bengal to make unemployed, recent and about-to graduate learners of West Bengal job-ready in the digital age.
The Kolkata Model will:
1. Provide Technology Skills, Soft skills and On-the-Job training for Learners and Educators of ITI and related institutions, and
2. Enable TET&SD GoWB and Ed4All to form an SPV to scale up initiative and invest for skilling and creation of Jobs ecosystem per industry demand along with industry Bodies such as The Bengal Chamber of Commerce.
The Kolkata Model plans to pilot the partnership in Industrial Training Institutes (ITIs) and develop a digital pedagogy in the concerned areas. Delighted with the partnership, Mr. Sanjay Viswanathan, Chairman AdiGroup & Ed4All commented, "In this ever-changing global landscape, Learners need to be job-ready for the digital age. Despite the young demography and talent in our country, Learners find themselves unemployed. Our vision is to partner with Governments (Central, State, Local) of Emerging Nations and enable them to reimagine education and create jobs.
Our partnership with The Bengal Chamber aims to make Bengal as well as India job-ready."
Currently, majority of the skilled population in West Bengal who graduate from ITIs belong to the manufacturing sector. West Bengal produces skilled manpower of over 6 lakh each year, yet only circa 2% get placed in jobs. With this partnership, Ed4All and The Bengal Chamber along with T&TSB GoWB endeavour to bridge the gap between the industry and the skilled workforce by providing them with employability skills, hands-on training and job opportunities.

Commenting on the same, Mr. Subhodip Ghosh, Director General, The Bengal Chamber of Commerce & Industry, said, "The Youth of Bengal, while they are being skilled adequately, through the combined initiatives of Department of Technical Education, Training and Skill Development, Govt. of West Bengal & Industry Partners and Training Providers, one requirement especially in the global context is soft skills proficiency. This will make our youth more market ready and further employable. BCC&I will partner Ed4All & the Government through its deep industry & domain connect in making this a reality."
Building on the partnership, Ed4All and The Bengal Chamber of Commerce intend to work closely with the Government of West Bengal to contribute towards employment generation and thereby enhancing the employability rate across the state.
About Ed4All
Ed4All (www.ed4all.in ) is EdTech-focused business unit that has developed comprehensive, advanced, sustainable, and inclusive SaaS-based (Software as a Service) learning, skilling, and testing platform in partnership with Microsoft serving K-12, Higher Education, and Vocational markets that is Made in India, for the World. Ed4All partners with Governments and Public/Private Enterprises to deliver NextGen Skills, enhanced literacy and transform Nations. Implementation of our platform will immensely help Learners to become educated, acquire latest jobs skills, and be ready to be employed by fast-growth companies in the region and globally.
Leading EdTech Platform for skill development & For your Internship is EasyShiksha