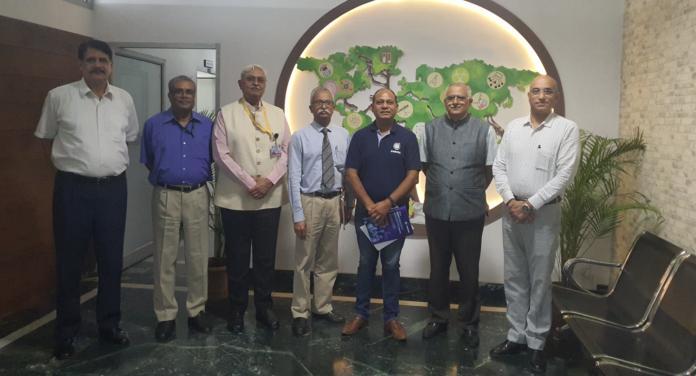 The partnership with EMBIBE marks the first-of-its-kind effort by Army Welfare Education Society (AWES) to introduce NEP-aligned AI-powered learning offerings to over 136 Army Public Schools and their associated 169 Vidyanjali schools
Bangalore, August 25, 2023: EMBIBE, India's foremost Artificial Intelligence (AI)-powered learning & outcomes platform, today announced a two-year-long first-of-its-kind partnership with all 136 Army Public Schools, run by the Indian Army, to power them with access to AI-led personalised and adaptive education. Through this partnership, all schools will be empowered with EMBIBE's NEP-aligned world-class technology, proprietary apps, and digital resources to provide relevant content delivery and right guidance to help students realise their full potential while supporting teachers in scaling their attention. This will further be extended to all 169 Vidyanjali schools affiliated to the AWES ecosystem.
The schools that will benefit from this partnership are managed by the six commands of the Indian Army. AWES, which has been implementing the National Education Policy (NEP) 2020, will now receive a fillip across its schools through EMBIBE's NEP-aligned teaching and learning apps. The Memorandum of Understanding (MoU) for this collaboration was signed between EMBIBE's Senior Vice President, Mr. Devendra Gaur, and Col. S.A. Warty (Retd.), Director Schools on behalf of AWES; in the presence of other Directors. Through this MoU, EMBIBE has made a new stride in rolling out its public sector learning intervention initiatives, set to impact learning outcomes for over 4 Crore Indian students and 7 Lakh teachers across 24 states during the 2023-24 academic year.
EMBIBE's platform has been enabling students across the country to achieve the competencies and skills desired under National Curriculum Framework (NCF) and envisaged in NEP. Now, students from grades 6th to 12th at Army Public schools will receive the highest level of personalisation and experiential learning through AI and Machine Learning. Students will be able to access the content for all the subjects, in line with their curriculum. Through the company's innovations such as EMBIBE Lens and EMBIBE Lab Experiments, students will be able to watch complex concepts in Physics, Chemistry, and Biology come alive in 3D, as well as get up close to scientific phenomena/chemical reactions through a world-class virtual lab. Through EMBIBE's suite of digital offerings, teachers at Army Public School and their associated Vidyanjali schools will be able to leverage AI algorithms and provide timely and remedial actions for students to fix their weaknesses and learning gaps.
ALSO READ: An inspiration for Secondary Education Institutions –Lakshmipat Singhania Academy Kolkata wins International Space Settlement Design Competition for the fifth time
Announcing the launch of the partnership, Maj Gen R.K. Raina, SM, Ph.D. (Retd.), Managing Director, AWES, said, "AWES has been at the forefront of implementation of NEP 2020. It is a matter of pride that five initiatives of AWES have been selected as part of 75 initiatives towards National building by the Indian Armed Forces. The initiative of Technology upgradation, Gifted Education, Teachers Training, inclusive Education & Skill Subjects and adoption of government/government aided schools covered under PM E-vidya, Dhruv-PM innovative learning program, STARS project, Samagra Shiksha and Vidyanjali project have been on forefront for AWES. We look forward to EMBIBE for supporting AWES in each of the mentioned core initiatives of AWES."
Ms. Aditi Avasthi, Founder & CEO, EMBIBE, commenting on the partnership, added, "We are truly honoured and elated to join hands with the esteemed Army Welfare Education Society. At EMBIBE, we are driven by a deep sense of gratitude toward the invaluable service rendered by the army to our nation. It fills our hearts with immense pride to contribute in our humble way by providing free access to personalised education to the students of these prestigious schools. As a leading edtech player, we recognise the power of education in shaping lives and empowering individuals. It is our privilege to offer this opportunity to the students, enabling them to access high-quality education that caters to their unique learning needs. We firmly believe that education has the potential to ignite minds, foster progress, and build a prosperous nation. This partnership showcases our unwavering commitment to support and uplift our future generation while paying homage to the patriotic endeavours of the army."

EMBIBE has partnered with several state governments like Goa, Uttarakhand, Nagaland, Madhya Pradesh, and several Aspirational Districts of the country as of date. It further aims to extend its partnerships with other state governments as a part of its public sector initiative to empower students and educators through NEP-envisioned AI-led education.
About EMBIBE:
EMBIBE is the world's first AI-led edtech platform to deliver learning and life outcomes to students and empower teachers to be their best – built at the interplay of deep educational expertise, stunning content, design, AI and engineering. EMBIBE gives students access to the highest level of personalisation both in terms of relevant content delivery and getting the right guidance at the right time during their preparation. Teachers are enabled to teach every child 1:1 by the use of powerful algorithms and content libraries that will allow them to set individual homework for every child at the touch of a button. EMBIBE is a pioneer in the personalised education & learning outcomes delivery space with 5 granted patents.
The platform caters to all school boards, test prep and govt. job exams, covering more than 400 exams in English, Hindi & 10 major regional languages. EMBIBE's impact & innovation have earned it numerous accolades including being recognised by the World Economic Forum as a Global Innovator in the education space, truly harnessing the power of AI to deliver student success. EMBIBE has also won the most prestigious internet awards including the Webby People's Voice Award 2022, as "The Best Platform in Learning & Education", and the Google Play Best Of Users' Choice Award 2021, as "The Best App For Personal Growth". EMBIBE also won the best AI Solution by Edtech Digest in 2021. 
This year educate yourself and develop your career with EasyShiksha