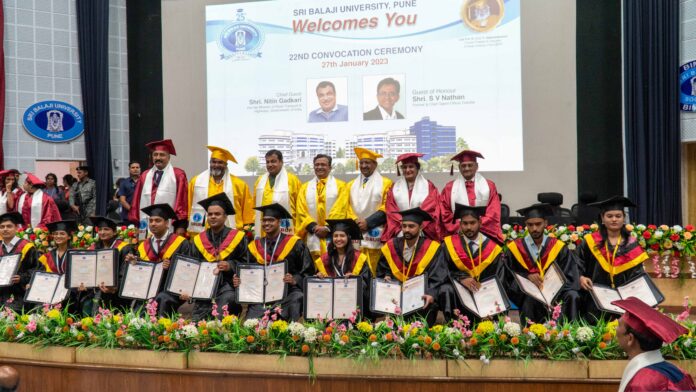 Pune, 27th January 2023: Sri Balaji University, Pune, (SBUP) proudly hosted its 22nd convocation ceremony to celebrate the accomplishments of its graduating students. The event was held on 27th January 2023 at K.N. Ranganathan Auditorium, SBUP, Pune, and was attended by over 1000 graduates along with their families, friends, and faculty members. The top achievers were felicitated by Hon'ble Shri Nitin Gadkari, Minister of Road Transport and Highways of India, along with the guest of honour, Hon'able Mr. S.V. Nathan, Partner and Chief Talent Officer at Deloitte India, National President, National HR Development Network.
Marked SBUP's 25 years of pursuit of excellence offering industry-immersive education, the gathering began with commemorating Late Prof. Dr. (Col) A. Balasubramanian, by unveiling the statue built in his honour. The ceremony then moved on to the welcome address by the Pro-Chancellor of Sri Balaji University Pune, Prof. B. Paramanadhan followed by speeches from Vice Chancellor, SBUP, Prof. Dr. G.K. Shirude, Hon'ble Mr. S.V. Nathan and Hon'able Shri Nitin Gadkari.
In his address to SBUP's 22nd Convocation, Mr. S.V. Nathan offered the formula for success to the batch 2020-22, stating, "With the 5 important phoron (5 ingredients) which are Purpose, Integrity, Attitude, Appreciate, and Focus one can easily become successful. Starting with a purpose, which defines your journey, demonstrating integrity through your work, always maintaining the right attitude, appreciating your fellow humans and focusing on your strengths". This is the recipe for success in any field of work"
The highlight of the event was the keynote address by Hon'ble Shri Nitin Gadkari, who shared inspiring words of wisdom and encouraged the graduates to continue their journey of learning and personal growth. Congratulating the gold medalists he said, "My Heartiest wishes to all the students present here. Sharing this room with my upcoming future leaders, I believe that knowledge is the biggest power you can possess. Turning this knowledge into wealth will lead you towards success." Acknowledging Mr. S.V Nathan's significant contribution to the Human Relations ecosystem, he adds "Human Relations is the most important aspect in every step of your journey. This is the biggest lesson from the institute of Entrepreneurship"
The convocation was declared closed on a successful note of vote of thanks delivered by Dr. Biju G Pillai, Director – Balaji Institute of International Business (BIIB), Senior Director – IT & Admissions, Dean – Faculty of Management, Sri Balaji University, Pune. 
Also Read: Appointment of Indian Council of Social Science Research (ICSSR) Member Secretary
The event concluded with the presentation of medals and merit certificates to over 1000 students who excelled in their specializations, and the conferral of degrees and diplomas to all graduates, bringing the ceremony to a memorable finish. The convocation successfully honoured the academic journey of the students and recognised their dedication to excel in a wide range of disciplines offered by Sri Balaji University, Pune, including the various streams of Marketing, Finance, HR, Analytics, Operations and Supply Chain Management, and International Business. 
This year Educate yourself and develop your skills with EasyShiksha