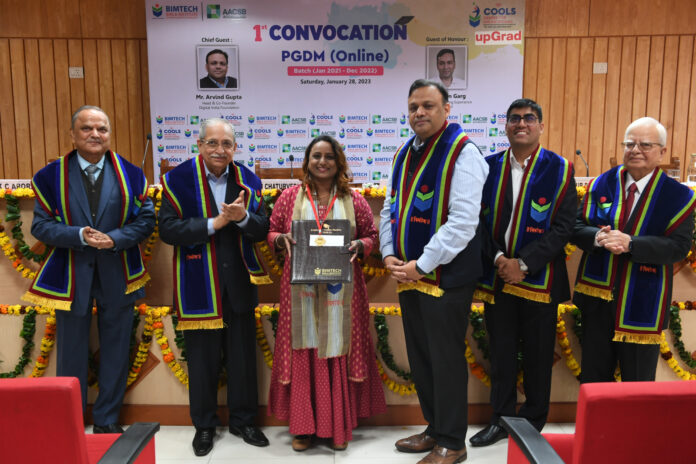 BIMTECH is one of India's very few B-schools to have received the coveted AACSB Accreditation
Delhi NCR / January 28, 2023: BIMTECH, one of India's leading business schools and a recipient of AACSB accreditation, today hosted its convocation ceremony for the Online Post Graduate Diploma in Management (PGDM) Class of 2023 at its Greater Noida campus.
The online programme is offered in collaboration with the technology partner upGrad, which is also Asia's largest higher Edtech company and is also known for the extensive tech capabilities it has built to ensure an uninterrupted flow of education.
The convocation ceremony was attended by distinguished guests including top management professionals, academicians, and industry leaders, who shared their insights and experiences with the graduates. The ceremony was conducted in a hybrid mode with many students receiving degrees in person and others attending the live ceremony online. Between 74 to 75 percent of the learners enrolled in the programme were awarded degrees. The ceremony also included the conferment of degrees and the presentation of awards to outstanding students.
BIMTECH is one of India's very few B-schools to have received the coveted AACSB Accreditation, which adds to the value of the degrees and encourages the engagement of international students. Its PGDM (Post Graduate Diploma in Management) is one of its most sought-after online programmes and is led by the university's faculty and industry professionals. The two-year online programme, in collaboration with upGrad, offers dual specialisations in domains such as Marketing, Finance, IT, Analytics, BIFS, Operations and General. The blended learning, with both live and recorded lectures, makes it more appealing to working professionals that also comes with extensive hands-on training and is comparable to the offline programme.
The PGDM program at BIMTECH, powered by upGrad is designed to provide students with a comprehensive understanding of the functional areas of business, as well as the skills and knowledge needed to succeed in today's rapidly changing business environment. The program includes a strong emphasis on practical, hands-on learning, and provides students with opportunities to work on real-world projects and gain valuable industry experience.
Dr. H Chaturvedi, Director, BIMTECH commenting on the uniqueness of the PGDM programme said, "We are excited to celebrate the achievements of our PGDM graduates. They have worked hard to earn this degree and have demonstrated a commitment to excellence in management education. We are confident that they will make significant contributions to the business world and bring pride to their alma mater."
"We at BIMTECH have on-campus programmes, immersion programmes and a few other online programmes. With this convocation itself being an in-person programme, this brings in a flavour of in-campus activities for online learners. This PGDM Programme is a hybrid programme where live online classes are held on the weekends, unlike regular distance learning programmes where printed learning material is provided once and learners are expected to visit a center every six months to take exams. Our learning platform has learning resources, as well as in-video questions for assessment, which needs to be cleared in order to move to the next level of learning. The faculty teaching at campus offline is the one teaching online too, so the rigour is the same and the learning is not diluted. The examinations at BIMTECH are all proctored and students are expected to earn the degree through fair means.", he further added.
The higher edtech company, upGrad, is the technology partner for BIMTECH 's online PGDM programme. On BIMTECH's aim to techify the learning experience, Professor SS Dubey, Chairperson, COOLS, BIMTECH remarked, "We use online tools for quizzes and case studies and are also planning to introduce the first ever metaverse learning experience in India by using virtual reality (VR) headsets and gamification for an immersive experience. This is to give online learners a feel of the campus and the classroom environment."
"We understand the market pulse and seamlessly embed the evolving requirements into our curriculum to allow learners to get the most relevant learning. And our partnership with BIMTECH- which has one of the most progressive leaderships bears testimony to our commitment to scaling quality education for driving higher employability within the country. Today, we have yet another market-ready talent pool backed by new-age skills and acumen and could make sound business decisions for accelerating growth. We will continue to proceed with our mission while also ensuring we are making India a skilled economy and the Teaching capital of the world," concluded Mayank Kumar, Co-founder & MD, upGrad. 
Also Read: Chitkara University Hosts a Delegation from Western Sydney University, Australia
About BIMTECH:
The Birla Institute of Management Technology (BIMTECH) was established in 1988 under the aegis of the Birla Academy of Art and Culture. Late Basant Kumar Birla, Ex-Chairperson of the Basant Kumar Birla Group of Companies and Late Sarala Birla, were the founders of BIMTECH. The Institute is governed by an eminent Board of Governors mostly drawn from the top echelons of the industry. The Institute is supported by the Basant Kumar Birla Group and Aditya Birla Group of Companies. It has progressed from a moderate start to the 6th rank among top private B-Schools in India as per NHRDN-Shine (HT Media) Management Institute Ranking 2019.
BIMTECH provides a highly conducive academic environment, interaction with hard working and industry-academia mix professors, proximity to the strategy makers of the industry and practitioners of the service and manufacturing companies, exposure to the international universities and companies. 
This year Educate yourself and develop your skills with EasyShiksha