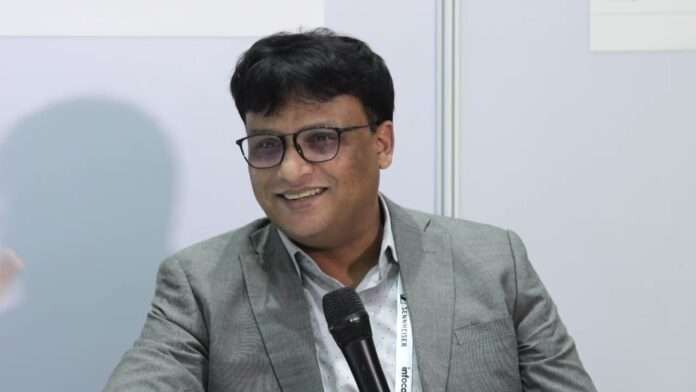 The IT team of GITAM (Deemed to be University) recently bagged the Inavate APAC Award 2023 under the Education category, beating top universities such as Singapore Management University, NYU Shanghai, Monash University, Jakarta and more
New Delhi, June 2023:  Centre for Advanced Technology Solutions (CATS), the IT team of GITAM (Deemed to be University) has recently bagged the Inavate APAC Award 2023 under  the Education category. Their project, with integration partner Sigma AVIT, which is based on hybrid learning and teaching, beat eight top universities across the world, including Singapore Management University, NYU Shanghai, Monash University, Jakarta, Western Sydney University, Australia and City University of Hong Kong to receive the coveted award at a gala event held at Altitude, Westin Grande Sukhumvit, Bangkok.
Gopala Krishna Gokeda, Chief Technology Officer at the varsity and his team had begun exploring and designing a hybrid system, and successfully digitized and unified 185 classrooms across the four campuses of GITAM (Deemed to be university) into a single classroom in less than two months. Subsequently, they designed a remote management and monitoring system for the 185 classrooms.
ALSO READ: A Prescription for Success: 10 Vital Skills Every Doctor Should Master
"A common problem in institutions," says Gokeda, "is that systems, at times, are not independent in being able to take care of themselves." Since they couldn't find a solution for this problem, their management suggested they construct their own. Through this remote management and monitoring system, the university is able to monitor the performance and functionality of each and every device and synchronize it. Benefits include the university getting precise metrics of how the classroom is being utilized.
Gokeda comments, "We envisioned digital pedagogy, remote teaching & learning and digitally connected classrooms will be a norm going forward. We wanted a design that makes our classrooms digitally enabled that are easy to operate even by old school faculty, economical to maintain, functionally scalable, and compatible with future tech, while aiming for all of this to be done with minimum material to build, install, inventory and maintain. The objective is to keep all the classrooms ready to use by the faculty, providing tech support on demand, in real time such that we can have understanding of a problem before our users know."

GITAM (Deemed to be University) President, Sribharat Mathukumilli says, "The hybrid culture is not a temporary phenomenon that has dissipated after COVID-19. It's here to stay, especially because of how it combines the best of both traditional classroom instruction and online learning, creating a dynamic and flexible educational experience."
The rise of hybrid learning has signified a transformative paradigm shift in education, empowering learners and educators to navigate the ever-evolving educational landscape and embrace the possibilities of a digitally connected global society.
With the advent of advanced technology and the widespread availability of internet connectivity, educators have seized the opportunity to transcend the boundaries of physical classrooms.
About GITAM (Deemed to be University) GITAM was founded in 1980 by an inspired group of eminent intellectuals and industrialists of Andhra Pradesh led by Dr M. V. V. S. Murthi, a former Member of Parliament and popular philanthropist. Located in Visakhapatnam, Andhra Pradesh, it also has campuses in Hyderabad and Bengaluru. Collectively, the four campuses have 12 Schools offering 112  UG and PG Programmes,  under their wing, in addition to PhD. Programme. Over the years, GITAM (Deemed to be University) has taken part in many social activities and has also produced many renowned personalities.
This year educate yourself and develop your career with EasyShiksha