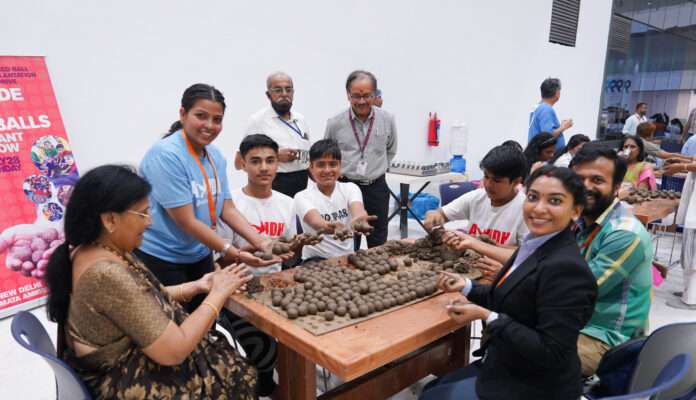 Faridabad, 30th May 2023: AYUDH (International youth wing of Mata Amritanandamayi Math), Amrita Hospital, and Amrita University jointly launched the Global seedball campaign in Faridabad, as part of numerous C20 initiatives for the welfare of the world. The seedball campaign was launched at global level in April this year under the guidance of Shri Mata Amritanandamayi Devi (Amma), Chairperson, Civil 20 India 2023. The Global Seedball Campaign aims to make 1 million seedballs in the year 2023. The C-20 SRC Working Group and AYUDH are jointly implementing this campaign all over the world. C20 is one of the official engagement groups under G20, that aims to provide a platform for Civil Society Organisations (CSOs) around the world to voice common man's aspirations to the G20 nations.
ALSO READ: COW'S MILK PROTEIN ALLERGY(CMPA) IN BABIES – AN UNDER DIAGNOSED ENTITY IN INDIA
Sh. Rajesh Nagar (MLA, Tigaon) and Sh. Satyananda Mishra (Retd. IAS officer and former Chief commissioner of India) graced the seedball launch event in Faridabad on the Monday evening 29th May. Among other dignitaries, Swami Nijamritananda Puri (Administrative Director, Amrita Hospital), Dr Sanjiv Singh (Medical Director, Amrita Hospital), Br Mokshamrita Chaitanya (National Coordinator for AYUDH India, Youth wing of Mata Amritanandamayi Math), Br Harshamrita (Coordinator Amrita Hospital), Sh. Sandeep Giridhar (owner Modern DPS School), and faculty from St. Columbus school were also present.
Hundreds of people enthusiastically participated in this seedball campaign launch, which included making the seedballs, starting with mixing of the soil and manure, till the final shaping up of the seedballs. Many local varieties of the seeds were used to prepare these seedballs. Among the crowd were, people from other CSOs and NGOs in and around Faridabad, employees of Amrita Hospital including many Doctors and Nurses, students and faculty of Amrita University, as well as students and faculty of adjoining schools.
In his address, Sh. Nagar said that "This Seedball campaign started by Amma is a great initiative to restore our forest areas". While talking about the infrastructure development and opportunities in his local area, he also said that "Amma's organization has always been doing activities for the welfare of the local area and due to Amrita Hospital, a lot of development is happening in the adjoining areas.". While laying emphasis on the restoration of forests, Swami Nijamritananda Puri, Administrative Director Amrita Hospital Faridabad, said, "These seedballs carry the seeds of the future for all coming generations." He also thanked the MLA for his continued support and goodwill for the Amrita Hospital.
Br. Mokshamrita made an appeal to all those present during this event to devote few hours of their time every day towards achieving the target of One million seedballs that has been set this year for this campaign. "It is extremely important that we understand the seriousness of the growing environmental problems. Issues like climate change and global warming can prove to be fatal for the whole world in the future. As global citizens it is our duty to do whatever we can to restore balance to nature. Making seedballs is a very simple way to give something back to other nature. Before the monsoon sets in, let us try our best to make maximum seedballs and encourage others in our communities and families also to come forward and participate in this seedball campaign. Let us be part of this global movement, join hands and spread the seeds of hope around the world, and lay a foundation for a better environment for our future generations.", said Br. Mokshamrita, AYUDH National Coordinator.
In her virtual address, Dr. Maneesha Sudheer, Provost, Amrita Vishwa Vidyapeetham, and Head of the C20 working group on Sustainable and Resilient Communities, said, "In the hands of every individual lies the power to sow the seeds of hope and change. The global seedball campaign launched by our working group holds the key to restoring the delicate balance of our planet's ecosystems, rekindling hope for a greener tomorrow."

This global seedball campaign launched by Amma as part of C20 this year involves producing seedballs in large numbers and then scattering these seedballs in forest areas where vegetation is desired. The seedballs depend on natural monsoon rains to germinate and mature into plants or trees. A seedball is a small ball or pellet made of clay and seeds. Seedballs are an ancient technique used for forest and soil restoration and are now gaining popularity as a modern method of ecological restoration. The updates regarding this Global seedball campaign can be found on the social media with the hashtag #seedsofhope.
Amrita Vishwa Vidyapeetham 
Amrita Vishwa Vidyapeetham is a multi-campus, multidisciplinary Institution of Eminence accredited by NAAC. It is also ranked the 5th Best University in India in the 2022 National Institution Ranking Framework (NIRF). Amrita continues to be the No. 1 Private University in India as per THE 2020 world rankings as well. The university has been awarded two UNESCO Chairs namely the UNESCO Chair for Experiential Learning for Sustainable Innovation & Development and the UNESCO Chair on Gender Equality & Women Empowerment. The university headquartered at Coimbatore is spread across six campuses in three states — Kerala, Tamil Nadu, and Karnataka. Amrita partners with academic, industry and governmental institutions across the world to accomplish human-centered, translational, and groundbreaking research. To date, Amrita has more than 500 collaborations from more than 200 signed Memorandums of Understanding (MoUs). Some of Amrita's partners include Harvard University, Columbia University, King's College London, KTH – Royal Institute of Technology, VU Amsterdam, the British Geological Society, University of Oxford, Italian National Research Council, Deakin University, and the University of Tokyo. Sri Mata Amritanandamayi Devi (Amma), a world-renowned humanitarian leader is the founder, Chancellor, and guiding light of Amrita Vishwa Vidyapeetham. Amma's words, thoughts, and vision for education and research have shaped the university's mission and vision. 
This year educate yourself and develop your career with EasyShiksha