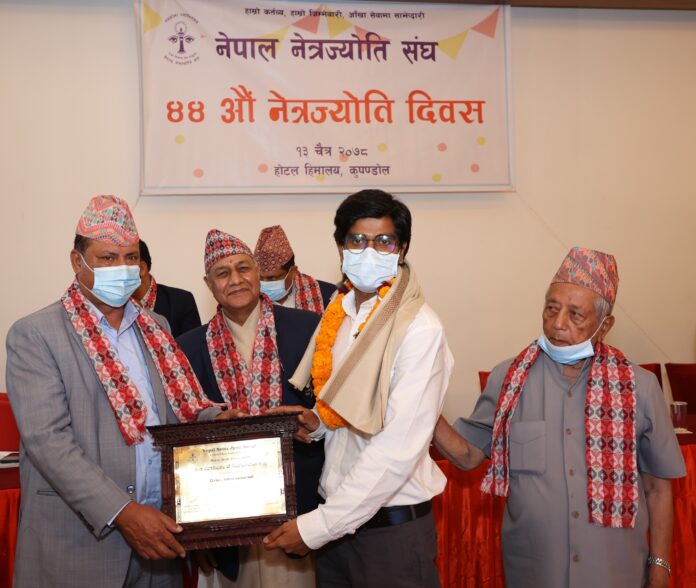 Orbis has been working in Nepal since 1985
It has established 8 dedicated children's eye centers and upgraded 28 primary eye care facilities in the country
Orbis has collaborated with Nepal Netra Jyoti Sangh and Tilganga Institute of Ophthalmology to prevent childhood blindness
Kathmandu, 6th April 2022: Today, Shri Birodh Khatiwada, Minister of Health and Population Minister, honored Orbis International, an NGO working to reduce childhood blindness across the globe. The honourable Minister was the Chief Guest at the 44th Nepal Netra Jyoti Sangh (NNJS) Day, celebrating over four decades of NNJS's efforts in preventing avoidable blindness, renewing its commitment, sharing results and planning for future endeavours. NNJS presented the recognition to Orbis on its exemplary contribution to eye care and enabling a transformative shift in pediatric ophthalmology in Nepal.
Orbis began its sight saving initiatives in Nepal in 1985, with the first Flying Eye Hospital (FEH) onboarding its volunteer faculty and clinical staff, commencing surgical training programmes in Kathmandu. The world's only completely accredited ophthalmic teaching hospital on board an MD-10 aircraft, FEH is outfitted with a state-of-the-art teaching facility that includes an operation room, classroom, and recovery area. According to the National HR and infrastructure mapping conducted by Orbis in 2007, there was only one hospital with dedicated pediatric center in the country. Over the next 10 years, Orbis established eight dedicated Children's Eye centers in Nepal and upgraded 28 primary eye care centers, reaching out to 2.3 million children and training over 100 ophthalmic personnel.

Commenting on the felicitation on behalf of Orbis International, Dr. Rishi Raj Borah, Country Director, Orbis India, said, "We've been working on the prevention and treatment of blindness for over four decades globally, in close collaboration with our global network of partners, universities, government agencies, and ministries of health. Strength of our work lies in training eye care teams, creating awareness in communities and enabling quality access to services, with support of partner hospitals like NNJS and Tilganga Institute of Ophthalmology. We are honoured to receive this recognition and inspired to do more in years to come."
Orbis has trained not only pediatric ophthalmologists, but also pediatric optometrists, pediatric nurses, anesthesiologists, orthoptists, and pediatric counsellors, through multiple training programmes, flying eye hospital visits and committed collaboration with partner hospitals.
Noting the contribution of Orbis International in preventing childhood blindness in Nepal, Honourable Minister Shri. Khatiwada said, "Nepal became the first country in the Southeast Asia Region to attain trachoma elimination status in 2018. Effective partnerships and collaborations have been critical in assisting us in achieving these goals and strengthening Nepal's healthcare systems. The reduction in blindness has been made possible thanks to the unwavering support of Nepalese NGOs and civil society, particularly Nepal Netra Jyoti Sangh, and Orbis' 360-degree support, which includes infrastructure strengthening, equipping Nepalese eye care teams with adequate skills, and developing training centres to ensure sustainability. Orbis' contribution in putting pediatric ophthalmology at the core of care is unrivalled. It is one of the few organisations that has assisted Nepal in improving paediatric eye care."
Important Announcement – EasyShiksha has now started Online Internship Program "Ab India Sikhega Ghar Se"
Due to numerous initiatives undertaken by Orbis, in collaboration with NNJS, today, there are many more ophthalmologists trained in pediatrics, hospitals are better equipped, infrastructure is more child-friendly, and the number of pediatric eye surgeries has increased dramatically.
"The NNJS is dedicated to meeting the 21st century's new problems. For the global health and development community, the COVID-19 pandemic has caused unparalleled upheaval. Border closures and financial hardships have made it difficult for many eye care providers in Nepal to continue their job. Our commitment to serving the people of our country, on the other hand, has not wavered. NNJS will continue to look for and develop new and inventive ways for our fellow citizens to receive the eye care they require, regardless of the circumstances. These honours and recognitions would undoubtedly motivate other INGOs such as Orbis to visit Nepal and work for the betterment of our people," said Prof. Dr. Chet Raj Pant, Chairperson, Nepal Netra Jyoti Sangh.
Leading EdTech Platform for skill development & For your Internship is EasyShiksha