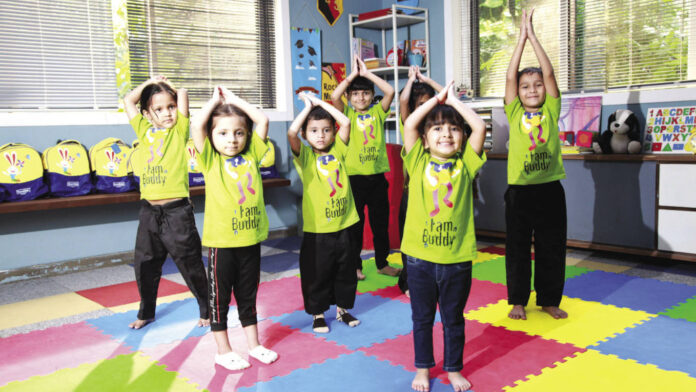 Mumbai, October 05, 2023: EuroKids Preschool, India's most trusted preschool brand, is set to celebrate the sacred tradition of Aksharabhyasam – a significant milestone in a child's life. Aksharabhyasam is commonly observed in south India, where children take their first steps into the world of learning and knowledge. Recognising the deep-rooted significance of this timeless tradition and age-old custom, EuroKids Preschool announces a special offer available at the nearest EuroKids centre. Through this initiative, EuroKids aims to ensure that every child starts their educational journey with a solid foundation.
In line with the brand's commitment to providing high-quality early childhood education to children between the ages of 2-6, the preschool has ideated this Aksharabhyasam initiative. By incorporating a blend of traditional customs and contemporary learning experiences, the preschool's idea of celebrating Aksharabhyasam is a testament to its commitment to holistic education and nurturing young minds. Aksharabhyasam, also known as Vidyarambham, is a cherished cultural tradition in India, where children begin their journey into the world of literacy and wisdom by writing their first alphabet. This pivotal moment symbolises the beginning of a lifelong journey of learning, knowledge and discovery.
The preschool aims to make this auspicious occasion a truly memorable experience for teachers and students by organising a wide array of engaging and entertaining activities, such as interactive learning workshops and community engagement. As a part of community engagement, children will visit a local orphanage and distribute various learning materials, sharing the joy of learning with everyone. Through these activities, toddlers will gain valuable insights and understand the importance of education.

Speaking on the launch of this special initiative, KVS Seshasai, CEO of the Pre-K Division, said, "At EuroKids, we believe in nurturing young minds and providing them with a strong foundation for a lifetime of learning. Aksharabhyasam is a beautiful ceremony that signifies not only the start of a child's educational journey but also ignites a lifelong passion for learning, and we will be delighted to celebrate this occasion with our students and teachers. Through a series of meaningful activities and special initiatives, we aim to empower parents and inspire children to embrace the transformative power of education. We are shaping a brighter future filled with boundless opportunities and discoveries."
Through the brand's 'Child First, Safety First' ideology, EuroKids stands committed to providing quality early childhood care and education and fostering the holistic development of a child. With its well-designed, structured and innovative EUNOIA curriculum, EuroKids aims to nurture a child's Mind, Body and Soul while instilling essential life skills and values. 
About EuroKids Preschool:
EuroKids is recognised as India's Most Trusted Preschool Brand, with over 21 years of experience, and has a presence in 350+ cities & 3 countries. The journey began in 2001 with two preschools. Since then, the group has consistently raised the bar for preschool education through its innovative and mindful curriculum – EUNOIA, which helps children grow holistically in a home-like environment. The foundational belief provides every child with a Flying Start, enabling excellent future success. Also, the EuroKids franchise model supports new entrepreneurs in the education sector to thrive and helps them set up their preschools.
ALSO READ: Honda India Foundation honoured with 'BHAMASHAH AWARD' for remarkable contribution in education sector in Rajasthan
The Group :
EuroKids is part of Lighthouse Learning. Lighthouse Learning (formerly known as EuroKids International) is India's leading Early Childhood & K-12 Education group backed by KKR Capital. The group is committed to delivering the Joy of Learning to students in early childhood education and K-12 segments. With its portfolio of brands – EuroKids Preschool, Kangaroo Kids Preschool, EuroSchool, Billabong High International, Centre Point Group of Schools (Nagpur), Heritage International Xperiential School and Heritage Xperiential Learning School. With a Lighthouse Learning is committed to deliver holistic development of its 175,000+ students across institutions., the group works towards delivering a robust foundation for future generations with innovation in pedagogy, use of appropriate technology and focus on child safety. Celebrating 20 years since inception, the group has always stayed ahead of the curve and is a harbinger of change in the educational landscape. With a 'Child First' ideology at its core, it has set new standards and raised the bar in many aspects, including enriching pedagogy and building a nurturing learning environment for children, using technology in enhancing learning engagements, creating employment and entrepreneurship opportunities for women or leading the way in enabling safety protocols for its students at the pre-school and schools. With a wealth of ideas and experience and 2 decades of success in Early childhood and K-12 education, Lighthouse now plans to revolutionize learning in the EdTech Space. With a network of over 1,400+ Pre-schools and 51 Schools, Lighthouse Learning empowers 1300+ women entrepreneurs across the nation and employs a workforce of over 15,000.
This year educate yourself and develop your career with EasyShiksha