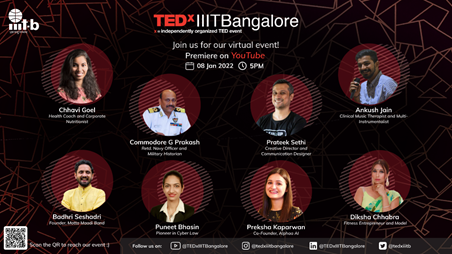 Themed around 'Unconventionality', the event will have eight inspirational speakers share their experiences of taking the roads less taken and giving back to society in unconventional ways
Bengaluru, January 07, 2022 –The International Institute of Information Technology Bangalore (IIIT-B) will host the fourth edition of TEDxIIITBangalore, themed around 'Unconventinality' to celebrate unconventional ways and alternate perspectives of viewing things. With the spirit to kindle the thinking process of individuals and spread positivity in the minds of the audience, IIIT Bangalore is set to host eight interesting speakers from varied walks of life to inspire the audience with their unique ways of overcoming challenges faced by societal norms. The independently organised TEDx idea-sharing event will be premiered virtually at 5 pm on January 8, 2022, on the TEDxIIITBangalore YouTube channel.

The event will host thought-provoking talks from speakers who are travelling the roads less taken and overcoming the challenges in the most unconventional ways. The speakers include Prateek Sethi, Creative Director at Trip Creative Services, Diksha Chabbra, Fitness Consultant and health advocate, Ankush Jain, Clinical Music Therapist, Chhavi Goel, India's leading nutritionist, Badhri Seshadri, Independent musician and founder of Motta Maadi Music, Puneet Bhasin, Advocate and Advisor to the Rajya Sabha Committee on Internet and Technology laws, Preksha Kaparwan, a stalwart in the AI industry, and Commodore G Prakash, a veteran Naval Aviator and anti-submarine warfare specialist.
"TEDxIIITBangalore has been an inspiring platform to share curious ideas and exceptional experiences that reassure the possibilities of limitless opportunities and unique ways to give back to society. Our institution is pleased to host 8 of the most inspiring speakers in our fourth edition to share their experiences around a special theme that celebrates unconventionality in different ways. In the light of the ongoing pandemic, the event will be held virtually and can be viewed on the TEDxIIITBangalore YouTube handle," said Prof Debabrata Das, Director, IIITB.
Important Announcement – EasyShiksha has now started Online Internship Program "Ab India Sikhega Ghar Se"
About TED
TED is a nonprofit organization devoted to Ideas Worth Spreading. What started as a four-day conference in California 30 years ago, has now grown to support its mission with multiple initiatives.
About TEDx (x = independently organized event)
In the spirit of ideas worth spreading, TEDx is a program for local, self-organized events that bring people together to share a TED-like experience. At a TEDx event, TEDTalks video and live speakers combine to spark deep discussion and connection. These local, self-organized events are branded with TEDx, where x = an independently organized TED event. The TED Conference provides general guidance for the TEDx program, but individual TEDx events are self-organized.
About IIIT Bangalore
IIIT Bangalore is a premier institute focused on Post-Graduate IT education and research, located in the heart of Electronic City, Bangalore. It contains state-of-the-art infrastructure, world-class faculty, a vibrant alumni community, cutting-edge research facilities and close industry collaborations.

The institute's specially designed courses make the students cognitive of the current technologies and practices, thereby equipping them with the tools and knowledge to solve contemporary real problems. Since the founding of the Institute in 1999, IIITB has enjoyed 100% placement every year, on account of the strong support of the Industry and the growing base of talented alumni.
ALSO READ: Anant National University launched two new executive education programmes
Want to improve your skill visit: EasyShiksha