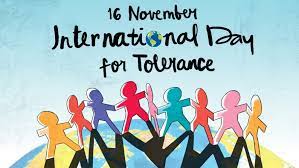 International Day of Tolerance is celebrated on 16 November each year to raise awareness of the importance of social tolerance and to make people understand the negative effects of intolerance on our lives. Let's take a closer look at World Tolerance Day.
Tolerance is a factor that helps people to live together in peace. Tolerant people accept other people's opinions and listen to them. They show the ability to deal with different ideas and opinions.
On World Tolerance Day, various activities are planned for educational institutions and the general public.
Even according to the 1995 UNESCO Declaration of Principles on Tolerance "Tolerance is respect, accepting, and appreciating the rich diversity of our global cultures, our means of expression and our personal values".

Important Announcement – EasyShiksha has now started Online Internship Program "Ab India Sikhega Ghar Se"

History
The UN General Assembly in 1996 with a resolution of 51/95 invited the UN Member States to celebrate International Tolerance Day on 16 November. Various activities were organized for both educational institutions and the community on a large scale. Let us tell you – it was a UNESCO initiative in 1993 for the UN General Assembly to be followed by the United Nations Year for Tolerance, a 1995 proclamation. UNESCO member states adopted the Declaration of Tolerance and Annual Performance Plan on November 16, 1995.
ALSO READ: How do I do an academic internship from home?
About UNESCO-Madanjeet Singh Prize For promotion of endurance
UNESCO presented the award in 1995, commemorating the 125th birthday of Mahatma Gandhi and celebrating the UN International Day of Tolerance to promote tolerance and non-violence. The award is named UNESCO-Madanjeet Singh Award. It is provided by important works in the field of science, art, culture or communications. Not only this but it can also be rewarded by institutions, organizations or individuals who have contributed to the tolerance and non-violence of violence. The prize is awarded every two years on 16 November on International Tolerance Day. For the awards ceremony, the winner is awarded a total of US $ 100,000.
Top Software Engineering Courses
More Courses With Certification
Top Programming Languages Courses
More Courses With Certification
Importance of tolerance
Tolerance is one of the values ​​considered by the community. As a result of globalization, people from different backgrounds, cultures, and religions are living together. Therefore, establishing tolerance and understanding is essential. Tolerance builds a society where people feel valued and respected. Everyone has their own room with their own ideas, beliefs, thoughts and dreams. Without a doubt, in a healthy and prosperous society, tolerance is a vital factor. One must respect another culture, nationality, colour or creed. On the other hand, we cannot ignore the fact that tolerance does not mean that one person or group shows tolerance and acceptance of others, while others do not. Therefore, tolerance should be shown on both sides. Tolerance helps a person to grow by listening to others and their way of thinking. Tolerance does not mean that you should compromise your values ​​or accept other people's opinions. We must remember that it is a basic human right.

Therefore, the International Day of Celebration of Tolerance on 16 November focuses on tolerant and non-violent behaviour for the betterment of society.
YOU CAN ALSO READ: Engineer's Day or Rastriya Ekta Diwas
If you want to learn advanced engineering technology then click here
If you are interested in Web Development with PHP & MySQL Database then Enroll Now from EasyShiksha