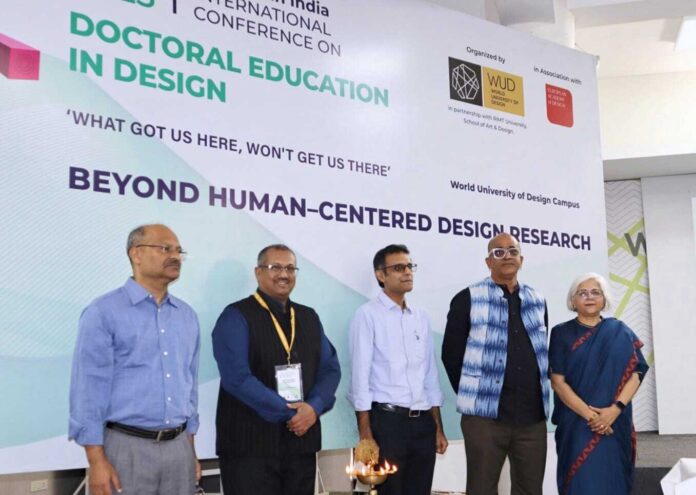 More than 25 researchers and 150 delegates attend the prestigious event organized by the European Academy of Design
DELHI-NCR / October 20, 2023: The World University of Design, based in Sonipat, has hosted the 15th International Conference on Doctoral Education in Design. The prestigious biennial event, organized by the European Academy of Design, has been held in India for the first time. It saw presentation by more than 25 researchers with over 150 delegates and invitees in attendance from major universities of design, industry, stakeholders, and doctoral students. The participants explored doctoral design research and education and their role in defining agendas for the next 25 years.
Addressing the audiences, Sudipto Mukherjee, the Henry Ford Chair Professor at Department of Mechanical Engineering, IIT Delhi, spoke about how important it is for designers to develop the mind's eye. He said: "Much of the creative thought of designers in today's technological world is non-verbal and not contained in letters. This intellectual component of technology, which is non-literary and non-scientific, has been ignored because its origins lie in art, not in science. The advent of computers has hastened this process by exponentially increasing the scientific component of knowledge. Thus, the critical part played by non-verbal knowledge in making big decisions of form, arrangement, and texture, which determine the parameters within which a system will operate, has largely been subsumed. It is now very important to develop new paradigms to visualize, propagate, and argue with representations of entire systems."
The noted designer and IIT Kanpur alumni Mukul Goyal, who has created the eponymous label comprising of objects of home decor, spoke about the interwoven relationships between tradition, materials, and processes for contemporary design. He highlighted the relationship between the legacy and technology of traditional metal crafts, the skill of the craft-persons and the intervention of design to bring the versatility of the crafts to the fore in contemporary spaces.
Important Announcement – EasyShiksha has now started Online Internship Program "Ab India Sikhega Ghar Se"
Delivering the keynote address, Jay Dhariwal, Assistant Professor, Dept. of Design, IIT Delhi, said that the design discipline needs to evolve with the times to offer solutions for the unprecedented challenges facing the world such as climate change, poverty, threat of pandemics, water scarcity, food security, and over-population. This, he said, can be done by moving beyond human-centered design research. "Design researchers are best placed to play a leading role in solving the problems of our era due to their ability to work with socio-technical systems. But for this, they will have to value compassion towards a better world more than their allegiance to form or functional aspects of design. Scientific thinking, interdisciplinary learning, as well as environmental and social sustainability need to become the core of design while preserving the design ethos. Designers should understand how every sphere of our life – be it the products we use, the transport, the shelter or even the food we eat – has negatively impacted the environment. A possible way out would be to look beyond human-centered design research to make it more environment-centered," Jay Dhariwal added.
Speaking about doctoral design research and education and its role in defining agendas for the next 25 years, Prof. (Dr.) Sanjay Gupta, Vice Chancellor, World University of Design, Sonipat, said: "As India is moving up from just being a vendor to global buyers, to being the originator of good design, a research-based approach in design holds immense significance in India's education landscape. Such researchers will emerge as thought leaders, influencing design discourse and education quality. Their interdisciplinary approach will foster innovation and bridge academia-industry gaps. Such people can play a pivotal role in policy formulation, curriculum development, and mentorship, contributing to national development."
ALSO READ: Investing in Wellness: World Heart Day's Top Appliance Picks
The 2023 conference of the European Academy of Design was delivered over one-day events in five cities in the world including Sonipat, Bilbao (Spain), Sao Paulo (Brazil), Espoo (Finland) and Glasgow (the UK). Each of the country hubs focused on different themes: Beyond Human-Centred Design Research (Sonipat); The Discipline of Design – Transdisciplinary Practices (Bilbao); Living in the Pluriverse (São Paulo); Exploring the Social Impact of Design Research (Espoo); and Extreme Making (Glasgow).
World University of Design, Sonipat, Haryana, is India's first and only university dedicated to education in creative domains such as Fashion, Design, Arts and Architecture.
About World University of Design

The World University of Design (WUD), founded in 2018, is a prominent institution located in Sonipat, Haryana. It is among India's leading emerging universities, holding a QS I-Gauge Platinum Rating in Design education and an A+ Grade in Outcome-Based Education by World Institutional Ranking. Dedicated to creative education, WUD has the largest portfolio of design courses in India. It offers a diverse range of undergraduate, postgraduate, and doctoral programs in fields like Architecture, Design, Fashion, Communication, Visual Arts, Performing Arts, and Management.
Committed to sustainability and making a positive global impact, WUD fosters a dynamic learning environment that promotes hands-on education, fostering student excellence with state-of-the-art facilities and numerous award-winning projects. The university prioritizes research and innovation and has established international collaborations and exchange programs to provide students with a global perspective. With a focus on industry partnerships, internships, and industry-relevant faculty, WUD prepares students for successful careers in the design industry, aiming to become a center of excellence in creative education in India.
This year educate yourself and develop your career with EasyShiksha