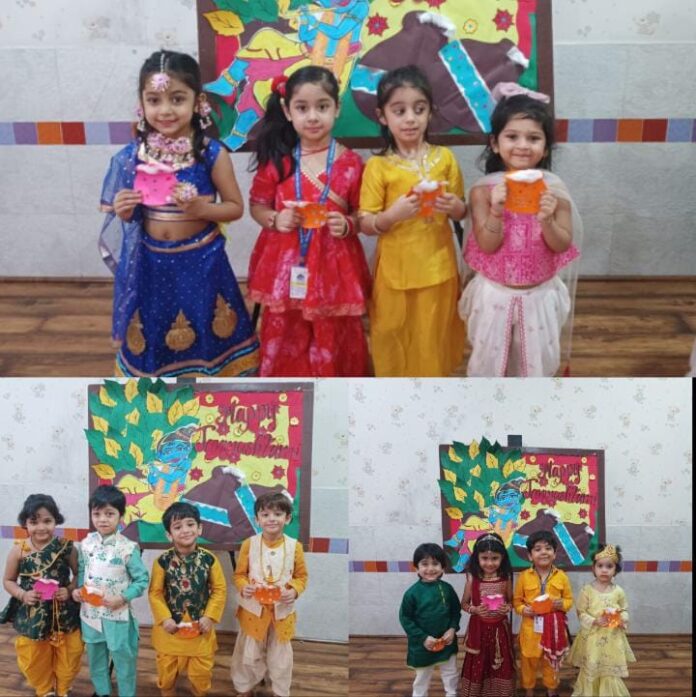 The Shri Ram Wonder Years celebrated Janmashtami with various vibrant and educational activities that left students beaming with joy. The auspicious occasion was commemorated with an enthusiasm that truly encapsulated the essence of this festive day. To immerse themselves in the spirit of Janmashtami, the students were encouraged to dress up as Krishna ji and Radha, adding a colourful and festive touch to the celebration.
The day commenced with a special assembly where students were introduced to the significance of Janmashtami and the enchanting tales of Lord Krishna's childhood. The students were spellbound by these stories, which ignited their curiosity and interest in our cultural heritage. The youngest participants, children of "Pehle Kadam," showcased their artistic talents by decorating a Krishna ji cutout, while the "Nanhe Kadam" munchkins crafted matkis and peacock paper feathers with great zeal.
ALSO READ: Vi Foundation Unveils 'Donate Book' – A Tech Solution for Book Donation, on the occasion of Teacher's Day
The kindergarteners joined in by decorating matkis and crafting Kanha ji face masks, contributing to the vibrant decorations that adorned the school. The highlight of the day was the "matki phod" activity, where children eagerly attempted to break the hanging matki, symbolising the mischievous nature of bal Gopal.
Ms. Shubhi Soni, Principal of The Shri Ram Wonder Year, expressed her delight, stating, "Janmashtami is a momentous occasion in our culture, and it was heartwarming to witness our young learners actively engage in various activities that not only taught them about our rich heritage but also allowed them to showcase their creativity and enthusiasm. This celebration embodies the spirit of unity and love that Lord Krishna represents, and I am proud of our students for embracing it wholeheartedly."
This year educate yourself and develop your career with EasyShiksha