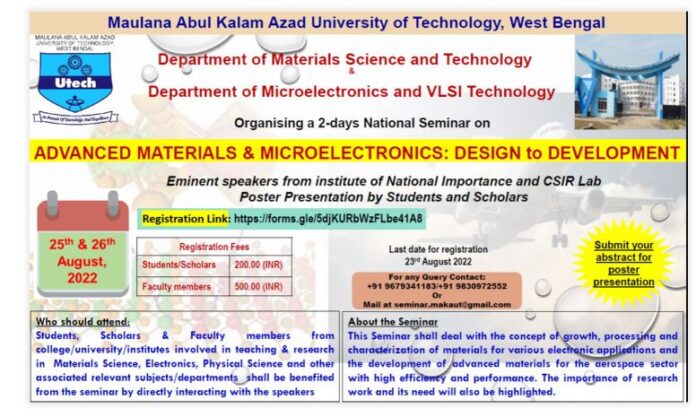 Kolkata, 18th August, 2022: The Department of Materials Science and Technology & Department of Microelectronics and VLSI Technology are organizing 2-days National Seminar on ADVANCED & SMART MATERIALS: DESIGN to DEVELOPMENT. The dates are 25th and 26th August, 2022.
ALSO READ : 60 school desks worth Rs Two Lakhs donated to a Govt School
This Seminar shall deal with the concept of growth, processing and characterization of materials for various electronic applications and the development of advanced materials for the aerospace sector with high efficiency and performance. The importance of research work and its need will also be highlighted.
Students, Scholars & Faculty members from college/university/institutes involved in teaching & research in Materials Science, Electronics, Physical Science and other associated relevant subjects/departments shall be benefited from the seminar by directly interacting with the speakers Eminent speakers from Institutes of National Importance and CSIR Lab will participate. There will be Poster Presentation by Students and Scholars.
Registration Link: https://forms.gle/5djKURbWzFLbe41A8
Last date for registration: 23rd August 2022
Registration Fees:
Students/Scholars 200.00 (INR)
Faculty members 500.00 (INR) 
Visit EasyShiksha for skill development courses