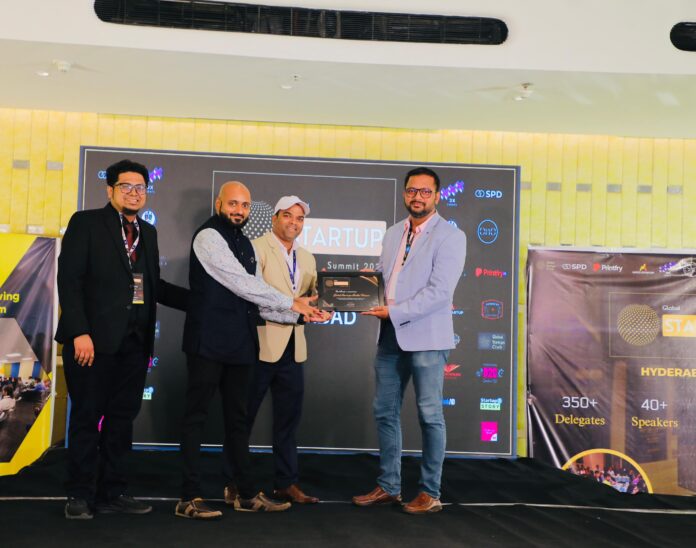 Mumbai, 12th October, 2023: Kintree, the innovative family heritage and ethnicity app, proudly celebrates its outstanding success at the Global Startup Summit 2023 held in Hyderabad. The summit brought together over 430 industry leaders, luminous speakers, startup founders, venture capitalists, and ecosystem collaborators. Kintree's victory in this startup battle is a testament to its unwavering commitment to excellence and innovation.
Kintree emerged as the undisputed first-place winner among a formidable lineup of startups, cementing its role as a frontrunner in the field. Winning at the Global Startup Summit on a global stage underscores its potential to make a substantial and far-reaching global impact, transcending borders. This accomplishment reaffirms that Kintree is more than just an app; it brings families closer by helping them to trace their roots. The award received at the Global Startup Summit not only acknowledges its potential to create a profoundly positive impact on families but also helps them to connect together in secured social environment on the app.
"The success of Kintree at the Global Startup Summit 2023 is a testament to our commitment to innovation and excellence. We are excited about the potential to create a global impact on family bonds and ancestry exploration, and we are to accelerate our journey by collaborating with like-minded business partners with our Strategic Partnerships which will help the ecosystem to flourish. This victory is a reflection of the dedication and expertise of our remarkable team," said Mr. Vikram Lad, Co-Founder & COO at Kintree.
ALSO READ: Two Students of NMIMS Shirpur's School of Agricultural Sciences & Technology Shine at the SmartIdeathon Competition, Reach Top 8
"Downloading our app, building your family tree, is a journey that will lead you to a deeper understanding of your roots and a stronger connection with your ancestors, Family along with extended family. Uncover the stories, traditions, and shared experiences that have shaped your family over generations. Beyond the recognition it received, this success underscores the app's potential to positively impact families and the Genealogy industry as a whole. As the accolades and attention pour in, Kintree remains focused on its core mission: to explore your past (ancestry), connect with your present (extended family), and build for the future through STORIES, WILL FEATURE, DNA insights, photos, and videos. The team is open for collaborations that can further expedite their journey towards this noble goal," Vikram Lad, further added.
Ravi Teja Gupta, founder, Guptaji Invests, who was on the esteem judges panel at the Global Startup Summit, says "Kintree solves the burning problem of building legacy by making your name, your work and your greatness be known till the world exists." Guptaji Invest runs a community specific shared family office service provider company in Angel network model with exclusively Strategic investments USP.
Pankaj Gupta, Managing Partner, ETHAUM, on the judges panel at Global Starup Summit, expressed, "From a high-level perspective, Kintree may look like a simple family Social Media platform. However, it may have an immense positive impact on the Healthcare industry once the solution is able to acquire enough critical mass and genetics data. Most importantly, the Kintree team possesses the right expertise and network to execute on the vision."
Important Announcement – EasyShiksha has now started Online Internship Program "Ab India Sikhega Ghar Se"
Global Startup Summit had following esteemed Judge panellist : Maneesh Bhandari (Co-Founder & CEO, GrowthPal Technologies), Akhil Singhal (Founder, Technotreon Intellectual Ventures), Pankaj Gupta (Managing Partner, EthAum Venture Partners), Ahmed Khan (Founder, Clay Capital), Venu Gopal (Partner, Sathguru Catalysers Fund), Ravi Teja Gupta (Founder, Guptaji Invests), Kartik Chandra (Founding Partner Morphosis), Ratnakar Samavedam (Investment Director & CEO, Hyderabad Angels), Venkat Vallbhaneni ( Managing Partner, Inflexor Ventures), Mohit Surekha (CEO, Mojo Startup – Venture Capitalist & Investment Banking)
About Kintree:
Kintree Private Limited, is an all-in-one platform for families who believe in togetherness. Driven by the core belief, Kintree strives to help people bond with their extended families no matter where they are. It is passionate about its core values and believes in giving people a unique and safe platform to help them stay in touch with their loved ones. Currently, Kintree is available in 12 languages, with plans to add international languages in the near future. Additional languages will be added depending on the region in which the popularity of the app grows.   
This year educate yourself and develop your career with EasyShiksha