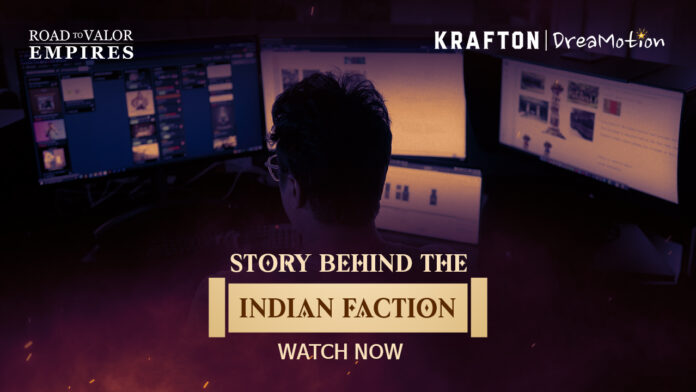 Produced by Supari Studios, the documentary was conceptualized in-house by KRAFTON's India team
New Delhi, September 8th, 2023: KRAFTON India unveiled an exclusive documentary video – From Vision To Valor: Creating The Indian Faction. The documentary provides a captivating look at the creation of the Indian Faction in Road To Valor: Empires. This is a first of its kind documentary encapsulating the essence and thought behind creating the new faction. It is conceptualized by the talented team at KRAFTON India along-with it's South Korean counterpart and shot and produced in collaboration with the renowned Supari Studios.
The Indian Faction within Road To Valor: Empires is a first of its kind creation where localized gameplay is brought to users on mobile, inspired by India's rich history and culture. The film closely showcases the team at KRAFTON India embarking on a creative endeavor to produce the Indian Faction. From collectively designing and aligning on the aesthetics to then co-developing the narrative with the help of the South Korean team to introducing Indian culture and elements to their global counterparts and recording voiceovers, the film captures every detail of thoughtful curation that went into bringing users an unparalleled mobile gameplay experience.
Supari Studios, an independent and fresh creative content agency, played a pivotal role in capturing the essence of this creative journey. The result is an honest and emotionally resonant documentary that provides an inside look into nuances of game development.
ALSO READ: Camera Commando Team Celebrates the World Photography Day 2023
"We are incredibly excited to share this behind-the-scenes documentary with our players and fans," said Srinjoy Das, Associate Director of Marketing at KRAFTON India. "Creating the Indian Faction was a labour of love, and we hope this documentary will not only showcase the hard work and dedication of our talented team but also deepen the connection between the game, and our players. We are immensely proud to have documented the seamless synergy between KRAFTON's India and South Korean teams in bringing this project to life and are grateful to Supari Studios for their exceptional work in capturing this journey."
Passionate gamer and Account Director at Supari Studios, Mrinal Chawla, expressed his excitement about the project, stating, "It was an absolute pleasure to work on this project, and the passion within the KRAFTON team was palpable from the very beginning. We found inspiration in the meticulous attention to detail, thoughtful curation, and the unwavering effort put forth by the KRAFTON team."
Nisha Vasudevan, the director of this documentary, said "When we set out to capture the process of how Indian characters were created by the combined efforts of Krafton and Dreamotion, we realised how much hard work goes in to making something of this magnitude. It truly is something unique. This comes out better when you see in action than in words"
The documentary is available for fans and the gaming community to watch on KRAFTON's official YouTube channel, providing a unique opportunity to witness the creative process behind Road To Valor: Empires' Indian Faction.

About KRAFTON, Inc.
Based out of South Korea, KRAFTON, Inc. is committed to discovering and globally publishing games that deliver a uniquely fun experience with global production studios known for distinctive creatives. Founded in 2007, KRAFTON consists of Bluehole Studio, RisingWings, Striking Distance Studios, Dreamotion, Unknown Worlds, 5minlab, Neon Giant, KRAFTON Montréal Studio and ReLU Games, each trying to innovate the enjoyment of games through continuously embracing challenges and new technologies, expanding our platforms and services to win the hearts of more fans.
KRAFTON is responsible for premier entertainment properties, including BATTLEGROUNDS MOBILE INDIA (BGMI), Road To Valor: Empires, The Callisto Protocol, NEW STATE MOBILE, Moonbreaker, TERA and ELYON. With a passionate and determined team worldwide, KRAFTON is a technology-driven company that boasts world-class capabilities as it seeks to expand its areas of business beyond games to multimedia entertainment and deep learning. KRAFTON, Inc. is committed to enhancing the start-up ecosystem in India; and so far, the company has invested over $140 million in several Indian startups in the field of interactive entertainment, gaming, Esports and technology.
About Dreamotion
Dreamotion is a game developer studio founded in 2016 with the mission to create fun, high quality games faster than anyone else. It was acquired by KRAFTON as an independent studio in June 2021. Dreamotion has developed and currently services three global titles with a cumulative 10 million downloads. GunStrider, featuring stylish dual-gun action; Road to Valor: World War II, a western-targeted real-time battle strategy game based on World War II; and Ronin: The Last Samurai, a rogue-like action RPG that determines life or death in a split second, are three global titles that Dreamotion developed and currently services for players around the world. Dreamotion strives to develop diverse games with the goal to make a piece that can deeply touch and stay in the memories of players.
This year educate yourself and develop your career with EasyShiksha