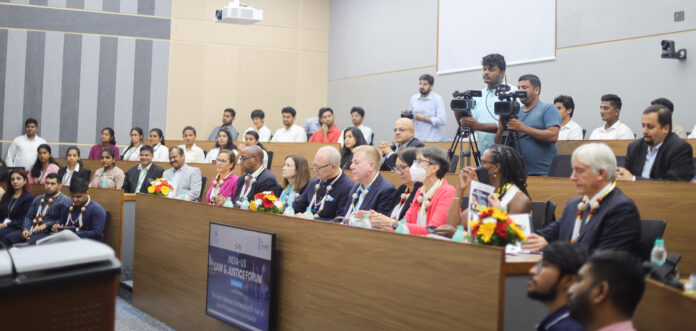 RV University hosts India-US Law and Justice forum
Bengaluru, 6 October 2023: RV University, in association with O.P Jindal Global University, hosted a India-U.S. Law and Justice Forum. Top Judges and Jurists, gathering under India and US Law & Justice Forum, identified a number of challenges to the Rule of Law and access to justice and also suggested a few far-reaching solutions.
They addressed the seminar held collaboratively by School of Law, RV University and Jindal Law School, O.P. Jindal University in Bengaluru today.
In his inaugural address, The Chief Guest, Hon'ble Mr. Justice R.V. Raveendran, underscored the need for speaking in one voice by the Supreme Court of India and maintaining consistency while referring to the US model. He also said that frequent changes in law are not good.
Congratulating RV University on organizing the forum, Former Judge, Supreme Court of India Mr. Justice Ravindran said, "Reflecting on Justice Cardozo's words over a century ago regarding the role of judges, I emphasize that judges can legislate in the absence of clear legal guidance but stressed that such situations are rare. The key lies in distinguishing between the authority conferred by a judgment and the fundamental legal principles judges must uphold."
"While judges possess the power to set aside statutes and exceed customary boundaries, they should exercise this power cautiously to avoid violating the law. To make judicial review meaningful, judges should remember the difference between 'right' and 'power' and resist the urge to delve into policy matters or formulate policies themselves. Instead, they should use the power of judicial review to encourage the executive to fulfill its duties rather than supplant its functions", he added. 
ALSO READ: Culture of openness, transparency is what makes ISRO tick: ISRO Scientist Dr Umamaheswaran at GITAM Conclave
Commenting on the forum, Prof (Dr) Y.S.R Murthy, Founding Vice-Chancellor and Founding Dean, School of Law, RV University said, "Globalization and international trade have spurred the rapid expansion of international law. Rising nationalistic sentiments, driven by perceived threats from hostile nations and conflicts between domestic and international law, are impeding and posing challenges to the rule of law. It is a momentous event for RVU's School of Law to be hosting a gathering of 10 eminent jurists from the United States and India to share a platform that promises to open up a lot of possibilities for intellectual exploration". 
He added, "I am confident that our discussions today will help in addressing the rule of law challenges in our increasingly globalized world. The visit of judges and jurists from the United States to RV University is a testament to the institution's commitment to fostering global legal perspectives and creating opportunities for cross-cultural dialogue within the legal field".
The attendees witnessed thematic discussions on two sets of topics for the meeting. "Judicial Review- Challenges and the way forward" and  "Law in a Globalizing World – Challenges for the Rule of Law and Access to Justice." The effectiveness and challenges of judicial review were also explored in three scenarios—the executive consolidating power among a small group to establish an authoritarian regime, eroding democratic institutions, and attempting to restrict the power of judicial review—were used to illustrate these issues. 
Important Announcement – EasyShiksha has now started Online Internship Program "Ab India Sikhega Ghar Se"
The forum discussions saw judges of international repute from the U.S.A. offering deep insights. The following judges and jurists addressed the audience and presented their views.
Hon'ble Mr. Justice Michael Wilson, Former Judge, Supreme Court of Hawai'i
Hon'ble Ms. Justice Sabrina S. McKenna, Judge, Supreme Court of Hawai'i
Hon'ble Mr. Justice Todd W. Eddins, Judge, Supreme Court of Hawai'i
Hon'ble Judge Ann Aiken, Chief Judge, U.S. District Court for the District of Oregon
Hon'ble Judge Jenny Rivera, Associate Judge, New York State Court of Appeals
Hon'ble Judge Sara L. Ellis, Judge, U.S. District Court for the Northern District of Illinois
Hon'ble Judge Josephine L. Staton, Judge, U.S. District Court of California
Hon'ble Mr. Justice Douglas L. Tookey, Judge, Oregon Court of Appeals
Hon'ble Mr. Justice André Birotte Jr. Judge, U.S. District Court, Central District of California Professor Camille Nelson, Dean, William S. Richardson School of Law, University of Hawai'i
RV University is pleased to be at the forefront of legal education and anticipates organizing a similar thought-provoking session soon. This seminar was another step in the institution's commitment to fostering a climate of interdisciplinary dialogue and academic success.
The seminar aimed at facilitating an insightful exchange of ideas to make a difference in the judiciary in both the countries, fostering a deeper understanding of comparative law and the various perspectives which included women's empowerment, equality and opportunity for all, the need for studying law in today's globalized world surrounding the judiciary and legal systems in both India and the United States. 
This year educate yourself and develop your career with EasyShiksha
About RV University
Backed by the 83-year-rich legacy of RV Educational Institutions, RV University, which commenced operations in 2021, is a new-age, tech-driven, global university that imparts high-quality, liberal education with an interdisciplinary curriculum. The university offers undergraduate, postgraduate and Ph.D. programmes in seven academic disciplines of Liberal Arts and Science, Design and Innovation, Film, Media and Creative Arts, Business, Economics, Computer Science, Engineering, and Law. It has partnerships and collaborations with over 130 reputed foreign universities, institutions, and companies.