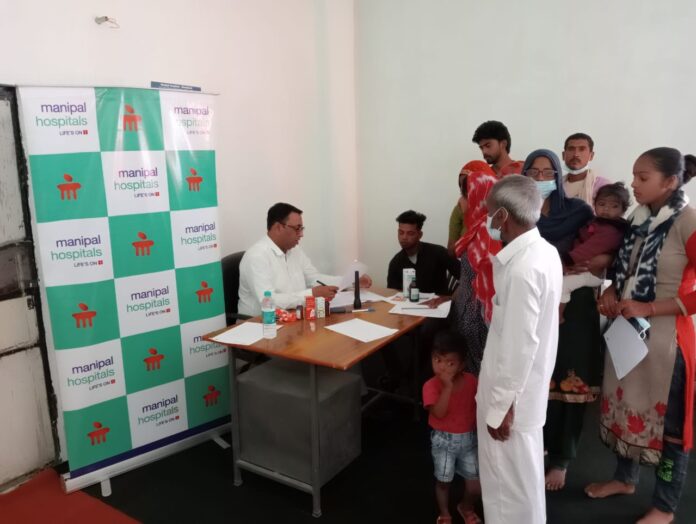 Manipal Hospitals, Ghaziabad on 28th March 2023 Tuesday between 10:00 am to 2:00 pm at Mahadev Kuti, Gaon Makreda, Muradnagar, Ghaziabad organised a consultation was done by Dr. Ashutosh Jha (Orthopedic), Dr. Md. Wasim (Generalist), Dr. Jhumkai (Gynecologist), Dr. Sudhanshu Mishra(Cardiologist) and Ophthalmologist from Manipal Hospital, Ghaziabad. BP sugar and ECG, medicines and doctor consultation were offered to the patients during in camp, where more than 300 people came and benefited for their health.
ALSO READ: Genitourinary Tuberculosis (TB) on the Rise in Developing Countries, with Devastating Consequences for Reproductive Health
About Manipal Hospitals
As a pioneer in healthcare, Manipal Hospitals is among the top healthcare providers in India serving over 4.5 million patients annually. Its focus is to develop an affordable, high quality healthcare framework through its multispecialty and tertiary care delivery spectrum and further extend it to out of hospital care. With the completion of acquisition of 100% shareholding in Columbia Asia Hospitals Private Limited and Vikram Hospital (Bengaluru) Private Limited, the integrated network today has a pan-India footprint of 28 hospitals across 15 cities with 7,800+ beds, and a talented pool of 4,000 doctors and an employee strength of over 11,000.

Pprovides comprehensive curative and preventive care for a multitude of patients from around the globe. Manipal Hospitals is NABH, AAHRPP accredited and most of the hospitals in its network are NABL, ER, Blood Bank accredited and recognized for Nursing Excellence. Manipal Hospitals has also been recognised the most respected and patient recommended hospital in India through various consumer surveys.
This year Educate yourself and develop your career with EasyShiksha