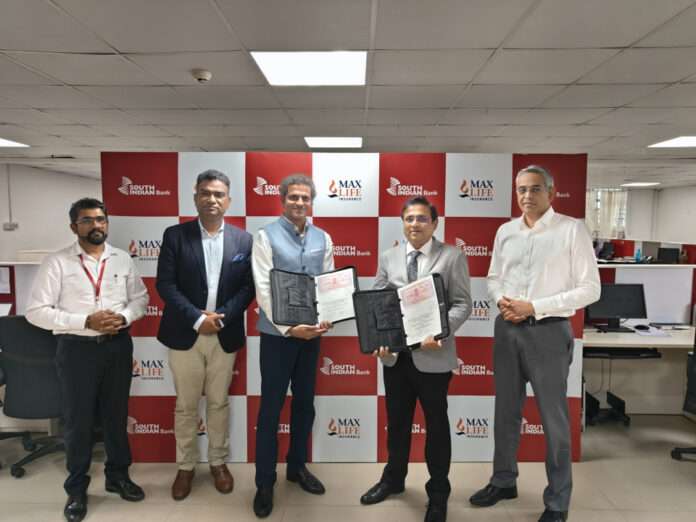 Partnership to offer customers of SIB access to Max Life's life insurance suite
Further strengthens Max Life's growing Bancassurance channels
New Delhi, August 1, 2023: Max Life Insurance Company Ltd. ("Max Life" / "Company") announces its partnership with South Indian Bank ("SIB" / "Bank"), a premier private sector bank in India. Through this partnership, SIB customers will now have access to an extensive range of Max Life Insurance's products tailored to meet their specific needs, including protection, savings and retirement solutions.
South Indian Bank is a pioneer in technology-based banking, offering an array of digital products and services with 940 branches across India. The Bank recently declared a net profit of Rs. 775.09 Cr for the FY 22-23, highest ever in the history of the Bank.
V. Viswanand, Deputy Managing Director, Max Life said, "Max Life is sharply focused on growing its distribution channels, and is excited to partner with South Indian Bank to provide our comprehensive range of life insurance and financial planning products to their customers. We look forward to this journey together with our common values on customer centricity and vision on financial inclusion."
Also Read: NMIMS Bengaluru welcomes new batch of B.Sc Economics students in grand Inauguration event
Murali Ramakrishnan, MD & CEO, South Indian Bank said, "We are excited to join hands with Max Life Insurance as we extend our commitment to providing holistic financial solutions to customers. Together, we are committed to fulfill our vision of enabling our customers – existing and new – to understand the value of life insurance better, and thereby make a more informed decision on why it is important for them."
This strategic partnership represents a promising step forward in strengthening the financial security of SIB customers and expanding Max Life Insurance's reach. The alliance between Max Life Insurance and South Indian Bank signifies a shared commitment to holistic financial inclusion, customer-centricity, innovation, and long-term financial well-being.
About Max Life Insurance
Max Life Insurance Company Limited is a Joint Venture between Max Financial Services Limited and Axis Bank Limited. Max Financial Services Ltd. is a part of Max Group. Max Life offers comprehensive protection and long-term savings life insurance solutions, through its multi-channel distribution including agency and third-party distribution partners. Max Life has built its operations over two decades through a need-based sales process, a customer-centric approach to engagement and service delivery and trained human capital. As per annual audited financials for FY2022-23, Max Life has achieved a gross written premium of INR 25,342 Cr.
About South Indian Bank
South Indian Bank is a leading Kerala-based Private sector bank with a nationwide presence. The Bank's shares are listed on The Stock Exchange Mumbai (BSE) and The National Stock Exchange of India Ltd., Mumbai (NSE). South Indian Bank has 940 branches, 1166 ATMs and 123 CDMs/CRMs across India and a representative office in Dubai, UAE. South Indian Bank is a pioneer in technology-based banking, offering an array of digital products and services. It has one of the youngest workforces in the banking sector in the country. The Bank's Vision 2024 focuses on the 6 Cs — Capital, CASA, Cost-to-income, Competency Building, Customer Focus, and Compliance.
This year educate yourself and develop your career with EasyShiksha