3rd May, 2023, India: On April 30, 2023, the 153rd birth anniversary of Dadasaheb Phalke, the father of Indian cinema, MIT World Peace University unveiled the latest addition to its 40+ years legacy in the education sector of Maharashtra—Dadasaheb Phalke International Film School (DPIFS). The event was attended by renowned film personality, Shri Nana Patekar, and eminent filmmaker Shri Abhijit Panse, who will be serving as the Creative Director of DPIFS.
ALSO READ: MBA turned Motivational Speaker! Meet Ramsha Sultan, India's Hijabi Influencer.
On the occasion of the event, MIT-WPU launched a brand-new undergraduate honours programme in B.A. Filmmaking. With specializations in direction, acting, cinematography, and sound design, this programme promises to be a one-of-a-kind offering where leading stalwarts of film and theatre guide students to turn their passion into a profession.
Dadasaheb Phalke International Film School has a number of stalwarts in the field as its advisors, including Shyam Benegal, renowned filmmaker, Waman Kendre, former Director, National School of Drama, Sneha Khanwalkar, music composer, as well as several senior faculty members from FTII and NSD.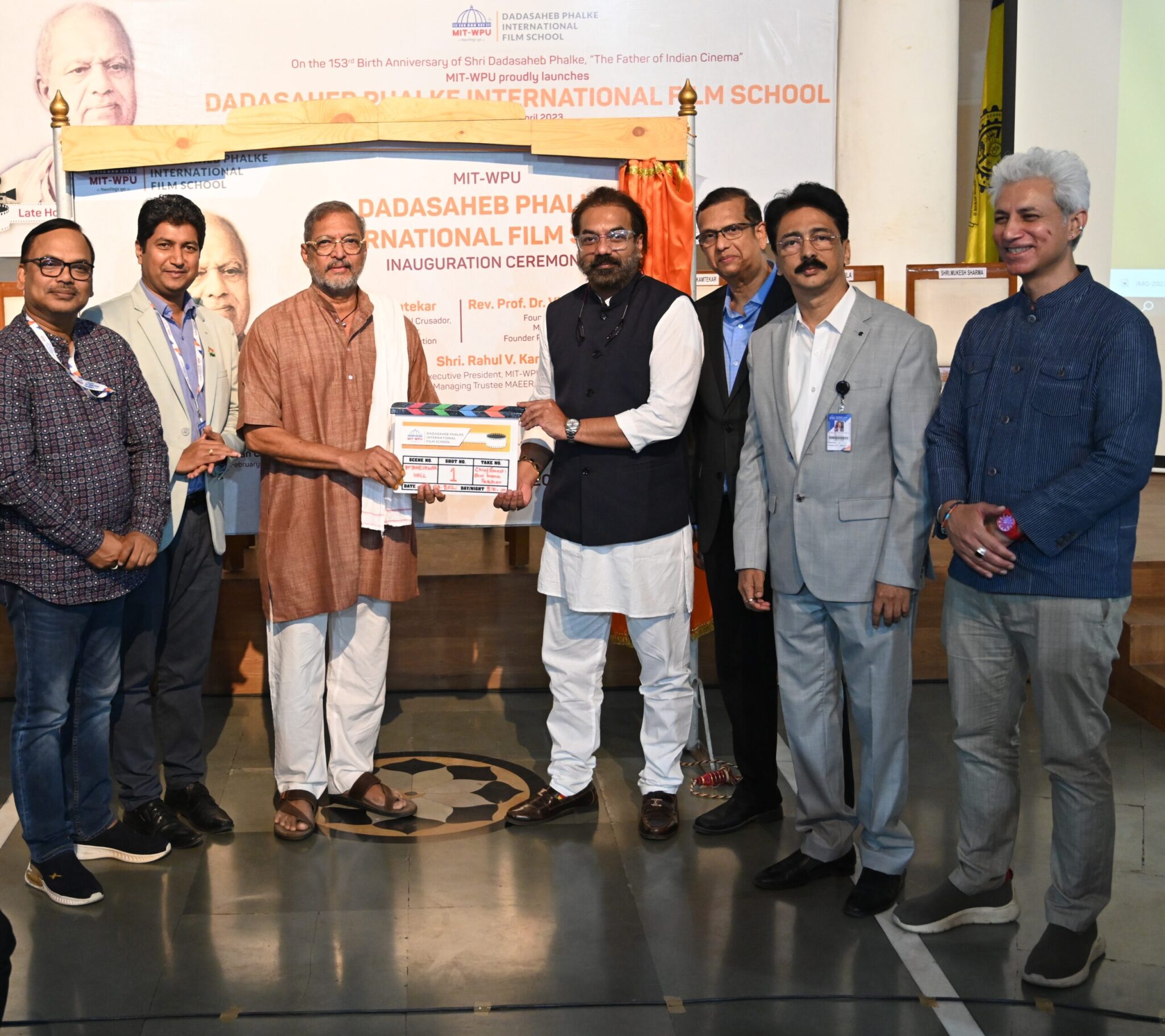 Dhiraj Singh, Director of the Department of Media and Communication at the MIT-World Peace University, filmmaker, author, artist, and the former Executive Director at Lok Sabha TV, will be serving as the Director of Dadasaheb Phalke International Film School. At the event, he shared the connection of the film school to MAEER's Group of Institutions, which has over forty years of legacy. He said "I would like to share that the Dadasaheb Phalke International Film School is the manifestation of the vision of Shri Rahul Karad. It is his dream of creating a school in Pune that aims higher, dreams bigger, and seeks to create future filmmakers with strong roots in their own culture."
Creative Director of DPIFS and eminent film director, Shri Abhijit Panse, elaborated on the foundational philosophy behind the school: "Angrezi nahi aati to filmmaking ya acting nahi aati kya?" Known for films like Rege and Thackeray, the director pointed out the difference in the culture of filmmaking in the West vis-a-vis in India. He promised that DPIFS will inaugurate a new era of film education by bringing together the best of styles, and techniques from the West and the culture and tradition of the East, along with access to film education in regional languages.
At Dadasaheb Phalke International Film School, students can enroll in a unique undergraduate programme in filmmaking, which provides specialised tracks in Direction, Acting, Cinematography, and Sound Design. Before choosing their specialization, students can explore different aspects of the field and discover their passion by studying 13 foundation programmes and multiple program majors across all specializations. Additionally, a final-year internship will help propel the students toward achieving their desired career path in the industry. The students will have an exit option after each academic year and can also get an honours degree after 4 years, according to the NEP 2020.

Bringing together the craft of art cinema and the commerce of mainstream films, DPIFS will make film education accessible in regional languages, with a focus on hands-on learning and lifetime mentorship.
The Dadasaheb Phalke International Film School is now accepting applications.
About MIT-WPU
With a rich legacy of 40 years in fostering world-class academic excellence and over 1,00,000+ alumni across the globe, MIT-WPU is one of the premier institutions of higher learning in India that offers over 150 programmes at undergraduate, postgraduate, diploma and PhD levels. It is also known for its prolific placements and career support provided to the students. Spread over 65 acres, MIT-WPU is equipped with state-of-the-art infrastructure and facilities. Over 8,000 students enrol every year for different courses, across the 11+ Schools & 30+ departments of MIT-WPU.
This year educate yourself and develop your career with EasyShiksha