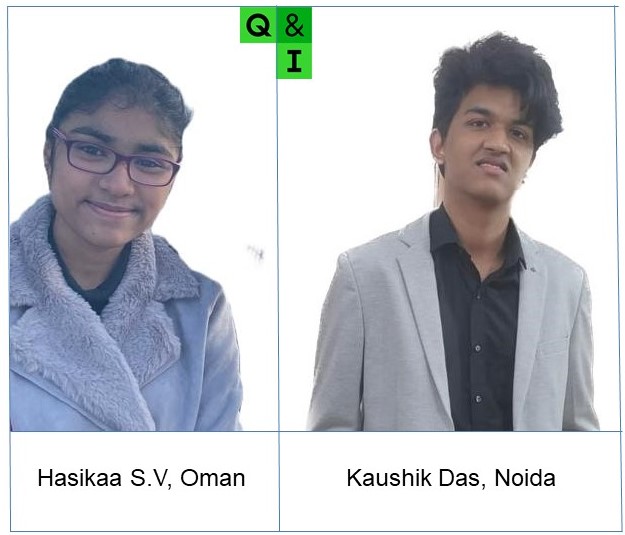 New Delhi, 04 May 2023 – Thomson Digital's innovative Edtech platform, Q&I (QandItoday.com), is proud to celebrate the success of its students, Kaushik Das and Hasikaa S.V in the Joint Entrance Examination (JEE) Main 2023. Both students utilized Q&I's personalised learning resources and tools, which helped them to prepare effectively for the challenging exam.
ALSO READ: MIT-WPU Launches Dadasaheb Phalke International Film School
The JEE Main exam is considered one of the toughest entrance exams in India for admission to prestigious engineering colleges, and attaining success is a remarkable achievement. Q&I's personalized and assessment based learning approach provided Kaushik and Hasikaa with access to a wide range of mock tests, practice papers, and self-driven roadmaps, which helped them to prepare with confidence.
Vinay Singh, CEO and Executive Director of Q&I and Thomson Digital, expressed his pride in the students' success, saying, "We are thrilled to see our students achieve such outstanding results in the JEE Main exam. Our mission at Q&I is to offer

the best possible learning experience to all its students, and this achievement is a clear reflection of the effectiveness of its personalized and innovative approach. We are proud to be a part of Kaushik and Hasikaa's academic journey and look forward to empowering more students to achieve their academic goals through Q&I (QandItoday.com)."
About Thomson Digital
Thomson Digital is a leading digital publishing solutions provider focused on empowering publishers by delivering smart solutions. With five decades of experience, the Group has partnered with customers to provide them with transformative workflow and technology solutions, e-learning, content development, processing, and rich media development to meet their business objectives.
This year educate yourself and develop your career with EasyShiksha