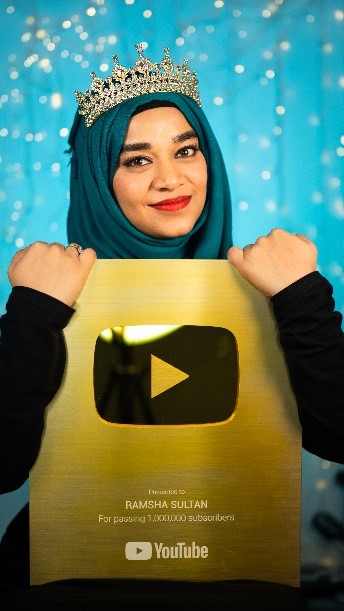 Motivational speaker and content creator Ramsha Sultan who gained loads of popularity on Social media at a very young age and has conquered everyone's heart through her personality.
Ramsha Sultan is a popular YouTuber who earned over 2 million followers on her channel known for content related to Islamic Motivational Videos for the Youth, Beauty & Lifestyle. She has been recognized for her contributions to promoting Islamic culture and is considered a role model for many young Muslims around the world.
ALSO READ: NSDC International is helping Indians fulfil their global job aspirations, 30 candidates to join DP World group companies
Ramsha's Love and admiration for her culture have kept her connected with her followers. The audiences have got a chance to learn more about Islamic culture and the rules and regulations one must follow daily. Initially, she started as a beauty influencer and shared home remedies on her channel while sharing her experiences and the benefits of wearing a Hijab. Soon this young lady realized her true passion is in creating content that not only showcases her love for Islam but also helps people connect with their emotions. Her contents are focused on mental health issues and emotional well-being of humans. Ramsha's Ramadan series in Hindi quickly went viral and was widely shared, giving her viewers hope and inspiration. Her ability to bridge the gap between emotions and Islam has made her a well-known figure in the Muslim community. Ramsha was also chosen as the 'Next up Women to Watch' winner by YouTube, making her one of 12 females to receive this honor. Ramsha has worked with over 200 brands and has an MBA in Marketing and International Business. She also founded India's first hijab brand, with an annual of 1cr revenue. Her success as a content creator and entrepreneur demonstrates her dedication to women's empowerment and entrepreneurship.

Speaking about her journey, Ramsha shared, "I am truly grateful for the love and support I constantly receive from millions of people worldwide and I am amazed to see the massive impact that my videos have made! I consider this popularity as a big responsibility and I try to use my influence in a positive way. Over these years, I have shattered many stereotypes associated with Muslim Women and Islam. My motivational content is mainly focused to uplift people going through tough times and the spiritual aspect of my videos help people in navigating the stress and anxiety in life. I try to give Hope to Humans and inspire them to become better versions of themselves. I am on a journey of knowledge and I want to inspire as many lives as possible in this generation and the next."
This year educate yourself and develop your career with EasyShiksha