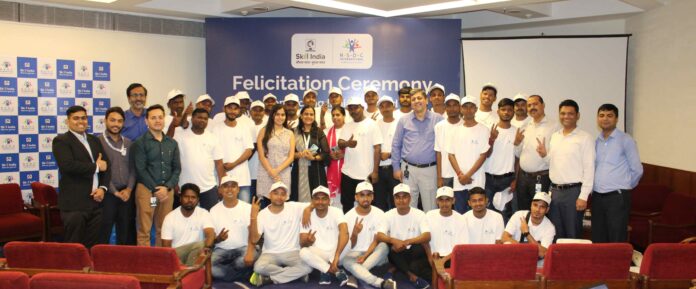 New Delhi, 3 May 2023: Positioning India as the preferred hub for providing skilled workforce globally, NSDC International continues to bring global job opportunities for resident Indians.
NSDC International aims to enhance the skill standardization, language proficiency, and vocational training of Indian talent to equip them for the estimated 3.6 million international workforce mobility (IWM) opportunities that will arise in the next five years. This will be achieved through strategic collaborations with foreign governments and partnering for dedicated training programs, thereby creating job opportunities for Indians in foreign countries.
ALSO READ: Malaria No MoreN India to partner Reckitt Benckiser on '#MissionZeroMalaria'
After successfully placing more than 28,000 skilled workers across the globe, NSDC International, a 100% subsidiary of National Skill Development Corporation (NSDC) organized a felicitation ceremony for a batch 30 candidates today to become a part of the opportunities that awaits Indian talent in distant shores. Belonging to various parts of the country, the candidates have received joining letters for different job roles including painter, general helper, pipe fitter, spray painter, and welder. These candidates will be joining group companies of DP World.
In the coming five years, the International Workforce Mobility (IWM) market opportunity for India is estimated to be 3.6 million. With this, NSDC is working towards improving avenues for skill harmonization, language, and vocational training along with creating a larger pipeline of employable talent. To ensure that right talent is chosen to meet the skill demand of global economies, a strict selection process has been undertaken by the employer involving multiple rounds of interviews, tests including English language competence and trade testing.
On the occasion, Mr. Ved Mani Tiwari, CEO, NSDC, and MD, NSDC International, said, "I am proud that today we have the platform and the partnerships to extend aspirational employment opportunities and entrepreneurship pathways to young, talented minds. Congratulations to the 30 candidates who passed our rigorous selection process and are now broadening their horizons and are embarking on their journey to join DP World group companies. We are a nation of high caliber, and this achievement is a testament to that. It has the potential to fill the skill gap in global economies. At NSDC International, we take pride in facilitating job opportunities for skilled individuals worldwide, and our goal remains making India the Skill Hub of the World."

Shubhransh Srivastav, Director Corporate Affairs, DP World SCO present in the felicitation said "This initiative is part of DP World's continuous commitment to contribute to the development of people in the communities it operates in. This joint effort of NSDC and DP World in curating a vibrant yet transparent placement programme for candidates of Skill India International Centres from India to the United Arab Emirates premised on fully paid training with zero cost to candidates has seen positive traction. This felicitation ceremony for candidates embarking to the UAE is ample testimony to the success of the programme and of the future employment prospects that this initiative presents to the skilled youth of the country."
To understand the employment potential overseas a study of 16 high potential countries – Saudi Arabia, UAE, USA, Canada, Qatar, Kuwait, Oman, Bahrain, Australia, Germany, Japan, UK, Singapore, Malaysia, Sweden, and Romania which form the countries that see substantial migration from India was conducted by NSDCI. A five yearly potential of around 39 lakh Indian workforce has been identified. And based on the study the following 10 sectors have been identified as high priority sector- Construction, Healthcare- Personal Care & Social Care, Hospitality & Tourism Management, Energy (Oil & Gas & Renewables), Education (Teachers), Shipping and Logistics, IT & Digital, Retail including Bike riders, Manufacturing and Media and Entertainment.
Through NSDC International, active engagements are ongoing in global markets to accelerate the skills of the future. Benchmarking of skill qualifications in GCC countries through government-to-government (G2G) and business-to-business (B2B) workforce mobility collaborations are enabling several successful pathways for India's youth and progress has also been made in developing partnerships with several other countries. To make sure that the youth take full advantage of this world of opportunities, creating a future-ready workforce is imperative as it holds the key to an economically connected world. At this juncture, reimagining the current approach, strong partnerships and skill development initiatives concentrated on international mobility will prepare India's youth for the future of work and revitalize the world economy.
About NSDC and NSDCI
Giving boost to Indian Government Skill India Mission, National Skill Development Corporation (NSDC), a nodal skill development agency, working under the Ministry of Skill Development & Entrepreneurship (MSDE), Government of India, is a unique Public Private Partnership (PPP) that aims to catalyze the creation of a large and quality vocational training ecosystem in India. Since inception, NSDC has trained over three crore people in different sectors through its collaboration with training partners pan India. NSDC has established 37 Sector Skill Councils (SSCs) and implements the Government's flagship skill development schemes such as Pradhan Mantri Kaushal Vikas Yojana (PMKVY), National Apprenticeship Promotion Scheme (NAPS), among others. NSDC also funds enterprises, companies and organizations that provide skill training. The organization enables private-sector capacity building in skill development by offering concessional loans, other innovative financial products, and strategic partnerships.
NSDC International is a 100% subsidiary company of NSDC that is enabling the Skill India International objectives to make India a global source for quality talent, provide global job opportunities for resident Indians, provide global career mobility for overseas Indians, and create an internationally benchmarked quality skills ecosystem. NSDCI aims to position India as the preferred hub for supply of skilled workforce across the globe. NSDCI plays a pivotal role in creating enabling systems and steering national and international partnerships for overseas employment through specific programs, mapped to global job requirements and benchmarked to international standards. In addition, it also aims to leverage NSDC's existing knowledge base and experiential learning to provide technical services for skill development.
About DP World
Trade is the lifeblood of the global economy, creating opportunities and improving the quality of life for people around the world. DP World exists to make the world's trade flow better, changing what's possible for the customers and communities we serve globally.
With a dedicated, diverse and professional team of more than 103,000 employees spanning 75 countries on six continents, DP World is pushing trade further and faster towards a seamless supply chain that's fit for the future.
We're rapidly transforming and integrating our businesses – Ports and Terminals, Marine Services, Logistics and Technology – and uniting our global infrastructure with local expertise to create stronger, more efficient end-to-end supply chain solutions that can change the way the world trades.
What's more, we're reshaping the future by investing in innovation. From intelligent delivery systems to automated warehouse stacking, we're at the cutting edge of disruptive technology, pushing the sector towards better ways to trade, minimising disruptions from the factory floor to the customer's door.
WE MAKE TRADE FLOW TO CHANGE WHAT'S POSSIBLE FOR EVERYONE.
This year educate yourself and develop your career with EasyShiksha