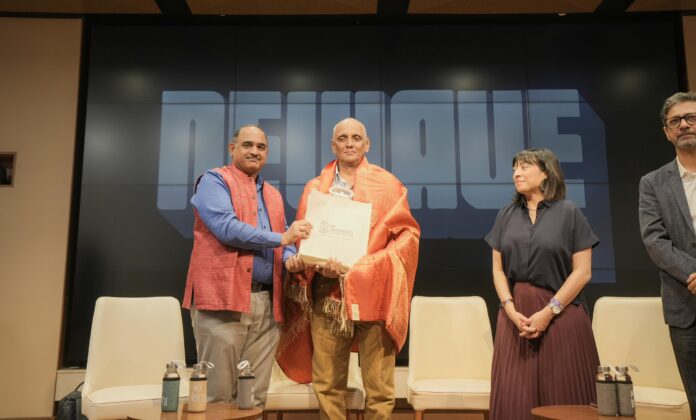 Mastering complex systems thinking is the key to understanding and addressing the challenges for our planet's survival: Mr. Sameer Shisodia, CEO, Rainmatter Foundation
RV University Sets New Benchmark with Two-Day Student-Led Design Conference
Bengaluru, 23 October 2023: RV University's School of Design and Innovation (SDI) has successfully concluded its inaugural NEWAVE'23, a two-day student-led design conference and festival that left an indelible mark at the intersection of design, technology, and sustainability. This groundbreaking event, entirely organized by students, has established itself as a cornerstone for emerging design talents to showcase their research capabilities, invigorate academic exploration, and cultivate invaluable industry connections.
The event commenced with an inspiring keynote delivered by Mr. Sameer Shisodia, CEO of Rainmatter Foundation, and culminated with a captivating closing address by Ms. Meenakshi Thaploo, Director of Product Design and User Experience Design at Cisco.
NEWAVE'23, the brainchild of School of Design and Innovation, has ignited a transformative force in the field of design research, serving as an inspirational beacon for both students and the academic community. Over the course of this enriching event, attendees were immersed in diverse activities, including compelling paper presentations, posters, product exhibitions, creative workshops, industry networking opportunities, thought-provoking roundtable discussions.
Talking to the students on this occasion Mr. Shisodia advised, "Sustainability is not a mere choice; it's an imperative for our planet's survival. The harsh reality of our times is undeniable: biodiversity loss, soil degradation, and the resulting climate change are global crises. A staggering 78% of ocean microplastics originate from tyres, the pollution leading to water shortages, flooding, and food scarcity worldwide. Sustainability is not about feel-good measures like using cloth bags or solar panels; it's about reimagining our very existence. As design students, we must shift our perspectives and view sustainability through a negative lens. What if vital resources become scarce? What if they run out entirely? We have a limited window to make substantial changes. Embracing thinking of complex systems is our path forward. It's our responsibility as designers to make informed choices, balance trade-offs, and confront the planetary crisis head-on. To new design students, I offer this advice: Master complex systems thinking, for it is the key to understanding and addressing the challenges our world faces."
ALSO READ: SIP Academy completes 20 years of transforming the lives of ten lakh kids of 5 to 15 yrs age
At the closing ceremony, Ms. Meenakshi presented her case to the students on designing for the future by integrating technology in their designs "Viewing design through a corporate lens requires a deep understanding of the user's perspective. Every design decision should center around the consumer and address their concerns. To succeed in the design business, it's essential to reflect deeply on the issues your design will solve and who will benefit most from it. Innovation is the heart of design, but feasibility is its lifeline. The product's desirability is where its true value lies. To design students, I offer this advice, strive to create designs that not only meet user needs but also resonate with their desires and can stand the test of practicality and demand."
During the event, Whitespace, a student magazine, was launched, setting the stage for further intellectual exploration.
On the occasion, NEWAVE'23 honored the contributions of participants in paper, product, and poster presentations. The ceremony was graced by the presence of RV University's leadership, Pro Chancellor, Shri D.P. Nagaraj and Vice Chancellor Prof. (Dr.) Y.S.R. Murthy. The conference played host to distinguished designers, with Mr. Subhabrata Ghosh, CEO of Celsius 100 Consulting, sharing invaluable insights into the ever-evolving design industry.
The event also witnessed the launch of an illustrated book containing the paper presentations and abstracts titled, Design Festival Proceedings – NEWAVE'23.
Expressing happiness about the organisation of the conference, Vice Chancellor Prof. Y.S.R. Murthy said, "RVU is strongly committed to innovative pedagogy, experiential and hands-on learning. I am delighted that the inaugural edition of NEWAVE'23 has provided an excellent platform to students to hone their research skills and present projects and papers on several important topics. I compliment the School of Design and Innovation and its Dean, faculty members as well as the students for their role in mounting this excellent design conference and festival." 

Dr. Anuradha Chatterjee, Professor and Dean, of the School of Design and Innovation, RV University proudly expressed her appreciation towards her students, "As an academic leader, there is nothing that brings me more joy than seeing my students take charge of academic events, and truly democratize design education. Appropriating the words of Abraham Lincoln, an "of the student, by the student, for the student" academic event is rare, uncommon but much needed for students to take the responsibility of their own education, and their own destiny."
NEWAVE 23 will become a yearly event at the School of Design and Innovation.
About RV University
Backed by the 83-year-rich legacy of RV Educational Institutions, RV University, which commenced operations in 2021, is a new-age, tech-driven, global university that imparts high-quality, liberal education with an interdisciplinary curriculum. The university offers 60 undergraduate, postgraduate, and Ph.D. programmes in seven academic disciplines of Liberal Arts and Science, Design, and Innovation, Film, Media and Creative Arts, Business, Economics, Computer Science, Engineering, and Law. It has partnerships and collaborations with over 130 reputed foreign universities, institutions, and companies.
About the School of Design and Innovation
The School of Design and Innovation aims to 'Redefine Design Education'. It offers a four-year B.Des.degree with five specializations to choose from User Experience, Interior Environments, Communication and New Media, Product and Transdisciplinary Contexts and the two-year M.Des degree offers specialization in User Experience and Design Futures. It incorporates the best methodologies from various pedagogical models and is creating an environment where knowledge creation, knowledge dissemination and knowledge application will co-exist and inspire each other.
This year educate yourself and develop your career with EasyShiksha