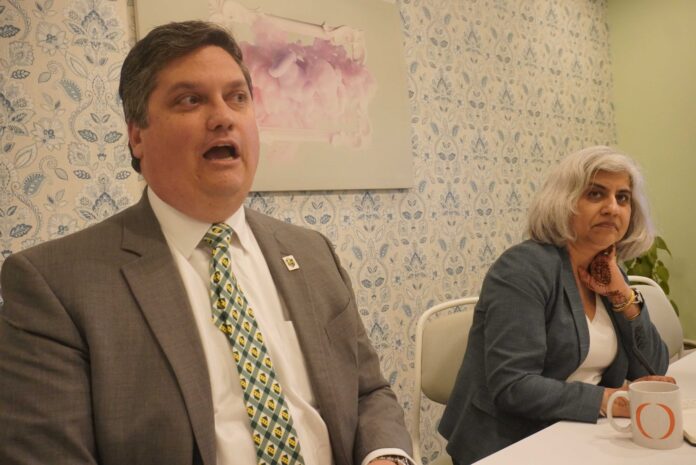 125 years old American University Eyes Indian Market
Just 350 out of 4000 Universities in the USA are explored by Indian Students
Hyderabad, March 31, 2023…. No University is truly global without Indian Students studying at them, said Marc P. Christensen, President of the USA based 125 years old Clarkson University.
Dr Marc P. Christensen was in Hyderabad recently, on a day's visit as part of a four-city tour to India to explore the Indian Market. He and his Indian wife, Seema Grover Christensen, who moved to the USA 50 years ago were at Indo Global Studies at CoWorks in Sky View in Gachibowli.
India is a very big nation with a lot of potential for students who are willing to study abroad. With 60 million students graduating each year, India is the tiger. Nearly two lakh students travel to the USA every year to study there. Clarkson had the first Indian student studying on campus way back in 1964. Since then many have studied with them. But the university never explored this market consciously. "No University is truly a global university without a good number of Indian students studying with them," Christensen said. And he added, "If you want to be a global University, you need to recruit Indian students, particularly those from Telangana."
ALSO READ: SVC & LAHARI launches its project in NCR, Urban Blossom in Faridabad
Now, as Clarkson expands its footprint to India and recruits' students at our university, our colleague, Colleen Flynn Thapalia, Senior Director visited India, Hyderabad four times in the last seven months and that speaks about how the potential is this market. added Marc.
At Clarkson University, as in the US overall, India is now the number one country in terms of the number of students coming for their studies. China is now pushed to fourth place at Clarkson. That may be because of strained bilateral relations and or their country's strict COVID protocols. India is now Clarkson's focus country.

Post-COVID, Computer Science and Data Science are the two disciplines most preferred by overseas students.
Clarkson's student applications from India now increased growth by 171%, compared to last year.
Seema Grover Christensen, the Indian-born first lady of the University, who has visited India four times since emigrating with her family, says that India is a high-tech country. There is a lot of value given to education in Indian culture.
Speaking on the occasion, Ashok Kallam, Founder and CEO of Indo Global Studies said Indians in general and Telugu students, in particular, explored just 350 out of 4000 Universities in the USA for their studies. And they need to explore other Universities as well.
This year Educate yourself and develop your career with EasyShiksha