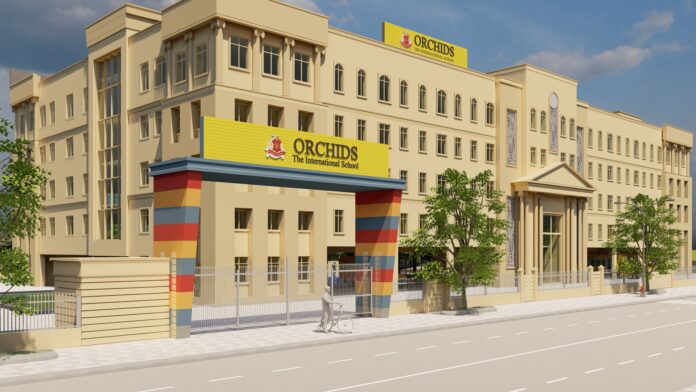 The group aims to expand into 150+ branches across India in the next four years
Gurgaon, November 10, 2022: Orchids The International School (OIS), the leading K12 school chain in India, has announced the launch of its fourth branch in Gurgaon at Sector 113 Bajghera Dwarka Expressway. Built on a sprawling area of around 3.909 acres, the school is designed to accommodate over 1,000 students providing plenty of green space with the best-in-class amenities that include technology-enabled classrooms, fully equipped child-friendly and kids' play areas, an infirmary, a music room, an art studio and many more facilities for the students.
Open for admissions for the upcoming academic year (2023-2024), the school will initially have classes till grade 7 and will be upgraded every year. An amalgamation of the best features of IB, IGCSE, and CBSE syllabuses will be followed until grade 5, while grades 6 and 7 will follow the CBSE syllabus. The school will also focus on providing special education to the required students, have experts and programs designed specifically for them, focus on experiential learning, STEAM and multiple intelligence pedagogy, project-based learning and physical education.
Speaking at the school launch, Ms. Nidhi Kapoor, Principal at Orchids The International School, Dwarka Expressway said, "I'm happy to be leading the branch at SECTOR 113 in one of the fastest growing cities. It will be a complete delight to groom Gurgaon children with the philosophy of Orchids."
OIS offers a holistic learning experience of international schooling to the students and assures that all the students get endless possibilities to learn, nurture and grow. The campus will provide best-in-class sports facilities to students who are sports enthusiasts with a swimming pool, football ground, skating rink and basketball court. The environment around the school is peaceful, providing the students with a positive environment for studying and learning amidst the open air. The green pastures at the school provide the students with ample area for physical activities as well. The emergency facilities such as hospitals, fire stations, and police headquarters, are in close proximity to ensure the safety and security of all the students.
Also Read: Hybrid model scores high among Indian employees
About Orchids The International School
Orchids -The International School is one of the leading international K12 school chains in India and started its journey in 2002 with its first branch in Hyderabad. In less than two decades, it has grown into 90 branches spread over 25 major cities- Mumbai, Bengaluru, Pune, Hyderabad, Gurgaon, Chennai, Kolkata, Nagpur, Nasik, Indore, and Aurangabad. Modern physical infrastructure, personalized attention and a carefully curated curriculum provide uniformity in all OIS schools. OIS follows CBSE and ICSE curriculum infused with international teaching methodologies to provide a strong emphasis on personality development along with academic excellence. Currently, it has over 750000+ students and 7000+ teaching and non-teaching staff.
Orchids' core anthem is "Shaping minds, Touching lives."
Visit EasyShiksha for skill development courses.